County Executive Hickner Addresses Rotary
September 23, 2014
By: Stephen Kent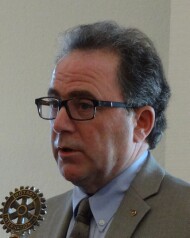 Bay County Executive Tom Hickner
County Executive
Tom Hickner
spoke to Rotary, which met at the Bay City Country Club last week. Hickner, a member of this club, described some of the characteristics of his position and talked about county government in general.
Hickner talked about the new water treatment plant that is currently under construction. He talked about the benefits of that project and the cooperation that it represented. He talked about the good relationship with the new Bay City Manager,
Rick Finn
, another Rotarian. The two seem to agree on the positive quality of life found in the City and County.
During the question and answer part of the talk, Hickner was asked about the fees being charged for on-line access to public records. "We go the work, find the material, use our own paper and ink to print the documents. It seems odd that we have to pay for that." Hickner didn't have a definitive answer but promised to look into it.
When asked about how to make different groups in government cooperate, Hickner said that three things are needed: trust, common ground, and communications. He said "Bay County has done pretty well".
Another Rotarian asked for comment on the dysfunction exhibited by Congress. Hickner agreed that we're living with one of the worst Congresses in history. He said suggested that open primaries would be helpful. He also said that reapportionment must be addressed. The gerrymandering that happens now just perpetuates a broken system by insuring the outcome of elections regardless of the majority will of the people.
Hickner also noted that one party seems to worship at the alter of "no tax increase". He pointed out that the lack of tax money has a major influence, and used the "terrible road system" as example. On the same topic he talked about cuts to revenue sharing and the resulting underfunding of services and schools.
For more information visit
baycounty-mi.gov/Executive
---
CLUB NEWS and ANNOUNCEMENTS
Welcome erturning member
Jim Hollerbach
. Jim was inducted by Andreas Teich who dispensed with the usual new member littany saying he was going to shorten it to "Welcome back Jim"!
"
The change in your pocket could change a life
." That challenge from District Governor Brock is being met by our club with the pocket change containers at the front table and a second one being passed around. Keep that change in your pocket until you get to Rotary so you can help fill these containers.
International Night
is right around the corner in October. Get your tickets now and bring in auction items.
The annual
Rotary Homecoming
meeting follows on
November 11
is our annual
Rotary Homecoming
. Wear your school colors and bring guests to that meeting. We will present the ROSE award and kick off the annual membership drive. Start thinking NOW about prospects and invite them to a meeting. The goal is TEN new members before the end of the year.
The
Centennial Committee
has set the goal of EVERY MEMBER achieving
Paul Harris Fellow
status during the Centennial Year. There are matching points available that allow a member to receive their first Paul Harris level at a fraction of the normal $1,000 contribution.
Rotary Club of Bay City
View Centennial Year Celebrations Schedule
July 2014-June 2015
---
DATES TO REMEMBER
International Night Committee
- Monday, September 16, 2014 - 11:00 pm - at the Pere Marquette Depot.
International Night 2014
- October 23, 2014 - 5:30 to 9 - Bay City Country Club
Rotary Homecoming 2014
- November 11, 2014 - Regular meeting time - Doubletree
---
Upcoming Programs
(See the official schedule at RotaryBayCity.org )
September 30, 2014: Chinese Visitors.
Five principals from China and eight students will be visiting. They will be attending this meeting along with their interpreter. Judy Cox, Principal WHS, and Amy Bailey, Principal at WMS will talk about their visit and the exchange program they have in place.
October 14, 2014: Update on Global Status of Polio.
Our own Chuck Cusick will provide us with an update about the global battle to totally eliminate polio.
---
Current and past
DISTRICT DISPATCH
newsletters are available on the District site shown in the LINKS section below.


Rotary Bay City on Facebook!
Click on the Blue Facebook to visit us there.

Remember! Check attendance sheets at the front desk.
---
LINKS