Northwood University football coach Pat Riepma to speak Tuesday.
November 18, 2005
By: Stephen Kent
Program for Nov. 22:
Pat Riepma, Northwood University football coach, reviewing the GLIAC grid program.
Scheduled future programs:
Nov. 29: President Ralph Knop on Rotary International Foundation;
Dec. 6: Melinda Boysik, Rotary Ambassadorial Scholar at SVSU.
---
Program from November 15, 2005:
Ghosts, Crimes and Urban Legends of Bay City
Dave Rogers Recounts Local History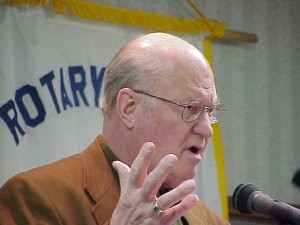 Eric Jylha introduced Rotrian and local historian and "ghostbuster" Dave Rogers who recounted some of his memories from growing up in Bay City and some of thetales and history he's accumulated over the years as a newspaperman, historian and author.
Dave has been in Bay City for "a few years". He recounted how as a boy "I haunted the old museum in the County Building, climbed on the Civil War cannon in Battery Park, went through just about every downtown building, City Hall, the County Building, Davidson Building, Pheonix Building, Shearer Building, Mill End, Cash Store, Oppenheims, Fords, Sears, the Consistory, all the movies, Bay, Regent, Center, Pines, Roxy, Lafayette, Colonial, Westown, Empire, Washington, Woodside. I remember my grandfather taking me to see Truman and later Eisenhower campaigning on the train at the First Street Depot; We prowled through the crumbling old Murray Body plantnear Pulaski Hall and were warned the 'the Madaj Gang will get you' if you hang around here." He later related how he found out more about the Madaj Gang when he interviewed Steve Madaj the day he got out of prison after 41 years.
He also related a few adventures: running over "Indian Joe's" foot on his bicycle, hiking to Saginaw on the frozen river and falling through the ice, catching a dozen pheasants who's feet had been frozen into the snow and ice, trapping muskrats and selling the furs to Ginsburg & Lazarus which was across the street from where Hereford & Hops is now.
Dave was about 9 years old when he watched an elaborate funeral where "a file of Knights Templar, sporting silver swords and plumed hats, marched from theConsistory to the church and lined the sidwalk as the casket was brought out." He later realized that it must have been the funeral of Bay City tycoon James E. Davidson. Davidson was a legendary figure in local history who "won undying fame by saving the Ccommercial Bank in 1931. It was Bay City's most legendary event, Davidson flying to Detroit and returning with $1 million in a black bag, marching past lines of distraught depositors to break the run on the bank and save everybody's money. 'Dollar for Dollar Hero' the media shouted."
Other tales of buildings long gone, and historic events brought knowing nods and comments from many of our long time members.
Dave finished up by recounting some of the better ghosts stories from the area and noting how popular the Historical Society's "Ghost Tour" has become. Over 400 people turned out for the recent State Theater Ghost Tour. At the last Tall Ships event, over 900 people took the Pine Ridge cemetery tour.
Bay City is a truly historic place and we're lucky to have preserved many of the houses, building and other historic places. It's an asset to the city and something that we should continue to promote and develop.
---
---
--- Advertisements ---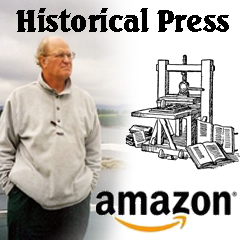 ---
Club News
Attendance
for our club has been steady at around 50% of our 134 members. Everyone is encouraged to look around and see who's missing. Give your fellow Rotarians a call and encourage them to come to the meetings. The food and felowship are great and, even if you can't stay, the programs are always entertaining and informative.
---

International Night 2005 Committee Report
From Mike Stoner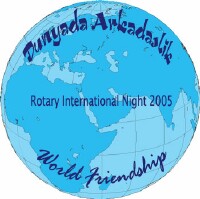 On Thursday, October 13, 2005, the Rotary Club of Bay City held its thirteenth annual International Night event at the DoubleTree Conference Center in Downtown Bay City. International Night is the main event to raise funds for the club's annual commitment of $50,000 toward a major community project. This year and last, the project has been the design and construction of the first micro historical parks in Bay City. The next three years will be the design and construction of a new Rotary Plaza at the soon-to-be-renovated Pere Marquette Depot.
By all accounts, the evening was a great success. Approximately 240 persons were in attendance. Improvements made by the committee concerning display of the 160 silent auction items provided a better opportunity for guests to view and bid on their favorite items. The Eastern Mediterranean dishes [and desserts!] were delicious. The highlight of the event [at least, in the opinion of some] was the appearance of Aziza, a Turkish belly dancer, who performed dramatic feats of balance and poise to the approval of attentive onlookers.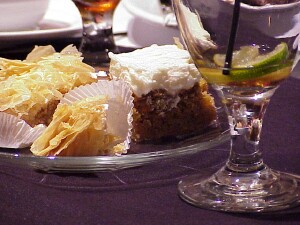 Net income from the 2005 event was approximately $29,200. Revenues from corporate sponsorships, patrons and individual ticket sales amounted to just over $32,200, a slight decrease from 2004. The silent and live auction total came to just under $11,400, again a slight decrease from last year. Total expense to host the event was about $16,400 [a little less than last year] with the lion's share of the cost going to pay for the food and beverages served.
The committee and guests were pleased with the quantity and quality of auction items donated this year. However, bidding on many items was very light. That, combined with the lower attendance figure, meant that silent auction revenues were not what we hoped they would be. Coming up with better methods for tracking ticket sales and for managing silent auction bidding were identified by committee members as issues to be addressed before the next event. Work on planning for the 2006 International Night event is set to begin in January 2006. Members interested in participating in this important club activity should contact President-Elect Gena Gates.
Thanks are due to the following members who oversaw this year's International Night --- Jeff Yantz and Mike Stoner [co-chairs], committee members Barb Fisher, Gena Gates, Larry LaPorte, Jim McCue, John Bultrud, Sharron Hetzel, Anita Bowden, Linda Heemstra, Cindy Chadwick, Steve Kent, Rob Clark, Connie Schweitzer, and Ralph Knop. Much appreciated help was also provided at the event by Jason McCoy, Joe Sheeran and Leo Najar. Other members alsoserved as greeters and wine hosts. Most of all, the committee would like to thank the many club members who donated auction items and participated in the event at the DoubleTree. It was a great time!
Remember --- International Night is the club's premier event for funding its major project every year. Each major project is selected by the club as a whole. Funding it is also the responsibility of the club as a whole.
---
---
--- Advertisements ---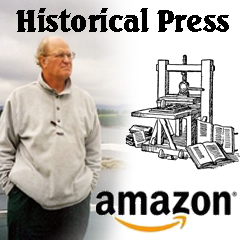 ---
---
---
RotaryBayCity.org Rotary Club of Bay City Web Site
eClub-One
: Members with internet connections are encouragedto visit eClub-One monthly for a makeup. To get makeup credit you need to fill out the makeup form on that site. Print the acknowledgement for you receive and turn it in to receive credit. Be sure to enter our club's district number (
6310
) on that form.
Click this link to open eClubOne in a new window:
www.rotaryeclubone.org
.
The Bay City Rotary Club meets at Noon each Tuesday at the Lumber Barons resturant on the West Side.
Rotary Club of Bay City Web Site
District 6310 meeting schedule