Jeff Rekeweg, GLIAC Coach Of The Year, Speaks To Rotary
October 7, 2014
By: Stephen Kent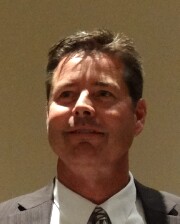 Jeff Rekeweg
Jeff Rekeweg
, the 2011-12 GLIAC Coach of the Year, spoke to Rotary about Northwood University, college sports, and some of his philosophy. Jeff is entering his fifth season at the helm of the Timberwolves where the team is enjoying a winning season.
Bill Bateman
of
Northwood University
introduced Coach Rekeweg, where Rekeweg has been head basketball coach for the last 5 years. With a 59-54 record at Northwood, Rekeweg has a total of 349 wins to his name. He was also a National Champion in the NAIA conference, played basketball at U. Nebraska and played two years professionally. He lives in Midland with his wife and five daughters.
Talking about his background, Jeff said "basketball has given me a tremendous opportunity, I think, to help and touch a lot of lives. I'm in the business because of the relationships." He told about Northwood's recruiting philosophy. "One of the first questions I ask coaches when I recruiting a kid is are they coachable, do they want to learn. It really doesn't matter how fast they run or how high they jump if they are not willing to learn and to be a part of something special.
Prior to coming to Northwood, Jeff was at St. Francis, where he lead that team to a national championship. He said it doesn't always happen, but with good recruiting of great players and with a little luck, after fourteen years they won the championship.

Jeff went on to talk about how he came to Northwood and about the team and its prospects. "As you know in business, if you don't have a goal to be the best, you're going to be very average and mediocre. We strive everyday to do our best." The team's slogan is MET and is emblazoned on all players shirts. It stands for "Maximum Effort Today". They say daily "have you met expectations."
During the Q&A after the talk, Eric Jylha asks "is that the ring", referring to the large ring on Jeff's hand. "Yes it is" replied Jeff. After the meeting, Eric said "be sure to get a picture of that ring."
For more information visit
Northwood.edu
.
---
CLUB NEWS and ANNOUNCEMENTS
The board meets this week: October 14 at 11:00 before the regular meeting. Everyone is welcomed.
President Ron
opened the meeting with a greeting from Scotland and gave a few facts about Rotary in that country. This and many other facts are available at the
The Rotary Global History fellowship
and at
Rotary 1st 100
.
Connie Schweitzer
presented the day's business spotlight. Connie is the Director of Business Services at Saginaw Valley State University. Noting that most people don't know what that means, Connie said she oversees the graphics center, shipping and receiving, central stores, mail-room, telephone system, purchasing, and risk management and insurance. In the 1980's the Michigan public universities formed the "Michigan University Self Insurance Corp." (MUSIC). Although she started in purchasing, for the past seven years management of SVSU's MUSIC program has been Connie's focus. "It takes a lot of time so I'm glad that I have managers in the other areas of the department".
"
The change in your pocket could change a life
." That challenge from District Governor Brock is being met by our club with the pocket change containers at the front table and a second one being passed around. Keep that change in your pocket until you get to Rotary so you can help fill these containers.
Lyn Weaver
talked about
International Night
coming up Thursday October 23, 2014 5:30 - 9:00 PM. The theme is
Celebrating Rotary Around the World
. Lynn is looking for volunteers to help with the evening. She also asked for donated prizes, auction items, and wine! Items can be dropped at the
Country Club
where
Wendy Dore
will take care of them. It's also time to purchase tickets, which Brenda Scramlin has.
You may also click this link:
Sponsor and Ticket Form
.
Remember that our annual
Rotary Homecoming
meeting will be on
November 11
. Wear your school colors and bring guests to that meeting. We will present the ROSE award and kick off the annual membership drive. Start thinking NOW about prospects and invite them to a meeting. The goal is TEN new members before the end of the year.
Barb Englehardt
announced that the
Chamber of Commerce
is looking for volunteers to help plant
daffodils
in the highway coming into town. A lot of people are needed. Contact the Chamber if you can help.
The
Centennial Committee
has set the goal of EVERY MEMBER achieving
Paul Harris Fellow
status during the Centennial Year. There are matching points available that allow a member to receive their first Paul Harris level at a fraction of the normal $1,000 contribution.
Rotary Club of Bay City
View Centennial Year Celebrations Schedule
July 2014-June 2015
---
DATES TO REMEMBER
Board Meeting
- October 14 - 11:00 before regular meeting - Everyone invited.
International Night 2014
- October 23, 2014 - 5:30 to 9 - Bay City Country Club
Rotary Homecoming 2014
- November 11, 2014 - Regular meeting time - Doubletree
---
Upcoming Programs
(See the official schedule at RotaryBayCity.org )
October 14, 2014: Update on Global Status of Polio.
Our own Chuck Cusick will provide us with an update about the global battle to totally eliminate polio.
NOTE: The board will meet at 11:00. Everyone is welcomed.
October 21, 2014: SVSU update.
Dr. Don Bachand, President of SVSU will talk to us about the state of the university, the opportunities and the challenges, and his vision for the future.
---
Current and past
DISTRICT DISPATCH
newsletters are available on the District site shown in the LINKS section below.


Rotary Bay City on Facebook!
Click on the Blue Facebook to visit us there.

Remember! Check attendance sheets at the front desk.
---
LINKS