Cusick Addresses Rotary With 2014 Polio Campaign Update
October 14, 2014
By: Stephen Kent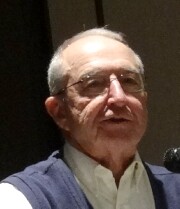 Chuck Cusick
Bay City Rotarian
Chuck Cusick
spoke to the club Tuesday and gave an update on Rotary's international effort to eradicate Polio. Chuck has been overseas three times on polio trips, his wife Nancy has been twice. The campaign is one of their special interests and Chuck is something of a local authority.
The current goal for the end of Polio world-wide is 2018. Reaching that goal will have a significant cost: $5.5 billion. Of the three types of wild polio, only type one remains. The best news is that India, where polio was once thought to be unstoppable, has been polio free for over three years. That means that 80% of the world is polio free.
The use of the inactivated polio vaccine (IPV) is critical to reach the goal. One dose of IPV set up the immunity process for a child and makes the oral vaccine (OPV) work more effectively.
A chart illustrated the dramatic drop in the number of cases. In 2012, nearly all of the 223 polio cases were in the three remaining countries of Afghanistan, Pakistan, and Nigeria. Due to ongoing transmission from these countries, there were outbreaks in other nearby countries. In 2014 those cases were down significantly.
Chuck went on to remind Rotarians how their contributions, combined with the double match from the Bill and Melinda Gates Foundation help continue the fight. A Rotarian's $25, plus the $50 match helps cover the cost of 150 vests for volunteers, 75 carriers and 600 purple finger markers.
It's important to remember the current challenge from District Governor Brock: "
The change in your pocket could change a life
." That challenge is being met by our club with the pocket change containers at the front table and a second one being passed around. Keep that change in your pocket until you get to Rotary so you can help fill these containers.
---
CLUB NEWS and ANNOUNCEMENTS
President Ron
opened the meeting with an Irish greeting to compliment the one from Scotland last week. He then offered a few facts about Rotary in that country. This and many other facts are available at the
The Rotary Global History fellowship
and at
Rotary 1st 100
.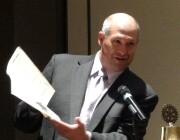 Rob Clark
auctioned off a football program provided by member
Harry Farris
. The program was for the Michigan State College Spartans vs the Minnesota Golden Gophers game on Nov 11, 1950. After some good fun the program, which originally sold for 25¢ went to Rich Steele for $50. Proceeds will go to the Polio campaign, one of Harry's long time passions.
The Club Board met prior to the regular meeting. President Ron noted that a foundation seminar will be coming up and the club will send two representatives. There will also be a district "membership summit" on Nov 8. The board heard reports on International Night, Pizza fro Polio, and other items.
Lynn Weaver
talked about
International Night
coming up Thursday October 23, 2014 5:30 - 9:00 PM. The theme is
Celebrating Rotary Around the World
. Lynn thanked sponsors and read the growing list of companies and individuals.
An e-mail was sent to members earlier in the week asking for gift cards and wine donations. The committee desperately needs these items.
You may make a cash donation to Wendy Dore and she will purchase wine in your name. Items and donations can be brought to the meeting or dropped at the
Country Club
. Brenda Scramlin will sell tickets at the meeting. You may also purchase by mail.
Click this link for a
Sponsor and Ticket Form
.
Lee Newton said that Friday, October 24 is
World Polio Day
. The district has partnered with pizza parlors around the area to donate a portion of their revenue to the Polio cause. Our club has partnered with Eudici's (west side) and G's (east side). You are encouraged to buy a medium or large pizza for the cause!
Anne Trahan
presented the day's business spotlight. "I'm a photographer. Obviously I do pictures. What else do I do?" Answering that question she said "actually, quite a few other things". She's a technician. Holding up a phone she noted that it's a camera. "I own many cameras and I know about my camera. You own cameras but I probably don't know about it. You should know your camera. Cameras have changed quite a bit in the 50 years I've been taking pictures." Anne is also a comedian (which she admits being very poor at) and a psychologist. When people are sitting for her she does some crazy things to get a smile. She also has to be a fashion consultant and a diplomat. (How do you tell a grandparent that a child's shirt with a dump truck on the front is not ideal for a portrait?) Anne does everything from vacuuming the floor to managing her staff of four. But above all, she says, "I'm an artist". She went on to say that in photography, "light is everything and the light in this room is horrible." Anne would get no argument from the author of the Breezes who has to suffer with that lighting every week.
Remember that our annual
Rotary Homecoming
meeting will be on
November 11
. Wear your school colors and bring guests to that meeting. We will present the ROSE award and kick off the annual membership drive. Start thinking NOW about prospects and invite them to a meeting. The goal is TEN new members before the end of the year.
Chuck Cusick also talked about the club's Guatemala clean water projects. For more information he suggested Rotarians visit
vimeo.com/aavguatemala/mayajaguarcenter
.
The
Centennial Committee
has set the goal of EVERY MEMBER achieving
Paul Harris Fellow
status during the Centennial Year. There are matching points available that allow a member to receive their first Paul Harris level at a fraction of the normal $1,000 contribution.
Rotary Club of Bay City
View Centennial Year Celebrations Schedule
July 2014-June 2015
---
DATES TO REMEMBER
International Night 2014
- October 23, 2014 - 5:30 to 9 - Bay City Country Club
October 23, 2014 OFF SITE MEETING AT THE COUNTRY CLUB
Rotary Homecoming 2014
- November 11, 2014 - Regular meeting time - Doubletree
---
Upcoming Programs
(See the official schedule at RotaryBayCity.org )
October 21, 2014: SVSU update.
Dr. Don Bachand, President of SVSU will talk to us about the state of the university, the opportunities and the challenges, and his vision for the future. SVSU Athletics
Oct. 28, 2014: SVSU Athletic Director Mike Watson
will provide us with an overview of all of the athletic programs, share his view on how the teams will perform, and he will provide us with his perspectives about the role of athletics within the university community.
MEETING TO BE AT THE BAY CITY COUNTRY CLUB
---
Current and past
DISTRICT DISPATCH
newsletters are available on the District site shown in the LINKS section below.


Rotary Bay City on Facebook!
Click on the Blue Facebook to visit us there.

Remember! Check attendance sheets at the front desk.
---
LINKS