SVSU President Dr. Don Bachand Speaks To Rotary
October 21, 2014
By: Stephen Kent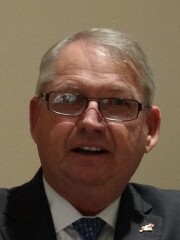 Dr. Don Bachand
Jerome Yantz
introduced
Dr. Don Bachand
, the fourth President of SVSU. Don spoke to the club about the state of the university, the opportunities and the challenges, and his vision for the future. Don's early career was in law enforcement and that remains one of his interests.
Bachand said that SVSU is the University of Opportunity, not one of selectivity as some of the larger schools in Michigan are. "Those of us are kind of envious of the fact that they turn away 10 to 20 thousand students every year who make application. I'm looking for 200 more and they turn away 10 thousand."
Using a Pinconning student as an example. An introverted young woman, she came to SVSI and blossomed. She got degrees in psychology and French and was good enough to teach French at Versie. She is now a second year law student at Harvard. "We tell her story because schools like ours provides opportunities for a broad range fo students and that's our charter. I can assure that's not going to change."
He said "we are so fortunate to have two primary institutions of very high quality and very high commitment to the region." He went on to say that Delta is one of the finest community colleges in the country. "We've had a wonderful relationship with Delta since I've been around, 35 years."
SVSU has very strong academic programs. Every ten years about forty people come to town to analyze everything the school does. "We had our visit in March and we had a perfect accreditation in our ten areas of study."
Bachand talked about the commitment to STEM studies. Noting the number of jobs available at Dow, among others, he went on to talk about the importance of students taking degrees that they like. A student's folks may want him or her to get one degree, but if that's not their strong area then forcing them in that direction is setting them up for failure. "If you have an engineering degree and you have math phobia, you haven't earned a degree. We don't have engineering grads who can't do math."
All schools in the state face the challenge of enrollment due to the declining base of high school graduates in the state. "It's the same number in the game for a smaller percentage of students." To compete for those students requires a school to offer the best facilities.
Speaking about the high cost of college, Bachand defended increases as a cost of inflation. He also said that when he came to SVSU in 1988, the state of Michigan paid 80% of the budget. The school raised the other 20% from students. "Today the state covers 20% of our budget. 80% comes from student tuition". He also noted that the state just raised the operating budget by 6.3%. "But that didn't count the 15% cut the year before... you do the math".
"We're going to spend a lot of time in the next few years improving our academic reputation." He had used the Pinconning student as an example, but "I have hundreds of examples. That's what we need to talk about, they are incredible stories. It's not about the buildings or the beautiful campus or the football season. In the end of the day it's do you meet the objectives and purposes of the people you serve, and I think we do."
---
CLUB NEWS and ANNOUNCEMENTS
In anticipation of International Night, which occurred last week,
President Ron
opened the meeting with a greeting from
India
. He spoke in Bengali, one of the several dialects spoken in India. More facts about Rotary in that country are available at the
The Rotary Global History fellowship
and at
Rotary 1st 100
.
Lynn Weaver
talked about the upcoming
International Night
which has occurred by the time of this writing. It was a great success. Thanks to member
Wendy Dore
of the
Bay City Country Club
for all her hard work.
On the topic of International Night,
Barb Fisher
and
Mike Stoner
showed a quilt made by inmate sewing group at the local state prison. The colorful design was from a group of women in Gagetown and the backing was made from donated blue jeans. When asked the value, Mike replied "about 20 years". Barb has worked with the prisoners for the last seven years.
Lee Newton talked about
World Polio Day
on Friday and the district's Pizza fund raiser; another event that has occurred prior to this article appearing. Thanks to
Eudici's
on the West side, and
G's
on the East side for their participation.
Gary Riedlinger
presented the day's two minute business spotlight. When Gary joked "I thought you said TWENTY minutes", Tim Holsworth quipped, to the delight of all, "It'll SEEM like that". Gary is a Saginaw native and an Aurthur Hill grad. He's a US Army vet who later graduated from both Delta and Michigan State and is a CPA. He spent sixteen years with two International account firms, part of that time in Boston. He's worked with several regional firms, returning to the area in 1993. He's been with Yeo and Yeo since 2007, where he serves as the Director of Tax Services for the firm. Besides his own client base, Gary has 25 partners who look to him to help with their clients tax requirements. He provides research, training, and he is an authority on tax law questions.
Remember that our annual
Rotary Homecoming
meeting will be on
November 11
. Wear your school colors and bring guests to that meeting. We will present the ROSE award and kick off the annual membership drive. Start thinking NOW about prospects and invite them to a meeting. The goal is TEN new members before the end of the year.
The
Centennial Committee
has set the goal of EVERY MEMBER achieving
Paul Harris Fellow
status during the Centennial Year. There are matching points available that allow a member to receive their first Paul Harris level at a fraction of the normal $1,000 contribution.
Rotary Club of Bay City
View Centennial Year Celebrations Schedule
July 2014-June 2015
---
DATES TO REMEMBER
October 28, 2014 OFF SITE MEETING AT THE COUNTRY CLUB
Rotary Homecoming 2014
- November 11, 2014 - Regular meeting time - Doubletree
---
Upcoming Programs
(See the official schedule at RotaryBayCity.org )
Oct. 28, 2014: SVSU Athletic Director Mike Watson
will provide us with an overview of all of the athletic programs, share his view on how the teams will perform, and he will provide us with his perspectives about the role of athletics within the university community.
MEETING TO BE AT THE BAY CITY COUNTRY CLUB
Nov. 4, 2014: Steve Puvalowski speaks on TRI-CITY MOTOR SPEEDWAY
. Steve will talk about the long history and exciting programs
Nov. 11, 2014: Consumers Energy Update
. An overview of what is happening locally and around the state presented by Mary Kulis, the Area Manager for Governmental and Public Affairs.
Rotary Homecoming
Wear your school colors and bring a guest!
---
Current and past
DISTRICT DISPATCH
newsletters are available on the District site shown in the LINKS section below.


Rotary Bay City on Facebook!
Click on the Blue Facebook to visit us there.

Remember! Check attendance sheets at the front desk.
---
LINKS