SVSU Athletic Director Speaks to Rotary
October 28, 2014
By: Stephen Kent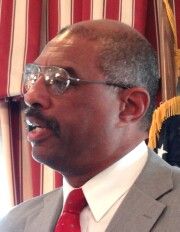 Mike Watson
SVSU Athletic Director Mike Watson
spoke to Rotary and presented an overview of the University's athletic programs and his perspectives about the role of athletics in the university community. Watson, who spent much of his career at Miami University also played professional ball for Saints. He came to SVSU as Athletic Director eight years ago.
Mike started by talking about the benefits offered by SVSU. He has a daughter who graduated from SVSU and a son who is there now. "As a parent it is probably everything that you can possibly look for in collegiate experience."
SVSU just opened a new field house. "We are only one of two division two institutions in the entire country that has a facility like that. Ironically, the other is Grand Valley, also in Michigan." This facility has an indoor track and field allowing SVSU to have all outdoor sports work indoors in bad weather. The basketball arena has been completely renovated to be a more intimate facility.
The aquatic center has also been completely renovated to become one of the best available. The Michigan High School Athletic Assn. now uses that facility for boys swim events. The girls will be joining them this year. At the college level, SVSU has just started a women's swimming and diving program. A men's program will start next year.
Speaking of the athletic program, Watson said "When you work at a state institution supported by tax dollars, the only way you can justify spending those dollars is to support and honor what the original intent of the NCAA was meant to be." That idea is to allow athletes to continue to participate in the sport they love while getting a college education.
Watson listed several goals of the SVSU program:
First is graduation and retention Everything that makes one an athlete will be gone someday. What is important is did you graduate.

Second is to win championships, but to do it with integrity.

Third is for students to have a positive experience.

Forth is to teach the importance of community service and giving back.

"That is what we at SVSU and the SVSU Athletic Department can hang our hat on. It's what we believe is the intent of the merger of higher education and collegiate athletics is about. We think we've been pretty successful at it so far."



---
CLUB NEWS and ANNOUNCEMENTS
President Ron opened the meeting with a greeting from Estonia. Rotary in the Balkan states started in 1930. The clubs were not active during the war and didn't start again until 1991. More facts about Rotary in that country are available at the The Rotary Global History fellowship and at Rotary 1st 100.

Lynn Weaver thanked the entire team for their help making International Night a success. In particular she thanked Wendy Dore and the Country Club. This year saw many changes and a new approach to the event. Lynn welcomes feedback and idea to make next year even better. An evaluation meeting will be held soon.

Mike Seward presented the day's two minute business spotlight. Mike's first Rotary experience was in 1972 when as a new Chamber of Commerce director in Greenville, MI he has the opportunity to speak to a Rotary Club. 18 months later he moved to Hillsdale, MI and joined the Rotary Club there. Lansing was next, where Mike again joined Rotary. Next came Sacramento CA and its Rotary Club, the 2nd largest in the nation at the time. The club fines were outrageous "but the two people who didn't have to pay fines were the Governor of California and the president of the Sacramento Chamber of Commerce". Mike then went to Chicago and the Chicago Heights Rotary. He came to Bay City twelve years ago and the rest we know.

Remember that our annual Rotary Homecoming meeting will be on November 11. Wear your school colors and bring guests to that meeting. We will present the ROSE award and kick off the annual membership drive. Start thinking NOW about prospects and invite them to a meeting. The goal is TEN new members before the end of the year.

The Centennial Committee has set the goal of EVERY MEMBER achieving Paul Harris Fellow status during the Centennial Year. There are matching points available that allow a member to receive their first Paul Harris level at a fraction of the normal $1,000 contribution.

Rotary Club of Bay City
View Centennial Year Celebrations Schedule
July 2014-June 2015




---
DATES TO REMEMBER
Rotary Homecoming 2014 - November 11, 2014 - Regular meeting time - Doubletree


---
Upcoming Programs
(See the official schedule at RotaryBayCity.org )


Nov. 4, 2014: Steve Puvalowski speaks on TRI-CITY MOTOR SPEEDWAY. Steve will talk about the long history and exciting programs

Nov. 11, 2014: Consumers Energy Update. An overview of what is happening locally and around the state presented by Mary Kulis, the Area Manager for Governmental and Public Affairs.
Rotary Homecoming Wear your school colors and bring a guest!

Nov. 18, 2014: Great Lakes Bay Michigan Works. Michigan Works plays an important role in supporting businesses throughout the Great Lakes Bay region. Ed Oberski, Executive Director, will provide an overview of his organization, the clients served, and the services provided.

Dec 2, 2014: Addressing the Issue of Abuse of Seniors Abuse of and taking advantage of seniors is a more prevalent problem than most of us recognize. Bay County received a grant from the US Department of Justice to implement ways to respond to the issue of abuse among people 50 and older. Julie Chamberlain will provide information that speaks to this growing issue.

---

Current and past DISTRICT DISPATCH newsletters are available on the District site shown in the LINKS section below.







Rotary Bay City on Facebook!
Click on the Blue Facebook to visit us there.

Remember! Check attendance sheets at the front desk.
---
LINKS