Puvalowski Speaks To Rotary About Tri-City Motor Speedway
November 4, 2014
By: Stephen Kent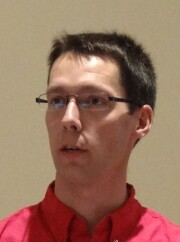 Steve Puvalowski
Steve Puvalowski
grew up in an entrepreneurial family. As a youngster he got into racing cars. In 2009 he had an interest in tracks and went to an auction "to more or less check it out". Toward the end he held up his hand and realized he was the high bidder. He took over from there.
After buying the
Tri-City Motor Speedway
, Steve had the job of renovating it and changing from the old asphalt track to a dirt track. The operation has been successful with some 1,500 people at each event during racing season. The 3/8 mile dirt track is located at 85 W. Wheeler Road just north of Auburn.
The track started as a coal mine from 1900 until 1947, when the racetrack originally opened. That first track was build around the mine. Steve knows where it is because he ran into it while renovating the track. "I had to seal that off because we were pumping water out." Drain pipes now channel the water to the nearby Kawkawlin River.
Steve did much of the work himself, with help from volunteers and family. "I had never operated heavy equipment before they dropped it off at the racetrack and I started moving this dirt from point A to point B." After about 8 months the track opened June 17, 2011. "I was up screwing in light bulbs at 5:00." He didn't know what to expect but opened to a packed house.
Steve talked about the business of running a track: how much it costs, what the prizes are and how they're paid. He explained how the surface of a dirt track is a clay that must be kept a certain amount wet to race. Tires stick to a wet track and with a record speed of 118 MPH on the banked track so the surface condition is important.
The track continues to have strong support throughout the season, which runs from April to September on Friday and Saturdays, with an occasional Sunday race. The track offers free camping, which helps with visitors. Drivers typically have other day-jobs and race on weekends.
NASCAR racer
Tony Stewart
likes to venture into sprint cars. A year and a half after breaking his leg, he showed up at Tri-City on his first day back. He appeared unknown riding in a rent car after his car hauler showed up without him. "We couldn't put it on the news ourselves, but the word got out pretty easy on social media. Lo and behold TV-5 was there and all the new reporters." There was no NASCAR racing that day so that was the only racing news there was. Headlines, video clips, and reports all gave the news: "
Tony Stewart races at Tri-City Motor Speedway
."
For more information visit
tricityracetrack.com
.
---
CLUB NEWS and ANNOUNCEMENTS
President Ron
opened the meeting with a greeting from
Lithuania
. The first Rotary club was formed in the capitol of that country in 1934. As with so many European countries, Rotary was closed down in 1940 due to the war. Rotary returned in 1992 in the new capitol. More facts about Rotary around the world are available at the
The Rotary Global History fellowship
and at
Rotary 1st 100
.
Brenda Scramlin
said that Ed is looking for volunteers to deliver Dictionaries and Thesauruses to a couple of schools. Thanks were extended to those who have already delivered their books. The club received several thank you notes from schools for these books.
Don Carlyon's
daughter sent a photo of a sign in the
Galapagos Islands
honoring Rotary, which started there in 1911.
Rob Clark
announced that
Rotary Homecoming HAS BEEN PUSHED BACK to November 25
. That's two days before Thanksgiving. The main purpose of that day is to expose our club to potential new members. You should invite prospects to visit Rotary. The club will also present the annual ROSE award (Rotary Outstanding Service and Excellence).
Ron announced that the
Foundation Gala
will be held in Frankenmuth November 21. The club would like to fill at least one table. If you can attend, please see Ron.
Larry Arndt
, President of the Morning Rotary, presented speakers pens (which he made himself) to Chuck Cusick and to Andrea Hales, who have recently spoken to the Morning club.
Lee Newton
reported that the
Pizza for Polio
campaign raised $318 for the cause. With the Bill and Melinda Gates matching grant, that brings the total raised to $954. Thanks to all who participated.
Lynn Weaver
presented the day's two minute business spotlight. For the last three years Lynn has been the Director of Development at the Bay Area Women's Center, where her main responsibility is to increase funding and visibility for the organization. Besides the usual writing of grants and other fund raising tasks, Lynn also oversees the Prevention and Outreach program. "What I really do... I help women, men and children who need a temporary safe place to stay". She went on to describe the programs of the Shelter.
The
Centennial Committee
has set the goal of EVERY MEMBER achieving
Paul Harris Fellow
status during the Centennial Year. There are matching points available that allow a member to receive their first Paul Harris level at a fraction of the normal $1,000 contribution.
Rotary Club of Bay City
View Centennial Year Celebrations Schedule
July 2014-June 2015
---
DATES TO REMEMBER
Board Meeting
- November 11 - 11:00 am before regular meeting - Everyone invited.
Rotary Homecoming 2014
- November 25, 2014 - Regular meeting time - Doubletree
---
Upcoming Programs
(See the official schedule at RotaryBayCity.org )
Nov. 11, 2014: Consumers Energy Update
. An overview of what is happening locally and around the state presented by Mary Kulis, the Area Manager for Governmental and Public Affairs.
Rotary Homecoming
Wear your school colors and bring a guest!
Nov. 18, 2014: Great Lakes Bay Michigan Works.
Michigan Works plays an important role in supporting businesses throughout the Great Lakes Bay region. Ed Oberski, Executive Director, will provide an overview of his organization, the clients served, and the services provided.
Nov. 25, 2014: ROTARY HOMECOMING.
Kickoff to the annual membership drive. Presentation of the ROSE award.
Dec 2, 2014: Addressing the Issue of Abuse of Seniors
Abuse of and taking advantage of seniors is a more prevalent problem than most of us recognize. Bay County received a grant from the US Department of Justice to implement ways to respond to the issue of abuse among people 50 and older.
Julie Chamberlain
will provide information that speaks to this growing issue.
---
Current and past
DISTRICT DISPATCH
newsletters are available on the District site shown in the LINKS section below.


Rotary Bay City on Facebook!
Click on the Blue Facebook to visit us there.

Remember! Check attendance sheets at the front desk.
---
LINKS