Kulis Presents Consumers Energy Upate
November 11, 2014
By: Stephen Kent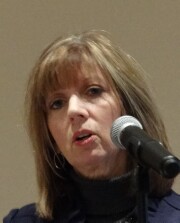 Mary Kulis
Mary Kulis, Area Manager for Consumers Energy and a member of the Caro Rotary Club, gave Rotary an update on her company and some of the changed that can be expected in the energy landscape in the next few years.
Consumers has a presence in every county of the Lower Peninsula and serves some 3.5 million residents with a generating capacity of 6,000 megawatts. That energy comes from a combination of coal, natural gas, oil, wind and hydro sources and is distributed over some 26,000 miles of gas pipeline and 65,000 miles of electric lines.
The company, with 7,400 employees and another 7,500 contractors, will invest over $15 billion in the state over the next 10 years. They have a commitment to increase spending with Michigan based suppliers by one billion dollars over five years.
Kulis talked about the Karn/Weadock facility on the Saginaw River. They have invested nearly one billion in Karn 1 & 2 to improve reliability and make environmental upgrades. That work utilized 700 to 800 craft personnel. One of the most recent projects is a $250M spray dry absorber that targets sulfur dioxide. A fabric filer in a "bag house" targets particulates and mercury.
$53 million in gas pipeline replacement and expansions, $64 million for replacing electrical poles and lines and upgrading circuits and substations, investments in clean energy and wind generation parks. Each of these was outlined to illustrate the updates to the company's infrastructure and its economic impact in Michigan.
Locally, Consumers is Bay County's largest taxpayer with some $13 million paid in 2013. They are also the 8th largest employer and provide millions of dollars in grants and donations and work with organizations like United Way.
---
CLUB NEWS and ANNOUNCEMENTS
President Ron
opened the meeting with a greeting in the
Afrikaans
spoken in South Africa. The first Rotary club there was formed in Johannesburg in 1921. Rotary expanded through the country over the next few years. More facts about Rotary around the world are available at the
The Rotary Global History fellowship
and at
Rotary 1st 100
.
Ron also reported on the board meeting held earlier. Two new members were proposed as well as a note that Dom Monistaire will be returning to the club. One resignation was accepted.
Bob Chadwick talked about the annual Foundation Gala to be held at Zehnder's in Frankenmuth on Friday November 21. The club generally fills one or more tables. Members are asked to make reservations with Bob immediately as the date is close. This is an appreciation dinner and there will be no fund raising. Cost of the dinner is $37 per person.
Konnie Gill presented the day's two minute business spotlight. Konnie is a lifelong resident of the area. She and her husband Harry have five children. Konnie is the director of the McLaren Bay Medical Foundation. The mission of the Foundation is to raise funds for McLaren and for McLaren Bay Special Care Hospital. Last year the Foundation granted over $750,000 in equipment, programs and other needs to the hospital. All funds donated to the Foundation stays here in Bay City. Funds do not go to any other McLaren hospital.
Andrea Hales announced that a new person is needed to serve on the Youth Exchange committee. If you have an interest, please contact her.
The Annual Holiday program will be held December 16. Rather than having Rotarians perform, the club has invited Ah Tempo! of the Saginaw Choral Society to sing. The Morning Club and the Optimists are also invited.
REMEMBER
Rotary Homecoming is scheduled for November 25
. That's two days before Thanksgiving. The main purpose of that day is to expose our club to potential new members. You should invite prospects to visit Rotary. The club will also present the annual ROSE award (Rotary Outstanding Service and Excellence).
The
Centennial Committee
has set the goal of EVERY MEMBER achieving
Paul Harris Fellow
status during the Centennial Year. There are matching points available that allow a member to receive their first Paul Harris level at a fraction of the normal $1,000 contribution.
Rotary Club of Bay City
View Centennial Year Celebrations Schedule
July 2014-June 2015
---
DATES TO REMEMBER
Board Meeting
- November 11 - 11:00 am before regular meeting - Everyone invited.
Foundation Gala
- Zehnder's in Frankenmuth - November 21 - See Bob Chadwick for reservations
Rotary Homecoming 2014
- November 25, 2014 - Regular meeting time - Doubletree
Holiday Program
- December 16, 2014 - Regular meeting time - Ah Tempo! of the Saginaw Choral Society to perform
---
Upcoming Programs
(See the official schedule at RotaryBayCity.org )
Nov. 18, 2014: Great Lakes Bay Michigan Works.
Michigan Works plays an important role in supporting businesses throughout the Great Lakes Bay region. Ed Oberski, Executive Director, will provide an overview of his organization, the clients served, and the services provided.
Nov. 25, 2014: ROTARY HOMECOMING.
Kickoff to the annual membership drive. Presentation of the ROSE award.
Dec 2, 2014: Addressing the Issue of Abuse of Seniors
Abuse of and taking advantage of seniors is a more prevalent problem than most of us recognize. Bay County received a grant from the US Department of Justice to implement ways to respond to the issue of abuse among people 50 and older.
Julie Chamberlain
will provide information that speaks to this growing issue.
Dec 16, 2014: Annual Holiday Program.
Ah Tempo! of the Saginaw Choral Society to perform. Members of other clubs will be invited.
---
Current and past
DISTRICT DISPATCH
newsletters are available on the District site shown in the LINKS section below.


Rotary Bay City on Facebook!
Click on the Blue Facebook to visit us there.

Remember! Check attendance sheets at the front desk.
---
LINKS