Rotary Foundation
Bob Warne presents program on Rotary Foundation
December 4, 2005
By: Stephen Kent
Program for Tuesday December 6, 2005
Ambassadorial Scholar Melinda Bozsik.
CLUB NEWS and NOTES
Welcome New Members
Bill Black and Brad Kessel were inducted into the club last Tuesday. Mike Myers is transfering his membership and was also welcomed. Let's make them all welcome.
DUES are DUE
Dues statements are being distributed. Please be sure to pay your dues as soon as possible. See policy at bottom of this page.
Traditional American Thanksgiving
Barb Fisher reported that Linda Bozsik, our Ambassadorial Scholar, enjoyed a traditional Thanksgiving at the cottage in Caseville. Although the wind off the Bay was 10 degrees, the mealwas great with all the trimmings. Best of all, Linda learned to knit!
Thanks Bob!
Bob Sarow researched the "wrong" answer to the previous week's trivia question and determined it was actually Correct! Sgt. at Arms Chadwick dutifullypaid the fine for those who paid last week plus a $5 "apology" fine.
Banner Missing
The Club's large Rotary banner didn't make it back from International Night. If you know where it went, please let someone know.
---
Rotary Foundation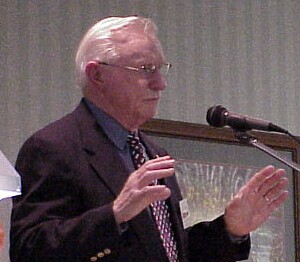 Bob Warne of the Midland Morning Club spoke to the Bay City Club on the subject of the Rotary Foundation and the goal of the RI to have every Rotarian become a sustaining member and contribute every year.
Warne is a member of the District's Foundation Committee. Some 15 members sit on this committee, including several past district governors, club presidents, and others representing clubs from around the district.
Every dollar contributed by Rotarians funds the humanitarian, educational and cultural programs and program operations. The Foundation created the "Every Rotarian, Every Year" iniatative, designed to increase annual giving to $100 per member each year.Since its inception in 1947, the foundation has distributed over 1.5 billion dollars.
Contributions from Rotarians to the Foundation go to one ofthree main funds:
Annual Programs Fund, which provides grants and awards through Foundation programs.
Premanent Fund, an endowment from which only a portion of the earnings are spend in support of Foundation programs, ensuringthe long term viability of the Foundation.
PolioPlus Fund, which supports Rotary's dream of a polio-free world.
Rotary's
Paul Harris Fellow
program recognizes members who have contributed $1,000 to the foundation. Each additional $1,000 is recognized as a "Plus 1", "Plus 2", etc. At "Paul Harris Plus 8", other recognition is made. The Bay City club includes 63 Paul Harris fellows, representing all categories through Plus 8.
---
---
--- Advertisements ---

---
---
New Member Induction
Andreas Teich inducts Brad Kessel and Bill Black


---
RotaryBayCity.org Rotary Club of Bay City Web Site
eClub-One
: Members with internet connections are encouragedto visit eClub-One monthly for a makeup. To get makeup credit you need to fill out the makeup form on that site. Print the acknowledgement for you receive and turn it in to receive credit. Be sure to enter our club's district number (
6310
) on that form.
Click this link to open eClubOne in a new window:
www.rotaryeclubone.org
.
The Bay City Rotary Club meets at Noon each Tuesday at the Lumber Barons resturant on the West Side.
Rotary Club of Bay City Web Site
District 6310 meeting schedule