UPTOWN GRILL: Vince Stuart Offers Classy Food in Posh Setting
Revival of I-B Factory Site Awakens Reminiscences of Bay City's Glory Days
December 4, 2014
By: Dave Rogers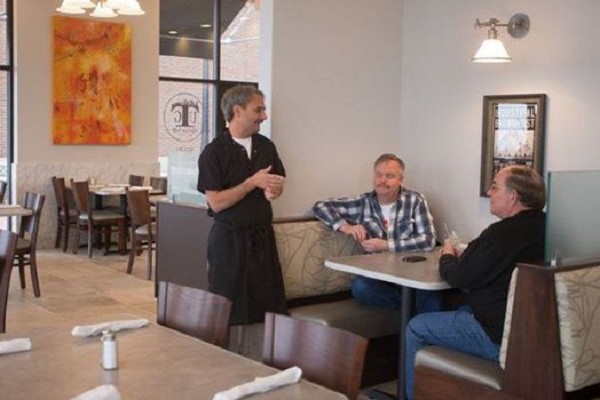 Vince Stuart, owner, chats up visitors to his new Uptown Grill, 3 E. Main St.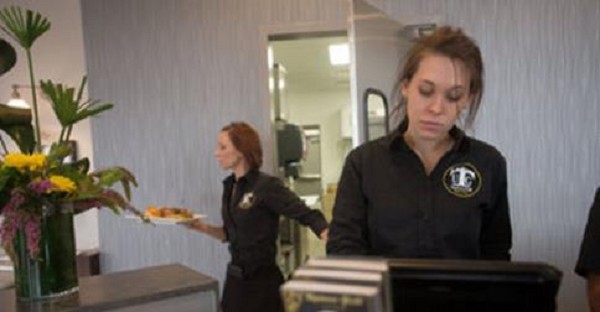 Melissa Hartshorn greets customers with a smile, great food and loads of information.
Melissa Hartshorn, a bubbly twenty-something, welcomes you at the new Uptown Grill in, where else?, Uptown at RiversEdge, Bay City.
Whatever you want to know, Melissa, coordinator of the establishment, has the answers:
When did you open? --A week ago, Nov. 28, 2014.
How's business? --We have been busier than we anticipated, but the crowds run in spurts.
How many can you accommodate? --About 75 inside and another 30 outside in good weather.
Melissa is enthusiastic about one specialty -- fresh squeezed orange juice. "It's messy to make, but the taste is wonderful," she chortles. She was right, it is wholesome and downright refreshing.
Melissa scoots off into the kitchen and returns with my order: poached eggs, crisp bacon, potato bites and hotcakes with butter and syrup.
Where did you get the neat artwork? I ask, impressed with the gilt framing and the historic pictures on calendars from 1930. "Oh yes, we found the calendars in the old factory before they tore it down," she informs.
"Industrial Brownhoist," the calendars proclaim, showing off sepia tone photos of the old plant and the massive equipment made there for more than a century, 1872-1977.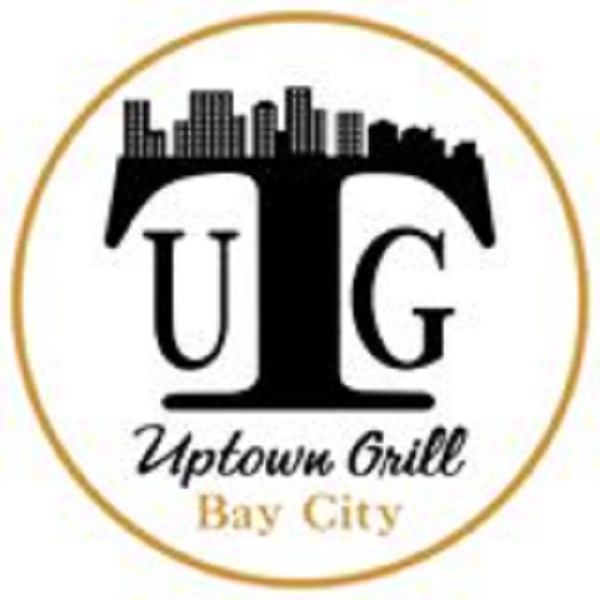 Uptown Grill
© MyBayCity.com
I remember doing an article many years ago for The Bay City Times on economic development. The story recounted how the Bay City Chamber of Commerce was able to raise over $1 million in 1927 to bring the Brown Hoisting Company here for a merger with the Industrial Works. Presto: we had Industrial Brownhoist and about 1,000 jobs for 50 years.
The decor of the Uptown Grill is a tribute to those heady days before the Depression when cranes shipped out of here for the far reaches of the earth, cranes that helped build the Panama Canal, the Mackinac Bridge and load ships in far flung seaports.
After the Depression the Chamber mounted another fund campaign in 1937 and was able to bring the Electric Auto Lite Company here from Toledo. Yup, another 1,000 jobs for 50 years.
Recalling the industrial history of Bay City on a riverfront site that is one of the most vibrant brownfield developments anywhere around is entirely appropriate -- and inspirational.
Inspirational mainly because Uptown, with 300 plus jobs at the Dow Corning Tech Center, a splashy modern Courtyard by Marriott hotel building, and a bank, hospital, condos, and associated businesses all are spelling GROWTH.
Who would have ever thought it could happen? But the Shaheen brothers and the City of Bay City, with help from Consumers Energy, and a handful of "anchor" partners like Dow Corning, Chemical Bank, and McLaren-Bay Medical are bringing back the glory days of this city.
Leaving the Grill, I spot a limousine parked outside. Wow, tycoons coming already! The word is really getting around fast.
Then I remembered, Vince also runs a limo service.
Impressive nonetheless.
###