Veteran's Administration Update Presented To Rotary
December 9, 2014
By: Stephen Kent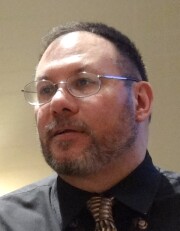 Ricardo Davila
Ricardo Davila
from the Saginaw Veterans Hospital spoke to Rotary giving an overview of the VA and what it's about. A 20 year Marine veteran, Rick is disabled himself which gave him direct experience with what the VA can do. As a representative of the VA, Ric talked about the three parts of the VA: the VBA, VHA, and NCA.
The
Veterans Benefits Administration (VBA)
deals with Compensation, home loans, education and training, life insurance and vocational rehabilitation. Applications start before discharge with counseling and resources made available. Compensation may be due to any anyone with a service related disability. For certain veterans, pensions are available after age 65 or to disabled vets.
The
Veterans Health Administration (VHA)
operates the hospitals, outpatient clinics, and research facilities. VHA is the largest health organization in the US and is divided into 23 Veterans Integrated Services Networks (VISN).
The Saginaw VA's main hospital is located on Wiess Street in Saginaw. There are also Community Based Outpatient Clinics in 9 other cities around the state. For many services a vet can go to one of those facilities.
The third leg of the VA is the
National Cemetery Administration (NCA)
. This service administers national cemeteries and provides markers, headstones and medallions. It also runs a nationwide gravesite locator service to find anyone buried in a national cemetery. Every veteran has the option to be buried in one of these national cemeteries.
A new
Veterans Choice
program went into effect Nov 5, 2014. If VA service can be provided within 30 days, or in the event a vet lives over 40 miles from a VA facility, that vet has the option to use a non-VA facility or service for their care.
Davila went on to talk about eligibility. Any veteran, even one from WWII, is eligible for services. He said the main requirement is for the vet to ask. "There's barriers to veterans using the VA and the biggest barrier is the veteran themselves." The reason is psychological. Why should a vet show weakness by using a governmental agency for support when that vet has supported him or herself for 20 years and been to combat. "That's the biggest hurdle I see most veterans needing to get over to use the VA." When the body stops working like it did, it's time for a vet to call the VA.
For more information visit
www.BayCounty-mi.gov/aging
.
---
CLUB NEWS and ANNOUNCEMENTS
President Ron opened the meeting with a greeting from Hungary where the first club was founded in Budapest on feb 20, 1926. Like many communist era countries, Hungary left Rotary from 1942 to 1989. Today there are around 36 clubs. More facts about Rotary around the world are available at the
The Rotary Global History fellowship
and at
Rotary 1st 100
.
Andreas Teich
inducted three new members. One of these was returning member Dom Monastaire. To the Delight of all, Andreas said "welcome back... here's your stuff" and handed Dom his trappings. Andreas then went on to induct Matt VanNortwick and Christine Nielsen. Welcome to both.
The board met before the regular meeting. Among other items,
Marybeth Laisure
was approved for membership and her name was read to the membership for the first time.
Dave Mikolajczak
presented the day's 2-minute business spotlight. Born and raised in Bay City, Dave was the oldest of seven children. He played in the 1967 Bay City Central High State Championship football team. He studied accounting at Farris State College, got married to his high school sweetheart. After Farris Dave went to Authur Anderson in Detroit. Three years later, before the birth of the first of three children, the couple moved back to Bay City where Dave joined Lane Appold. In 2000 that firm merged with Andrews Hooper & Pavlik. Working in the tax area, Dave's specialty has been estate and trust work. After 41 years in public accounting, Dave said "I'm on the downside of my career". He's enjoying spending more time with organizations in the area and community.
Rob Clark talked about the introduction of Centennial Sponsorships during the anniversary year. Basically we want to give donors the opportunity to contribute to Rotary once during a year. Depending on the level, donors will get recognition and tickets to a number of events and programs. Letters will be going out soon. This donation plan may be adopted in future years as well.
Matt Felan talked about Vocational Days, scheduled for March 17 and April 14. All seven high schools are involved this year. The dates are spread out more than usual due to ACT testing schedules. Matt would like everyone to think about getting non-Rotarians involved this year. McLaren and Delta College always take the most students, but we want others as well.
NOTE: The club will meet every Tuesday in December
. (Last year we did not meet due to proximity to Christmas and New Year Day.)
The
Annual Holiday program is next week, December 16
. The club has invited
Ah Tempo!
of the Saginaw Choral Society to sing. The Arenac/Standish Club, the Morning Club and the Optimists are also invited. Rotarians are asked to donate a dollar or two at the door to help offset the cost of the entertainment.
Reminder: a member is still needed to serve on the Youth Exchange committee. If you have an interest, please contact Andrea.
The
Centennial Committee
has set the goal of EVERY MEMBER achieving
Paul Harris Fellow
status during the Centennial Year. There are matching points available that allow a member to receive their first Paul Harris level at a fraction of the normal $1,000 contribution.
Rotary Club of Bay City
View Centennial Year Celebrations Schedule
July 2014-June 2015
Click to read the
December District Newsletter PDF
.
---
DATES TO REMEMBER
Holiday Program
- December 16, 2014 - Regular meeting time - Ah Tempo! of the Saginaw Choral Society to perform
Vocational Days
- March 10 & 24, 2015
Rotary Rocks
- April 9, 2015 - State Theatre
---
Upcoming Programs
(See the official schedule at RotaryBayCity.org )
Dec 16, 2014: Annual Holiday Program.
Ah Tempo! of the Saginaw Choral Society to perform. Members of other clubs will be invited.
Dec 23, 2014: Sochi Winter Olympics
. Jonathan Teich will talk about his experiences as a television intern at the Olympics last year.
Dec 30, 2014: Fellowship and Cake.
In light of the holidays, the club will celebrate fellowship and the monthly birthday cake.
Jan 6, 2015: Historic Masonic Temple Restoration.
Dee Dee Wacksman will speak about the efforts to restore and us the Masonic Temple, which was saved from the wrecking ball by the Bay Arts Council.
---
Current and past
DISTRICT DISPATCH
newsletters are available on the District site shown in the LINKS section below.


Rotary Bay City on Facebook!
Click on the Blue Facebook to visit us there.

Remember! Check attendance sheets at the front desk.
---
LINKS