Friends of the Masonic Temple Talk to Rotary
January 6, 2015
By: Stephen Kent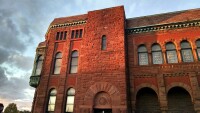 Dee Dee Wacksman
and
Eric Jylha
talked to Rotary about the efforts by the
Friends of the Historic Masonic Temple
to raise money to restore the historic temple and convert it into an arts center for the community.
Several years ago the Masons had come to the conclusion that they could no longer support the hundred plus year old building, which stands next to the larger Masonic Consistory. Plans were underway to sell the building and contents with the anticipation that it would be demolished.
The Bay Arts Council stepped in and worked a deal to purchase the building. That purchase was just in time; furnishings and fixtures had already been tagged for auction.
Today the Friends group runs a number of programs to raise awareness and funds for the operation and restoration of the building, which could run into the millions. Short term goals are to keep the building heated and replace the roof.
Programs include an annual "Haunted Masonic Temple" presentation at Halloween where over a hundred local students vote on a theme then build sets, write the script, and act as performers for three weekends. Other programs have included a percussion workshop by the Bay Music Foundation, rock concerts, and screenings by the Hells Half Mile Film and Music Festival.
An ongoing event is the Midnight Monster Movie. "B" and cult-classic horror films are screened for the public (admission $2) once a month. The very first film to be shown in Bay City was screened in the Temple so this event seems fitting. (Next movie: 1962's
Carnival of Souls
to be shown Feb 21, 9pm and Midnight.)
Following Dee Dee's talk about current events and fund raising, Eric presented a slide show based on a longer program he does. He outlined some of the history of the Masons and their place in Bay City's history. He talked about features of the building, such as the wonderful organ.
The Temple was built in 1893. It's spectacular Moorish architecture featured copper clad onion domes on the roof. In 1903 the building caught fire and was completely gutted.
Eric's research indicates that the fire may have started from embers left by a possible lightening strike the night before. There were meetings in progress at the time that the fire actually started. Papers of the day include pictures and the statement that there was no hope of saving the structure.
Almost immediately plans were made to rebuild using the same blueprint. The new building was dedicated in 1905 and stands today, although without the iconic onion domes.
For more information and pictures visit
facebook.com/friendsOfTheMasonicTemple
.
The group also runs a "GoFundMe" campaign to raise funds. Show your support by visiting
goFundMe.com/HistoricMasonicTemple
.
Request to be on the e-mail newsletter by senting an e-mail to
friendsOfTheMasonicTemple@gmail.com
.

Blue room transformed into the
Queen's Castle from Alice in Wonderland.


Over 100 students made up the cast.
A few are shown here in makeup room.
The board meets this week
January 13 at 11:00 before the regular meeting.
Everyone is welcomed.
President Ron opened the meeting with a greeting in
Maori
, an Eastern Polynesian language, which is the second principal language of New Zealand. Rotary began in that country in 1921. More facts about Rotary around the world are available at the
The Rotary Global History fellowship
and at
Rotary 1st 100
.
Thanks and congratulations to
Rod Sundstrom
who was presented with his
Paul Harris Fellow PLUS 4
. Contributions like Rod's make it possible for Rotary to provide the humanitarian services that it is known for world wide.
Matt Felan
noted that
Vocational Days
is coming up in March and April. The deadline to sign up to take a student is mid-February. McLaren and Delta are on-board but the committee needs to get more Rotarians and other businesses to sign up.
The district and the Pigeon club will be holding a
Rotary leadership seminar
on January 26. If you have an interest in attending please contact Ron.
Tickets are still available for the
Saginaw Spirits
hockey game. This is a district fund raiser for water projects. Contact Ron for more information.
Rotary Rocks
is scheduled for April 9 at the State Theatre. The theme is
"Elvis will be in the building".
Make your plans now.
WHO WON THE GOLF PACKAGE
at the International Night auction? That prize was not claimed and the committee needs to know who the person was.
The Bay County Historical Society is planning an exhibit to recognize and honor Rotary and other service clubs in the aera. A
Sneak Peak for Rotarians
is scheduled on January 15 from 5:00pm until 6:30pm. Light refreshments will be served.
Bonnie Marsh
presented the day's 2-minute business spotlight. Bonnie works as an account liaison for Heartland Home Care and Hospice, a division of Manor Care from Toledo. The company was founded in Bay City as Allen Home Care some 30 years ago. Bonnie has been with Heartland for nine years. The majority of services are provided in Bay City where there are about 200 employees serving about 500 patients. Services include nursing and therapy care, paid for by insurance, to home bound individuals. They also provide hospice services which include physical comfort as well as emotional and spiritual care.
Eric Jylha
, acting as Sargent at Arms, started his segment by inviting
Steve Kent
to the podium. Steve's Alma Mater,
Baylor
, played MSU in the Cotton Bowl last week... and lost... by one point. As part of a bet, Steve was required to sing the MSU fight song for the club. Unfortunately he had lost his voice. Even so, he had prepared a few words and the song, accompanied bay a recording of the band, on flash cards. Video of the full presentation may be found on
Chris Girard's
Facebook page.
Reminder: a member is still needed to serve on the Youth Exchange committee. If you have an interest, please contact Andrea.
The
Centennial Committee
has set the goal of EVERY MEMBER achieving
Paul Harris Fellow
status during the Centennial Year. There are matching points available that allow a member to receive their first Paul Harris level at a fraction of the normal $1,000 contribution.
Rotary Club of Bay City
View Centennial Year Celebrations Schedule
July 2014-June 2015
Click to read the
December District Newsletter PDF
.
---
DATES TO REMEMBER
Board Meeting
- January 13 - 11:00 am before regular meeting - Everyone invited.
Vocational Days
- March 17 & April 14, 2015
Rotary Rocks
- 7:00 pm - April 9, 2015 - State Theatre
Golf Outting
- Monday, June 15, 2015
---
Upcoming Programs
(See the official schedule at RotaryBayCity.org )
Jan 13, 2015: Great Lakes Bay Manufacturers Association.
Manufacturing has been and will continue to be the backbone of our economy. Executive Director Kathy Conklin will talk about the organization that represents this group.
Jan 20, 2015: Agriculture in Michigan
Gertie Van Den Goor will talk about the dramatic change in American agriculture that has occurred over the last few decades.
Jan 27, 2015: Saginaw Bay Watershed Initiative Network
Michael Kelly will provide an overview of the Network's activities and points of focus including important projects that get very little publicity yet they are very impactful.
Feb 03, 2015: Paul Harris Fellow program
---
Current and past
DISTRICT DISPATCH
newsletters are available on the District site shown in the LINKS section below.


Rotary Bay City on Facebook!
Click on the Blue Facebook to visit us there.

Remember! Check attendance sheets at the front desk.
---
LINKS