Guatemala Adopt-A-Village Project Updated for Rotary
January 13, 2015
By: Stephen Kent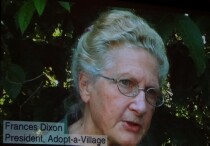 Frances Dixon
Chuck Cusick presented a video about the Guatemala Adopt-A-Village program that the club has participated in since 2002. The video featured students, teachers and others from the project as well as founder and President Frances Dixon.
The club began supporting this project in 2002, along with other clubs in the area. Seven villages were helped. In 2003 Chuck and Nancy Cusick visited the school library that had been built.
The made a major gift of $5,000 in 2008, which helped with a satellite system for internet communications, and a new mothers education program. 70 mothers attended the program.
Since 2009, the club contributed between $1,000 and $3,000 a year for other projects including the purchase of computers, an organic garden project and seeds, internet fees, water catchment tanks, nutritional training, and scholarships.
Additional information and links to the Adopt-A-Village site will be found on the club web site at
RotaryBayCity.org
.
---
CLUB NEWS and ANNOUNCEMENTS
After greeting visitors,
Rob Clark
brought back a popular activity as he led the club in a round of "The Damper Song", including hand gestures. New members may have been surprised, if not confused, but those who have been around a while knew the words and gestures quite well! President Ron opened the meeting with a greeting in the Romanian language. Rotary started in Bucharest in 1929 with district 84. More facts about Rotary around the world are available at the
The Rotary Global History fellowship
and at
Rotary 1st 100
.
The club held its monthly board meeting prior to the regular meeting. Among the points reported:
Tom Birch's
resignation was accepted with regret. Tom has retired as head of the Bay County Library system. An international night final wrap-up meeting will be next Tuesday at 11:00. Rotary Rocks and the Anniversary dinner were discussed. The club will cover the cost of PETS for the president elect and president nominee.
The
Bay County Historical Museum
is mounting an exhibit honoring
100 Years of Rotary in Bay City
. A "Sneak Peek" event was held Thursday the 15th. About a dozen members attended. The exhibit will open to the public soon.
An ad-hoc committee has been formed top formulate a new
annual sponsorship
fund raising plan. The committee will be co-chaired by
Rob Clark
and
Bob Chadwick
.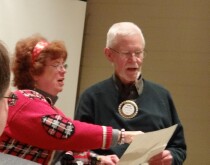 Dee Dee and George sing Ohio Fight Song
Ohio State beat Oregon State
in the first College Football National Championship game with a score of 42 to 20. Representing the looser,
George Shaw
was required to sing the Ohio fight song.
Dee Dee Wacksman
, representing the winner, was kind enough to provide the words and music and even sang along. Congratulations Dee Dee... sorry George.
Rotary Rocks
is scheduled for April 9 at the State Theatre. The theme is
"Elvis will be in the building".
Make your plans now.
Chris Girard
presented the day's 2-minute business spotlight. Besides being Bay City's 6th Ward Commissioner, Chris is head of
Do-All, Inc.
In his words, "My job is to put my organization out of business". Do-All provides tools and training to help underprivileged and challenged people connect with businesses in their community. "In the past not nice things were done to a lot of folks we work with. They were stuck in institutions. A large part of my job is opening doors for these people." If he can connect everyone, he says, he can close the doors at Do-All.
Reminder: a member is still needed to serve on the Youth Exchange committee. If you have an interest, please contact Andrea.
The
Centennial Committee
has set the goal of EVERY MEMBER achieving
Paul Harris Fellow
status during the Centennial Year. There are matching points available that allow a member to receive their first Paul Harris level at a fraction of the normal $1,000 contribution.
Rotary Club of Bay City
View Centennial Year Celebrations Schedule
July 2014-June 2015
Click to read the
December District Newsletter PDF
.
---
DATES TO REMEMBER
Board Meeting
- January 13 - 11:00 am before regular meeting - Everyone invited.
Vocational Days
- March 17 & April 14, 2015
Rotary Rocks
- 7:00 pm - April 9, 2015 - State Theatre
Anniversary Dinner
Come celebrate the Club's 100th birthday and honor our members.
5:30 pm to 9:00 pm - Doubletree
Golf Outting
- Monday, June 15, 2015
---
Upcoming Programs
(See the official schedule at RotaryBayCity.org )
Jan 20, 2015: Agriculture in Michigan
Gertie Van Den Goor will talk about the dramatic change in American agriculture that has occurred over the last few decades.
Jan 27, 2015: Saginaw Bay Watershed Initiative Network
Michael Kelly will provide an overview of the Network's activities and points of focus including important projects that get very little publicity yet they are very impactful.
Feb 03, 2015: Paul Harris Fellow program
---
Current and past
DISTRICT DISPATCH
newsletters are available on the District site shown in the LINKS section below.


Rotary Bay City on Facebook!
Click on the Blue Facebook to visit us there.

Remember! Check attendance sheets at the front desk.
---
LINKS