Humor And The Workplace
January 20, 2015
By: Stephen Kent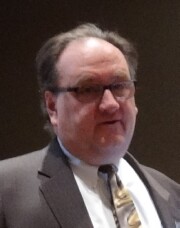 Bill Bateman
Member
Bill Bateman
, President of Northwood University, spoke to Rotary on "Humor And The Workplace", which was the subject of his doctoral dissertation and later a 220 page book. Bill likes to say he is a Doctor of Humor.
Before getting into the serious side of humor, Bill related that his research showed that there is one food that causes women, more than men, to decrease or lose their sense of humor: wedding cake.
Until recently there has been little scientific research on humor in the workplace. There have been books and studies of the subject in other fields, but it's was never mentioned in management and business texts.
The first theories on humor were in the 1700's. Until the 1800's referring to as person's sense of humor would have made little sense to anyone. The sense of beauty or morality came into play and soon the sense of humor. In the 20th century Freud included the subject. Since the 1970's, more has been written than anytime before.
Study shows that humor is communicated with all five senses. Using a chart, Bill showed the "Arousal Theory" where the joke starts with a stimuli that the listener compares to their learned "schemata". Then there is an unexpected result that causes an incongruity, a new schemata, a resolution and a reaction.
In the workplace, humor can be uses as a medicator, a manager, a messenger, and a motivator. Bill gave examples of each and talked about how they can be effectively used. He used a video to illustrate four rules of humor: 1) be real, 2) be respectful, 3) be relevant, 4) be Revolutionary.
The final admonition was to Be Happy! Search for a job that makes you happy. Have more fun.
---
CLUB NEWS and ANNOUNCEMENTS
President Ron
opened the meeting with a greeting from
Hawaii
where Rotary dates from 1915, the same year Bay City started. The clubs were in the California district until statehood in 1959. Hawaii's claim to fame is the 1969 International Convention, which has the second highest attendance in Rotary history.
The Rotary Global History fellowship
and at
Rotary 1st 100
.
Bret Lewless
presented the day's 2-minute business spotlight. He said that when asked how he got into roofing he replies "I fell off a roof". Actually, he said, he was 13 or 14 and his grandfather was removing snow and Bret jumped from the roof to the snow and had a good time doing it. Bret is now the fourth generation running Valley Roofing. His first memories were driving a truck for his grandfather. Later his dad (Rotarian Jerry Lewless) told him to get a college education, so Bret got a civil engineering degree from U of M, which "I've never used because I've always worked at Valley Roofing." Bret's son graduates from SVSU this spring and is anticipated to join the family business too.
The
International Night
committee met today. They will circulate a survey soon to get feedback from club members as the event continues to evolve.
The
Rotary Exhibit
at the
Bay County Historical Museum
is open to the public now. Additional items have been added and more will be coming soon.
The
Club Foundation's
entire board is up for re-election. If you are interested in serving, please see Tim Holsworth.
Tim also talked about the
Golf Outing
Monday, June 15. Bay City Schools were able to purchase 32 iPad Minis with the funds raised last year. The schools will be the focus for the upcoming outing as well. The committee has been meeting. The price will be lower, there will possibly be entertainment, and students may be participating. The committee will be looking for sponsors soon.
Remember that
Rotary Rocks
is scheduled for April 9 at the State Theatre. The theme is
"Elvis will be in the building".
Make your plans now.
Reminder: a member is still needed to serve on the Youth Exchange committee. If you have an interest, please contact Andrea.
The
Centennial Committee
has set the goal of EVERY MEMBER achieving
Paul Harris Fellow
status during the Centennial Year. There are matching points available that allow a member to receive their first Paul Harris level at a fraction of the normal $1,000 contribution.
Rotary Club of Bay City
View Centennial Year Celebrations Schedule
July 2014-June 2015
Click to read the
December District Newsletter PDF
.
---
DATES TO REMEMBER
Vocational Days
- March 17 & April 14, 2015
Rotary Rocks
- 7:00 pm - April 9, 2015 - State Theatre
Anniversary Dinner
Come celebrate the Club's 100th birthday and honor our members.
May 14 - 5:30 pm to 9:00 pm - Doubletree
Golf Outting
- Monday, June 15, 2015
---
Upcoming Programs
(See the official schedule at RotaryBayCity.org )
Jan 27, 2015: Saginaw Bay Watershed Initiative Network
Michael Kelly will provide an overview of the Network's activities and points of focus including important projects that get very little publicity yet they are very impactful.
Feb 03, 2015: Paul Harris Fellow program
---
Current and past
DISTRICT DISPATCH
newsletters are available on the District site shown in the LINKS section below.


Rotary Bay City on Facebook!
Click on the Blue Facebook to visit us there.

Remember! Check attendance sheets at the front desk.
---
LINKS