Saginaw Bay Watershed Initiative Network - WIN
January 27, 2015
By: Stephen Kent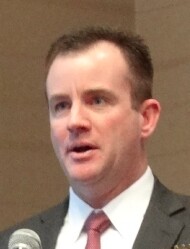 Mike Kelly
Mike Kelly
, Director of the Great Lakes Office of
the Conservation Fund
, spoke to Rotary about the
Saginaw Bay Watershed Initiative Network (WIN)
.
Mike works for The Conservation Fund our of Washington DC, which works in Real Estate, land acquisitions and financing. They acquire large pieces of acreage for the Federal Government for national parks, Civil War battlefields, and other important pieces of land.
They also provide financing with low interest loans to organizations like the Saginaw Basin Land Conservancy. They engage in conservation leadership, research, and training at a national level.
Mike spoke mostly about sustainability and the local Watershed Initiative Network (WIN) project. WIN is a regional quality of life program that engages citizens to improve the region. WIN is a source of technical support and a funding partner.
WIN is managed by the Conservation Fund and is known as a grantmaking organization. It is made up of regional non-profit and philanthropic partners, which it supports.
WIN is based in Bay City but covers the 22 county Saginaw Bay watershed. They make grants throughout an 8,000 square mile area. Funding partners include most of the major companies of the area from Dow Chemical to major foundations.
The five main focus areas are water, land, tourism/promotion, wildlife habitat, and demonstration projects. Mike discussed examples of each of these areas. Among the projects are river openings where WIN funds and coordinates the removal of dams and restoration of rivers to their original state.
Other projects include public access to rivers and natural areas. Railtrails and non-motorized access include projects like the extension of the Bay City Rail trail south toward Saginaw. Mike talked about habitat projects, pollution prevention and restoration projects.
For more informationvisit
www.conservationFund.org
.
---
CLUB NEWS and ANNOUNCEMENTS
President Ron
opened the meeting with a greeting in
Egyptian Arabic
to celebrate Rotary in the middle-East, where the first club was founded in Cairo in 1928. Those early members chartered a Nile steamer for the occasion. Rotarians and their guests had lunch on the river followed by presentation of the charter. This was the only known chartering to take place on a boat. Additional information may be found at
The Rotary Global History fellowship
and at
Rotary 1st 100
.
Chris Girard stood in for Jeff Yantz as greeter and welcomed guests, which included our exchange students.
Andrea Hales
noted that the
Community Grant
cycle is open for applications through the deadline of March 15. Grants of up to $2,000 are available. Information and an on-line application can be found on the club web site.
Matt Felan
talked about the upcoming
Vocational Days
in March and April. The last day to turn in forms is February 15. The anchors this year are McLaren Bay Medical, Delta College, and SVSU. There are still spots for small businesses to participate.
Anne Trahan
reminded Rotarians that she will take professional
directory photos
for any member at her studio!
This was birthday Tuesday. The club wished happy birthday to a large group of members born in January.
A number of people gave public congratulations and well wished to
Mike Seward
who is retiring as director of the
Bay Area Chamber of Commerce
. Mike plans to relocate in Florida. Thanks Mike, for your service to the community, the chamber, and Rotary.
The
Club Foundation's
entire board is up for re-election. If you are interested in serving, please see Tim Holsworth.
Remember that
Rotary Rocks
is scheduled for April 9 at the State Theatre. The theme is
"Elvis will be in the building".
Make your plans now.
Reminder: a member is still needed to serve on the Youth Exchange committee. If you have an interest, please contact Andrea.
The
Centennial Committee
has set the goal of EVERY MEMBER achieving
Paul Harris Fellow
status during the Centennial Year. There are matching points available that allow a member to receive their first Paul Harris level at a fraction of the normal $1,000 contribution.
Rotary Club of Bay City
View Centennial Year Celebrations Schedule
July 2014-June 2015
Click to read the
December District Newsletter PDF
.
---
DATES TO REMEMBER
Vocational Days
- March 17 & April 14, 2015
Rotary Rocks
- 7:00 pm - April 9, 2015 - State Theatre
Anniversary Dinner
Come celebrate the Club's 100th birthday and honor our members.
May 14 - 5:30 pm to 9:00 pm - Doubletree
Golf Outting
- Monday, June 15, 2015
---
Upcoming Programs
(See the official schedule at RotaryBayCity.org )
Feb 03, 2015: Paul Harris Fellow program
Feb 17, 2015: Saginaw Bay Environmental Science Institute at SVSU
Dr. David Karpovich will discuss the institute which is critically important to all of the Great Lakes Bay area.
Feb 24, 2015: Keith Pretty, CEO and President of Northwood University
will speak on the University and its programs.
Mar 3, 2015: Bay Arenac ISD Career Center
Tiffany Sheppard will share information about the programs offered and to bring light to their program to area employers.
Mar 10, 2015: Western High School China Trip Report
Students and teachers will share experiences from their recent trip to China.
---
Current and past
DISTRICT DISPATCH
newsletters are available on the District site shown in the LINKS section below.


Rotary Bay City on Facebook!
Click on the Blue Facebook to visit us there.

Remember! Check attendance sheets at the front desk.
---
LINKS