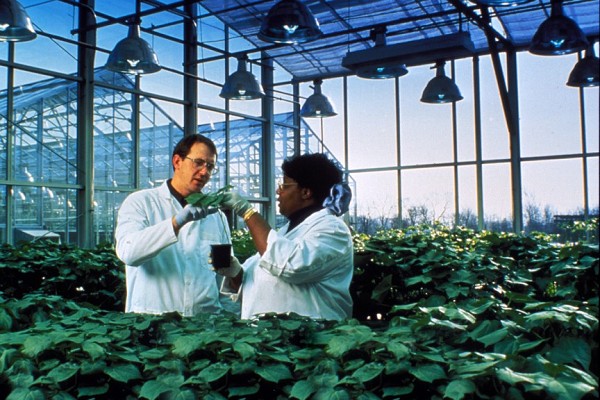 Dow AgroSciences scientists talk plants in company greenhouse.
---
DOW AGRO GROWS: Brazilian Seed Firm Acquisition Strengthens Soybean Area
January 31, 2015
By: Dave Rogers
The Midland-based Dow Chemical Company is growing its seed business and is one of the largest and fastest-growing soybean seed companies in the world.
Dow AgroSciences, a wholly owned subsidiary of The Dow Chemical Company (NYSE: DOW), has announced the acquisition of Brazilian firm Coodetec's seed business.
This acquisition marks the second largest by Dow AgroSciences and is in line with Dow's plans to expand participation in attractive, high-value growth markets, a key component of the Company's strategy. The acquisition also expands the Company's corn and soybean genetics, and strengthens the Company's breeding and production capabilities in the Americas.
The acquisition further enables growth for Dow AgroSciences in Brazil with strategic corn and soybean traits technology, including POWERCORE (tm) and new technologies under development such as Conkesta (tm), and the Enlist (tm) Weed Control System.
"With this transaction, Dow AgroSciences accelerates its entry into the soybean market in Brazil, a strategic focus of the Company's growth. The objective is to increase market share in soybean seeds in the short term. Furthermore, it strengthens the Company's position in the corn market and marks the entry into wheat seeds in the country," said Rolando Meninato, Vice President, Seeds Business, Dow AgroSciences.
The conclusion of the Coodetec acquisition also represents a significant addition to Dow AgroSciences' soybean capabilities across the Americas, enhancing the Company's genetics portfolio, operations breeding, and ramp-up of new technologies.
"This acquisition will benefit U.S. farmers by enabling Dow AgroSciences seed brands to offer growers even more high performing corn and soybean germplasm with the characteristics growers are looking for," said Brian Barker, General Manager, U.S. Seeds, Dow AgroSciences.
It is expected that the current operational structure of Coodetec will be maintained. A team is being led by Vitor Cunha, former Regional Sales Director for Dow AgroSciences, who is now overseeing the operation as General Manager. Ivo Carraro will remain Coodetec's Administrative Director.
Dow AgroSciences discovers, develops, and brings to market crop protection and plant biotechnology solutions for the growing world. Based in Indianapolis, Indiana, USA, Dow AgroSciences is a wholly owned subsidiary of The Dow Chemical Company and had annual global sales of $7.3 billion in 2014. Learn more at www.dowagro.com.
###