Rotary Hears Update on Local and International Foundations
Paul Harris Dedication Photo Books Presented to Club and Library
February 3, 2015
By: Stephen Kent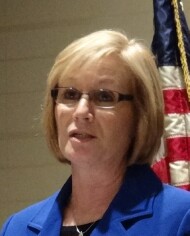 Connie Schweitzer
Connie Schweitzer
, the Club's Rotary International Foundation representative, began the program by talking about the RI foundation, the recognition levels, and how on can contribute to that cause. Tim Holsworth, head of the local Rotary Club of Bay City Foundation talked about the purpose and use of that foundation.
As Club Rep, Connie is responsible for coordinating giving, record keeping, and recognition for donation to RI. That foundation has a number of levels including the well known Paul Harris Fellow, given for a donation of $1,000. After the first thousand, each additional increment receives a "PH Plus" and a new pin with jewels designating the level.
After the initial $1,000 gift, PH Fellows may award "points", equivalent to a dollar each, to help others become first level PH Fellows. Members of the Bay City club have a huge backlog of points available for this purpose.

It is not necessary that a Paul Harris Fellow be a Rotarian. In fact, many Rotarians give points or contributions to recognize loved ones and others by making them a PH Fellow.

The Centennial Committee has set a goal of EVERY MEMBER achieving Paul Harris Fellow status during the Centennial Year. Points can make the cost of this first PH a fraction of the normal $1,000 contribution.

Other RI designations are available for larger donors. These include the Paul Harris Society, the Major Donor, and Bequest Society for estate planning.

Tim Holsworth spoke about the local Rotary Club of Bay City Charitable Foundation, which is a 501c3 non-profit that was set up a number of years ago to manage and distribute funds raised on the local level. The club's three major fund raising projects, International Night, the Rotary Concert, and the Golf Outing all contribute to this foundation.

Over the years the club has run it's Major Projects donations from this foundation. Today the club makes all contributions, including the annual Community Grants, through the local foundation.


---
CLUB NEWS and ANNOUNCEMENTS
The board meets this week
February 10 at 11:00 before the regular meeting.
Everyone is welcomed.

President Ron opened the meeting with a greeting in the language of Nepal, a landlocked country in the Himalaya's of South Asia. The first Rotary Club was founded in Katmandu in 1950. There are now 70 Rotary clubs in the country. Additional information may be found at The Rotary Global History fellowship and at Rotary 1st 100.

The club welcomed Marybeth Laisure, Executive Director of the United Way of Bay County, as a new member.

Don Carlyon told the club that former District Governor Ruby Iwamasa is ill with a rare blood disorder. She was not taking visitors at the time, but cards would be welcomed addressed to Ruby at Tender Care, Room 10, 4900 Hedgewood Dr., Midland MI 48640.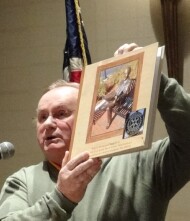 Bob Chadwick presents book

Bob Chadwick called Don Carlyon back to the front and told the club about the large photo book that Don's daughter made for him to commemorate the dedication of the Paul Harris statue in Rotary Park. Bob had extra copies of the book printed; one is for the club and the other will be donated to the Bay County Library, of which Don is on the board. Additional copies are available for $45.

Rotary Rocks is scheduled for April 9 at the State Theatre. The theme is "Elvis will be in the building". Ron said that Andrea Hales will be selling tickets and ads starting next week.

Ron read a letter of thanks from Francis Dixon, head of the Adopt-a-Village organization in Guatemala, to which the club regularly donates funds.

Deb Lutz presented the day's 2-minute business spotlight. A Rotarian since 1996, and club president 2008-09, Deb is the Vice President of Business & Finance for Delta College. Wearing many hats, Deb oversees facilities, business, finance and human resources. She's also coordinates legal, risk management and insurance and is involved compensation, benefits and labor negotiations. Delta has about a million square feet and a thousand employees.

The Community Grant cycle is open for applications through the deadline of March 15. Grants of up to $2,000 are available. Information and an on-line application can be found on the club web site.

Vocational Days are scheduled for March and April. The last day to turn in forms is February 15. The anchors this year are McLaren Bay Medical, Delta College, and SVSU. There are still spots for small businesses to participate.

The Club Foundation's entire board is up for re-election. If you are interested in serving, please see Tim Holsworth.

Reminder: a member is still needed to serve on the Youth Exchange committee. If you have an interest, please contact Andrea.

Rotary Club of Bay City
View Centennial Year Celebrations Schedule
July 2014-June 2015



Click to read the December District Newsletter PDF.


---
DATES TO REMEMBER


Vocational Days - March 17 & April 14, 2015

Rotary Rocks - 7:00 pm - April 9, 2015 - State Theatre

Anniversary Dinner Come celebrate the Club's 100th birthday and honor our members.
May 14 - 5:30 pm to 9:00 pm - Doubletree

Golf Outting - Monday, June 15, 2015


---
Upcoming Programs
(See the official schedule at RotaryBayCity.org )


Feb 10, 2015: Business and the Arts presented by Mia Dvornic or the Northwood Gallery.

Feb 17, 2015: Saginaw Bay Environmental Science Institute at SVSU Dr. David Karpovich will discuss the institute which is critically important to all of the Great Lakes Bay area.

Feb 24, 2015: Keith Pretty, CEO and President of Northwood University will speak on the University and its programs.

Mar 3, 2015: Bay Arenac ISD Career Center Tiffany Sheppard will share information about the programs offered and to bring light to their program to area employers.

Mar 10, 2015: Western High School China Trip Report Students and teachers will share experiences from their recent trip to China.

---

Current and past DISTRICT DISPATCH newsletters are available on the District site shown in the LINKS section below.







Rotary Bay City on Facebook!
Click on the Blue Facebook to visit us there.

Remember! Check attendance sheets at the front desk.
---
LINKS




0202 nd 02-18-2019