Annual Christmas program features something for everyone
December 26, 2005
By: Stephen Kent
Annual Christmas Program features something for everyone.
Leo Najar, Rob Clark, Andy Rogers and the entire club joined together to have a musical program with something for everyone. The program started with Najar on keyboard accompanying Clark who sang several popular Christmas songs including "The 12 Days of Christmas" as only Rob can do it. Many people heard, but could not identify, a secondary accompanyment which proved to be Andy Rogers playing his "squeeze box" while sitting at the front table.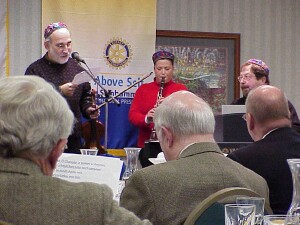 Next, Leo introduced Vickie Bowden, clarinet with the Bijou Orchestra, who accompanied him and Andy Rogers who played violin and sang the Yiddish song "O Chanuke". Everyone got in on the act as Leo began by instructing the audience in the yiddish refrain printed on hand out sheets. In case anyone forgot the words:
Geshvinder, tsindt kinder,
Di Chanuke lichtelech on.
Zogt, Al-hanisim, loybt Got far di nisim,
Un kumt gicher tanstsn in kon!
The final part of the program was a special version of "The 12 Days of Christmas" as composed by the entire club. Tables were numbered off from 4 to 12 and each table was instructed to come up with the gift their table would receive on that day. Rob Clark lead off with the first three days. FOR THE RECORD, the results were:
First Day: A Green Bay Packers Victory
Second Day: Help with my wardrobe
Third Day: Three Books of Camp Songs
Fourth Day: Four Stinking Skunks
Fifth Day: Five Golden Perch
Sixth Day: Six Rotary Wheels a-Turning
Seventh Day: Seven Salmon Spawning
Eighth Day: Eight Madyards Dancing (submitted by our Ambassodorial Scholar, Linda)
Ninth Day: Nine Wolverines
Tenth Day: Ten Golfers Duffing
Eleventh Day: Eleven Credit Card Bills
Twelth Day: Twelve Eggs a Scrambling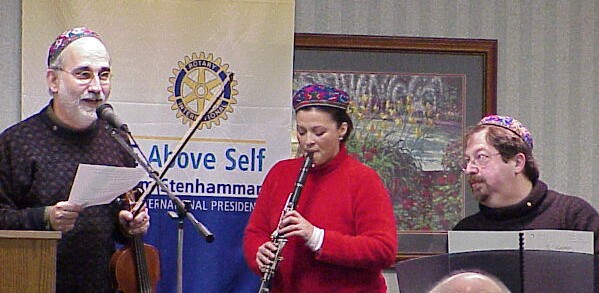 ---
--- Advertisements ---

---
---
---
RotaryBayCity.org Rotary Club of Bay City Web Site
eClub-One
: Members with internet connections are encouragedto visit eClub-One monthly for a makeup. To get makeup credit you need to fill out the makeup form on that site. Print the acknowledgement for you receive and turn it in to receive credit. Be sure to enter our club's district number (
6310
) on that form.
Click this link to open eClubOne in a new window:
www.rotaryeclubone.org
.
The Bay City Rotary Club meets at Noon each Tuesday at the Lumber Barons resturant on the West Side.
Rotary Club of Bay City Web Site
District 6310 meeting schedule