Northwood Prof Talks to Rotary About Art In Business
February 10, 2015
By: Stephen Kent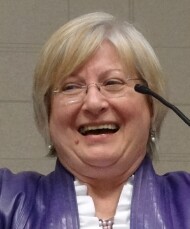 Mia Dvornic
When
Northwood University
was founded, one of the tenants was that there would always be a relationship between business and the arts.
Dr. Mia Dvornic
holds a PHD in Cultural Anthropology and has studied all over the world. She has been director of the Northwood Gallery since 2000 and is on the faculty.
Dr. Dvornic talked about that art and business relationship that is central to Northwood. Architect Alden B. Dow was instrumental in the design of Northwood and embraced art are part of the institution. Northwood was one of the first universities to house its own art collection.
Asking why a business school would be interested in Art, Dvornic answered "creativity". Art easily demonstrates the importance of looking at things in a fresh way. Putting things that don't seem related together produces both aesthetics and a more powerful message.
Using the windowless meeting room as an example, Dvornic said that the shipbuilding photo art on all of the walls opened the room and made it more interesting. Art's intriguing nature opens minds to creative ideas.
Business buying are is not an obvious or direct investment. Instead "art is an investment into the people who are going to benefit from the privilege of being exposed to the art and becoming better employees."
Dvornic went on to talk about how local businesses, including Dow Corning, Dow Chemical, Hemlock Semiconductor employed Northwood to incorporate art into their facilities. The Uptown development in Bay City is the most recent example. The Shaheen Brothers and Dow "wanted a lot of art, they wanted it big, they wanted it powerful, they wanted local artists, and they wanted it from a local gallery."
Art in public places gives people the opportunity to be exposed to original art, which they may not have at home. Art is a strong statement that a corporation cares.
For more informationvisit
www.northwood.edu
.
---
CLUB NEWS and ANNOUNCEMENTS
President Ron
opened the meeting with a greeting in the Indonesian language. People of the area often also speak one of 700+ other indigenous languages. Rotary came to Indonesia in 1923, then stopped for WWII and again for a period in the 60's. Additional information may be found at
The Rotary Global History fellowship
and at
Rotary 1st 100
.
The board met today and received a report from International Night, which netted over $11,000 for the foundation. If you have not taken the club survey, be sure that you do so. Contact Brenda Scramlin for information.
The board also approved money for a District water project in Zambia. A future program will be scheduled to provide more information.
The Polio Donations jar, which is passed around the tables, has raised some $277 so far. There was more money in the jar today.
Tim Holsworth reported that the date of the Golf Outing has been moved from Monday to Wednesday, June 17 to work around a mandatory school staff training day. He also noted that a 60 inch, flat screen TV will be given away.
Rob Clark reminded members of the upcoming Club Centennial events Rotary Rocks on April 9, the Anniversary Dinner on May 14, and the Golf Outing on June 17. The club will be looking for sponsors for one or a group of events.
Rotary Rocks
is scheduled for April 9 at the State Theatre. The theme is
"Elvis will be in the building".
Ron said that
Andrea Hales
will be selling tickets and ads starting next week.
The
Community Grant
cycle is open for applications through the deadline of March 15. Grants of up to $2,000 are available. Information and an on-line application can be found on the club web site.
Vocational Days
are scheduled for March and April. The last day to turn in forms is February 15. The anchors this year are McLaren Bay Medical, Delta College, and SVSU. There are still spots for small businesses to participate.
Andreas Teich
presented the day's 2-minute business spotlight. "I became a Rotarian in 1994, about 4 days before I became a US citizen. So you know which was more important." Andreas was ordained to the Lutheran ministry in 1986. He took a call to a small church in Kentucky. In 1989 Andreas and wife Tracy followed her job to Michigan and Dow Chemical. Andreas worked as a free lance pastor for four years and got to know four very different faith communities, which helped shape him into the person he is today. In 1994 he came to Messiah Lutheran in Bay City, following Rotarian Ron Fuller, who had been there for 23 years. "My job is a story teller. We tell the story of what God has done for us in Jesus Christ, that's how we understand Gods relationship to the lives of people."
Reminder: a member is still needed to serve on the Youth Exchange committee. If you have an interest, please contact Andrea.
The
Centennial Committee
has set the goal of EVERY MEMBER achieving
Paul Harris Fellow
status during the Centennial Year. There are matching points available that allow a member to receive their first Paul Harris level at a fraction of the normal $1,000 contribution.
Rotary Club of Bay City
View Centennial Year Celebrations Schedule
July 2014-June 2015
Click to read the
February District Newsletter PDF
.
---
DATES TO REMEMBER
Vocational Days
- March 17 & April 14, 2015
Rotary Rocks
- 7:00 pm - April 9, 2015 - State Theatre
Anniversary Dinner
Come celebrate the Club's 100th birthday and honor our members.
May 14 - 5:30 pm to 9:00 pm - Doubletree
Golf Outting
- Wednesday, June 17, 2015
---
Upcoming Programs
(See the official schedule at RotaryBayCity.org )
Feb 17, 2015: Saginaw Bay Environmental Science Institute at SVSU
Dr. David Karpovich will discuss the institute which is critically important to all of the Great Lakes Bay area.
Feb 24, 2015: Keith Pretty, CEO and President of Northwood University
will speak on the University and its programs.
Mar 3, 2015: Bay Arenac ISD Career Center
Tiffany Sheppard will share information about the programs offered and to bring light to their program to area employers.
Mar 10, 2015: Western High School China Trip Report
Students and teachers will share experiences from their recent trip to China.
---
Current and past
DISTRICT DISPATCH
newsletters are available on the District site shown in the LINKS section below.


Rotary Bay City on Facebook!
Click on the Blue Facebook to visit us there.

Remember! Check attendance sheets at the front desk.
---
LINKS