Year Ends With 10 Minute Rotarian
Bill Black introduces himself and describes life as he knows it.
December 29, 2005
By: Stephen Kent
CLUB NEWS
The new year is here. Remember DUES ARE DUE!
Rob Clark filled in last Tuesday as Sargent at Arms. Having not been given time to prepare in advance, he pulled a trivia quiz by asking questions about himself! The club learned that:
He graduated from Knox College
He's 6' 3" tall and wears a size 11½ shoe
He was born in New York
He has a golden retreiver (which was known)
His favorite football team is the Green Bay Packers (which EVERYONEknew!)
At his Mom's house he has a collection of over 800 elephant figurines!
UPCOMING PROGRAMS

Jan 3, 2006State of the Cityby City Manager Robert Bellman
State of the County by County Executive Tom Hickner


Jan 10, 2006Delta College President Jean Goodnow


Jan 17Tentative: Warden of the Standish Prison


Jan 24Great Lakes shipwrecks with dive/TV producer Ric Mixter


Feb 7Rotary Foundation


Feb 14Saginaw Bay Symphone Orchestra


Feb 21Tentative: SVSU


Feb 28Saginaw Spirit Hockey


Mar 7Open


Mar 14Vocational Day #1


Mar 21 Vocational Day #2


SPECIAL GUEST


Dave Rogers brought granddaughter Clare Anderson to Tuesday's meeting. Harry Farris greets Clare and reminds her of the ride she took in his antique car.


---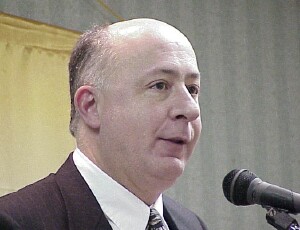 Program: 10 Minute Rotarian Bill Black
New member Bill Blacktook the spotlight and the opportunity to tell the club a little about himself.
Bill was raised in Saginaw but as a youth he spent lots of time with family in Quanicassee. He said that although he passed through Bay City regularly, he didn't know much about the place until he found a girlfriend from there!
Bill started to follow his father in the engineering profession and went to Michigan Tech. It took about a year there and a co-op job with Steering Gear to convince him thatengineering was not what he wanted to do.
After the engineering experience Bill moved into sales and marketing. He also had the chance to try bar tending and meat cutting, which he said would provide a good fall back if needed. He worked for Dambros Corp. in sales for a number of years then landed in Flint for some ten years as managing partner for a Curtis Mathes store selling consumer electonics.
As the home electonics business evolved to "bix box" stores, Bill's journey took him to the Cable TV business and back to Bay City with Bresnan. When that company was sold, Bill ended up in Detroit with Comcast... which came with the benefit of a weekend commute back to Bay City. The commute got shorter when he became VP and General Manager of Comcast in Flint.
When Comcast moved Bill's position to Sterling Heights, he and his wife Karen made the decision to stay in Bay City full time. Karen was now with Wolverine State Bank in Midland and the kids were both grown and on their own.
Bill has just recently taken a management position with Shelti Corporation, formerly Valley Recreation. After Valley was sold to Brunswick, the company moved from the area leaving a highly trained workforce here in Bay City. Those people came together to form Shelti which has become very successful and well known for quality air hockey, foosball, electronic dart boards and other such products.Their web site is
www.recrooms.com
.
Everyone thinks, when it's their turn, that there's nothing interesting about their life. In truth, the "Ten Minute Rotarian" is by far the most popular program the club does. Every story is interesting!
---
---
--- Advertisements ---

---
---
RotaryBayCity.org Rotary Club of Bay City Web Site
eClub-One
: Members with internet connections are encouragedto visit eClub-One monthly for a makeup. To get makeup credit you need to fill out the makeup form on that site. Print the acknowledgement for you receive and turn it in to receive credit. Be sure to enter our club's district number (
6310
) on that form.
Click this link to open eClubOne in a new window:
www.rotaryeclubone.org
.
The Bay City Rotary Club meets at Noon each Tuesday at the Lumber Barons resturant on the West Side.
Rotary Club of Bay City Web Site
District 6310 meeting schedule