Karpovich Speaks on SVSU's Saginaw Bay Environmental Science Institute
February 17, 2015
By: Stephen Kent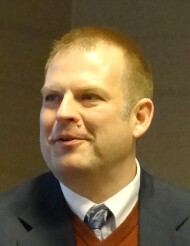 David Karpovich
Dr. David Karpovich spoke to Rotary on the topic Strategic Conservation in the Saginaw Bay Watershed. Karpovich is the H.H. Dow Chair and Professor of Chemistry at SVSU and is Director of the Saginaw Bay Environmental Science Institute (SBEIS).
SBEIS was started in 2013 to focus on environmental science, the public, and productivity in the Saginaw Bay area. It draws together researchers, students and community resources to achieve its goals.
The institute expands SVSU's work on watershed issues. It develops educational, scientific, governmental, and community partnerships that develop and expand watershed programs. It focuses STEM educational programs and opportunities.
Karpovich talked about watershed research, communication and outreach and their connection to undergraduate education. The home territory is the entire Saginaw Bay watershed, which encompasses all of the local area and surrounding counties.
Using the Kawkawlin River as an example, he talked about soil conservation efforts and farmer education programs such as vegetative filter strips. These strips provide a buffer between fields and the ditches along roads. The effect is to filter water naturally.
Computer programs, such as the Saginaw Bay Optimization decision Tool, are used by various agencies to model and study the effect of management actions on the ecology. These tools build a picture of the ideal situation and create a goal. The goal may not be reached in actual practice, but the direction and results are made clear.
Karpovich went on to talk about ecosystems and habitats, plankton and the bay's infamous "muck", and the relationships of farming practices and the environment of the bay.
For more informationvisit
www.svsu.edu/sbesi
.
---
CLUB NEWS and ANNOUNCEMENTS
President Ron
opened the meeting with a greeting in the language of
Armenia
. At the time of the report in 2006, the small country had only 2 clubs. The first was founded in 1996 in the capitol of Yerevan. Additional information may be found at
The Rotary Global History fellowship
and at
Rotary 1st 100
.
Rotary Rocks
is scheduled for April 9 at the State Theatre. The theme is
"Elvis will be in the building".
Andrea Hales
is selling tickets and program ads at each meeting.
All members should have received an e-mail about the new
Club Constitution
. Rotary International (RI) requries that all clubs adopt this Constitution, even though it is boiler plate language provide by RI. Another e-mail reminder will be sent out. Please read the document. The club will vote to adopt it at the March 3rd meeting.
The
District Conference
will be at the Mt. Pleasant Comfort Inn on April 17 and 18. Each club is again asked to make up a gift basket representative of their area. The baskets will be raffled off.
The
Community Grant
cycle is open through the deadline of March 15. Grants of up to $2,000 are available. Information and an on-line application can be found on the club web site.
February 23 is Rotary's 110th birthday and our own club's 100th birthday. We'll have a special cake next week.
Earlier this year the clubs gave out 100th anniversary Rotary Pins to all members. If you didn't receive one, please see Ron.
Chuck Cusick reported that RI put up $35 Million for the Polio campaign. That was matched 2 to 1 by the Gates foundation making a total of $105 Million. On a sadder note, another Polio worker was murdered while delivering vaccine in Pakistan.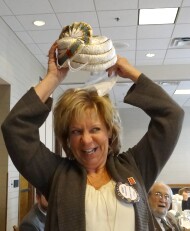 Cathy Schell
During "Happy Bucks",
Cathy Schell
reported on a recent trip to
Proddatur, India
where her husband was medical work. She visited a Rotary sponsored Eye Hospital and talked about the work being done there.
It was noted that a picture of Cathy on her Facebook page showed her
petting a cobra
that was being charmed out of a basket. She said "my husband was saying something about there being little quality control over there". After petting the snake, she asked their Indian friend if he knew anyone else who had done that. He replied "yes, about ten". When asked what happened to those people, he said "they all died".
Vocational Days
are scheduled for March and April. The anchors this year are McLaren Bay Medical (with 98 slots for students), Delta College, and SVSU.
Reminder: a member is still needed to serve on the Youth Exchange committee. If you have an interest, please contact Andrea.
The
Centennial Committee
has set the goal of EVERY MEMBER achieving
Paul Harris Fellow
status during the Centennial Year. There are matching points available that allow a member to receive their first Paul Harris level at a fraction of the normal $1,000 contribution.
Rotary Club of Bay City
View Centennial Year Celebrations Schedule
July 2014-June 2015
Click to read the
February District Newsletter PDF
.
---
DATES TO REMEMBER
Vocational Days
- March 17 & April 14, 2015
Rotary Rocks
- 7:00 pm - April 9, 2015 - State Theatre
Anniversary Dinner
Come celebrate the Club's 100th birthday and honor our members.
May 14 - 5:30 pm to 9:00 pm - Doubletree
Golf Outting
- Wednesday, June 17, 2015
---
Upcoming Programs
(See the official schedule at RotaryBayCity.org )
Feb 24, 2015: Keith Pretty, CEO and President of Northwood University
will speak on the University and its programs.
Mar 3, 2015: Bay Arenac ISD Career Center
Tiffany Sheppard will share information about the programs offered and to bring light to their program to area employers.
Mar 10, 2015: Western High School China Trip Report
Students and teachers will share experiences from their recent trip to China.
---
Current and past
DISTRICT DISPATCH
newsletters are available on the District site shown in the LINKS section below.


Rotary Bay City on Facebook!
Click on the Blue Facebook to visit us there.

Remember! Check attendance sheets at the front desk.
---
LINKS