Northwood University President Addresses Rotary
February 24, 2015
By: Stephen Kent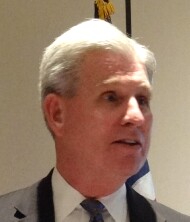 Keith Pretty
Keith Pretty
spoke to Rotary on Tuesday about the history and mission of Northwood University in Midland. Founded in 1959, Northwood originated as a management school at a time when the space race was moving many schools toward engineering. That focus has continued to this day.
Northwood University
is based in Midland where. The campus owns a large piece of property, not all of which is used. Currently the new DeVos Graduate School is preparing to construct a new building on some of that land. Other portions of the land are in the floodplain of the river and not suitable for construction, although there are buildings within that area that are affected with water issues.
Although founded and based in Midland, Northwood now has campuses in eight states. They also have five international locations in China, Malaysia, Sri Lanka and Switzerland.
The school offers Bachelor of Business Administration degrees in most areas of management, accounting, finance, and economics. Graduate programs offer MBA, Executive MBA and MS degrees. Degrees are rounded out with over fifty student organizations ranging from professional to religious.
Northwood's
Michigan Timberwolves
are part of the NCAA Division II and the GLIAC conferences. Both men's and women's sports are offered in all of the major areas from baseball and football to club lacrosse and club cheerleading.
To many, the entirely student run
Northwood International Auto Show
is a highlight each fall. It has become the largest outdoor new car show in North America. The next show is scheduled for October 2-4, 2015.
For more information visit
www.northwood.edu
.
---
CLUB NEWS and ANNOUNCEMENTS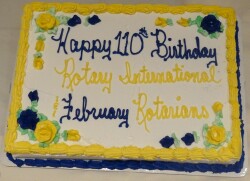 Rotary turns 110
Bay City Club is 100 years old
The
Rotary Club of Bay City
celebrates it's 100th birthday this year, a fact that is well known to members. There are special events every month for the entire year. February also marked the 110th year of
Rotary International
. The club celebrated those birthdays, as well as the birthdays of all members born in February, last Tuesday with a special cake.
President Ron
opened the meeting with a greeting from the country of
Georgia
. The first, and only, club was founded there in 1997 and has 10 members. Meetings are held in the English language. Additional information may be found at
The Rotary Global History fellowship
and at
Rotary 1st 100
.
The club will hold a discussion and vote on the new
Club Constitution
, which is required by RI. All members should have received an e-mail with a link to the new document on the club web site. Please read it before the March 3rd meeting.
Rotary Rocks
is scheduled for April 9 at the State Theatre. The theme is
"Elvis will be in the building".
Andrea Hales
is selling tickets and program ads at each meeting.
The
District Conference
will be at the Mt. Pleasant Comfort Inn on April 17 and 18. Each club is again asked to make up a gift basket representative of their area. The baskets will be raffled off.
The
International Night
surveys have been completed and are being reviewed. A report can be expected soon.
The
Community Grant
cycle is open through the deadline of March 15. Grants of up to $2,000 are available. Information and an on-line application can be found on the club web site.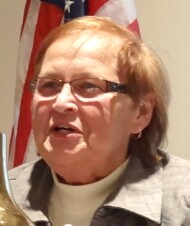 Janet LaRocque
Janet LaRocque
, Principal of Zion Lutheran School, spoke to the club to express thanks for the recent Community Grant. The funds from Rotary were used to purchase five laptop computers. These have been integrated into the school's systems and greatly expand IT capability. Things that were not possible with the old computers are now within reach of the new systems.
Earlier this year the clubs gave out
100th anniversary Rotary Pins
to all members. If you didn't receive one, please see Ron.
Vocational Days
are scheduled for March and April. The anchors this year are McLaren Bay Medical (with 98 slots for students), Delta College, and SVSU.
Reminder: a member is still needed to serve on the
Youth Exchange committee
. If you have an interest, please contact Andrea.
The
Centennial Committee
has set the goal of EVERY MEMBER achieving
Paul Harris Fellow
status during the Centennial Year. There are matching points available that allow a member to receive their first Paul Harris level at a fraction of the normal $1,000 contribution.
Rotary Club of Bay City
View Centennial Year Celebrations Schedule
July 2014-June 2015
Click to read the
February District Newsletter PDF
.
---
DATES TO REMEMBER
Vocational Days
- March 17 & April 14, 2015
Rotary Rocks
- 7:00 pm - April 9, 2015 - State Theatre
Anniversary Dinner
Come celebrate the Club's 100th birthday and honor our members.
May 14 - 5:30 pm to 9:00 pm - Doubletree
Golf Outting
- Wednesday, June 17, 2015
---
Upcoming Programs
(See the official schedule at RotaryBayCity.org )
Mar 3, 2015: Bay Arenac ISD Career Center
Tiffany Sheppard will share information about the programs offered and to bring light to their program to area employers.
Mar 10, 2015: Western High School China Trip Report
Students and teachers will share experiences from their recent trip to China.
---
Current and past
DISTRICT DISPATCH
newsletters are available on the District site shown in the LINKS section below.


Rotary Bay City on Facebook!
Click on the Blue Facebook to visit us there.

Remember! Check attendance sheets at the front desk.
---
LINKS