Bay-Arenac ISD Career Center Topic of Talk
March 3, 2015
By: Stephen Kent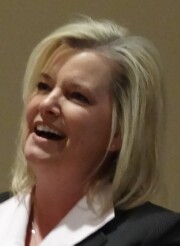 Tina Bacigalupo
Tina Bacigalupo
and
Tiffany Sheppard
of the
Bay-Arenac ISD Career Center
talked to Rotary about the Center's programs and offerings. Noting that career and technical education works, Tina noted that over 1,100 high school students attend each year and represent 21 regional high schools. 95% of the graduates go on to college and/or to work.
Students spend half of each school day at the Career Center. Schools provide some transportation, but many students are responsible for getting to and from the center on their own. The fact that they make this happen is a testament to the benefit of the programs.
Programs emphasize the STEM philosophy. Students can explore a career, get college credits, and qualify for professional certificates. Project based learning along with mentorships and internships provide real world experience.
Mentorships offer unpaid work experience. The programs must be work related. Students are covered under the ISD's liability insurance, which removes some of the burden from the employer.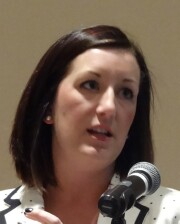 Tiffany Sheppard
Internships are a paid work experience. Students become part of the employer's team and are covered by that employer's liability insurance. Again, the job must be program related.
Tina and Tiffany listed a large number of local employers that partner with the Career Center in areas that include arts and communications, business, management, marketing and technology, manufacturing, health and human services. Partners represent some of the area's largest and most prominent companies.
A number of services are open to partners. These include speakers and people to do classroom demonstrations. Others act as competition judges, field trip sponsors and mock interviewers. Partners also provide internships, mentorships and employment opportunities.
For more information visit
www.baisd.net
.
---
CLUB NEWS and ANNOUNCEMENTS
President Ron
opened the meeting with a greeting from the country of
Bosnia and Herzegovina
. March 1999 saw the Rotary Club of Sarajevo formed after a long absence following WWII. A few years later that club sponsored the first Rotaract Club. Additional information may be found at
The Rotary Global History fellowship
and at
Rotary 1st 100
.
Welcome back
Frank "Paco" Janca
who has returned from his annual time "down under". Frank's return is sure sign of Spring, isn't it?
The club held an assembly to discuss and vote on the new
Club Constitution
, which is required by RI. With a quorum present, the Constitution was passed with a unanimous vote.
Rotary Rocks
is scheduled for April 9 at the State Theatre. The theme is
"Elvis will be in the building".
Andrea Hales
is selling tickets and program ads at each meeting.
The
District Conference
will be at the Mt. Pleasant Comfort Inn on April 17 and 18. Each club is again asked to make up a gift basket representative of their area. The baskets will be raffled off.
The
Community Grant
cycle is open through the deadline of March 15. Grants of up to $2,000 are available. Information and an on-line application can be found on the club web site.
Earlier this year the clubs gave out
100th anniversary Rotary Pins
to all members. If you didn't receive one, please see Ron.
Vocational Days
are scheduled for March and April. The anchors this year are McLaren Bay Medical (with 98 slots for students), Delta College, and SVSU.
Reminder: a member is still needed to serve on the
Youth Exchange committee
. If you have an interest, please contact Andrea.
The
Centennial Committee
has set the goal of EVERY MEMBER achieving
Paul Harris Fellow
status during the Centennial Year. There are matching points available that allow a member to receive their first Paul Harris level at a fraction of the normal $1,000 contribution.
Rotary Club of Bay City
View Centennial Year Celebrations Schedule
July 2014-June 2015
Click to read the
February District Newsletter PDF
.
---
DATES TO REMEMBER
Vocational Days
- March 17 & April 14, 2015
Rotary Rocks
- 7:00 pm - April 9, 2015 - State Theatre
Anniversary Dinner
Come celebrate the Club's 100th birthday and honor our members.
May 14 - 5:30 pm to 9:00 pm - Doubletree
Golf Outting
- Wednesday, June 17, 2015
---
Upcoming Programs
(See the official schedule at RotaryBayCity.org )
Mar 10, 2015: Western High School China Trip Report
Students and teachers will share experiences from their recent trip to China.
Mar 17, 2015: Carnegie Foundation- Community Engagement Classification.
Dr. Deborah Huntley, Provost, Saginaw Valley State University will share what recognition by the Carnegie Foundation means to SVSU and the student body.
Mar 24, 2015: Rotary Youth Exchange.
Niko Stang, exchange student from Norway, will share information about his home country of Norway.
Mar 31, 2015: Today's Agriculture.
Gertie van den Goor will speak about the dramatic changes that have occurred in the American agriculture system over the last few decades.
---
Current and past
DISTRICT DISPATCH
newsletters are available on the District site shown in the LINKS section below.


Rotary Bay City on Facebook!
Click on the Blue Facebook to visit us there.

Remember! Check attendance sheets at the front desk.
---
LINKS