GM May Stay, Expand, Says Belleman as He, Hickner Peer Into Crystal Ball
Delta College President Jean Goodnow at Rotary Podium This Tuesday
January 8, 2006
By: Dave Rogers
THIS WEEK:
Delta College President Jean Goodnow.
ROTARY EVENTS:
Board meeting 7:30 a.m. Tuesday, Bay Arenac Mental Health Center, 201 Mulholland St.
VOCATIONAL DAYS:
Mar. 14, Mar. 21. Sign up now to host a student. See Griff Acker or Ralph Knop.
CONGRATULATIONS:
Bob Chadwick, District governor nominee.
UPCOMING PROGRAMS
Jan 17Tentative: Warden of the Standish Prison


Jan 24Great Lakes shipwrecks with dive/TV producer Ric Mixter


Feb 7Rotary Foundation


Feb 14Saginaw Bay Symphone Orchestra


Feb 21Tentative: SVSU


Feb 28Saginaw Spirit Hockey


Mar 7Open


Mar 14Vocational Day #1


Mar 21 Vocational Day #2

---
Bellman and Hickner Present
State of the City
State of the County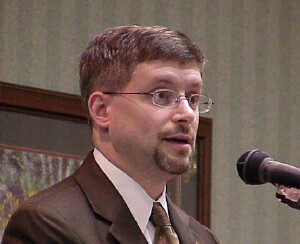 In the face of nationwide downsizing of automotive plants, can there possibly be a continuing future for General Motors in Bay City?
Bay City Rotarians learned the answer to that burning, crucial question last week.
The City of Bay City, the Bay Area Chamber of Commerce and Bay Future are continuing to work with General Motors to keep the local plant here,
City Manager Robert V. Belleman
told Rotarians last Tuesday.
Mr. Belleman and
County Executive Thomas L. Hickner
keynoted the Rotary year with their annual reports to the community from the Rotary podium. The meeting was covered by WNEM-TV, Channel 5 and The Bay City Times.
"We are hoping that GM will stay and expand, and there has been some small movement that way," said Mr. Belleman about the firm that has been a job mainstay here for more than 80 years.
Community leaders from the city, chamber and Bay Future have been meeting privately with GM officials recently in efforts to seek job stability at the local plant.
The GM plant was preceded by the old National Cycle Company, incorporated here in 1892 under president Henry B. Smith, and achieved wide success with its "National" bicycle, a favorite of racing teams.
In 1916 Mr. Smith headed the newChevrolet Motor Company of Bay City and converted the bicycle plant to make automobile parts. The local firm was taken over in 1918 by the infant General Motors Company of William Durant of Flint.
The "Chevy" plant, now GM PowerTrain, has employed up to 5,000 at various times and is the industrial anchor of the community.
A few weeks ago, in a memo to city commissioners, Mr. Belleman suggested emergency meetings early in the new year to plot a city financial future that would not include taxes or water revenues from General Motors. That picture seems to have changed according to the report Mr. Belleman made last Tuesday to Rotarians.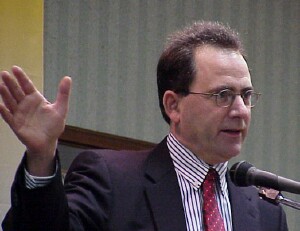 Mr. Hickner also is strongly supportive of efforts to keep GM here since the county has an equal stake in local economic development.
Mr. Hickner said he would like to see a consolidated water and sewer system and will seek legislation in Lansing to give the county executive more power over appointments to local boards and commissions. He noted he has no input over the library board, road commission and other boards that have come under attack by the media recently for excesses in per diem payments, pensions and attorney fees.
"We need to focus on activities in local government that can be consolidated that don't require dissolution of the governmental entity," said the county executive. One area where consolidation may be considered contractually is school districts, he said. Others are taxing and computer systems and purchasing.
Consolidation of townships and cities will likely not be popular with voters and will not occur because of the vast disparity intax rates. "Townships paying one to four mills don't want to pay 25 mills," he said.
Mr. Belleman also said plans are in the works to plat the 48 acre UpTown and RiversEdge site into three and four acre parcels to ease development. The Bay Area Family Y may be considering a move to the site and local developers Paul Rowley and Art Dore are working with the city on the project, he said.###
---
---
--- Advertisements ---

---
---
RotaryBayCity.org Rotary Club of Bay City Web Site
eClub-One
: Members with internet connections are encouragedto visit eClub-One monthly for a makeup. To get makeup credit you need to fill out the makeup form on that site. Print the acknowledgement for you receive and turn it in to receive credit. Be sure to enter our club's district number (
6310
) on that form.
Click this link to open eClubOne in a new window:
www.rotaryeclubone.org
.
The Bay City Rotary Club meets at Noon each Tuesday at the Lumber Barons resturant on the West Side.
Rotary Club of Bay City Web Site
District 6310 meeting schedule