SVSU's Huntly Speaks to Students at Rotary Vocational Day One
First Of Two Vocational Days Sees Record Number Of Students
March 17, 2015
By: Stephen Kent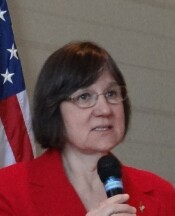 Deborah Huntley
Rotary welcomed almost 130 Students who participated in the first of two annual
Vocational Days
. Some of the students visited with local business people while others went to Delta College or to McLaren Bay Regional Hospital for a job shadowing experience. All were then invited to Rotary's luncheon and program at Noon.
Deborah Huntley
, Provost and Vice President of Academic affairs at SVSU spoke to Rotary and the visiting Students about the University's community engagement work.
Huntley said that the Community Engagement initiative was "undertaken to help students be successful in their academic learning and in their personal development as citizens of our region".
In January of this year, SVSU was selected as a "community engaged university" by the Carnegie Foundation for the Advancement of Teaching. Only 7% of Universities nationwide hold this designation. SVSU is the only university in the Great Lakes Bay region to be so named.
The Carnegie designation focuses on "Outreach and Partnerships" and on "Curricular Engagement". In the curricular area SVSU strives to
enhance student learning of academic content
engage faculty, students, and the community
address community identified needs
enrich the scholarship of the institution.

Huntley use SVSU's Medical Scribe program to illustrate the concept of "reciprocity". SVSU partners with Covenant HealthCare in a program where students "scribe" emergency room interactions between physicians and patients. All parties receive reciprocal benefits from the arrangement. Students get real world experience which is invaluable.

For more information visit www.svsu.edu.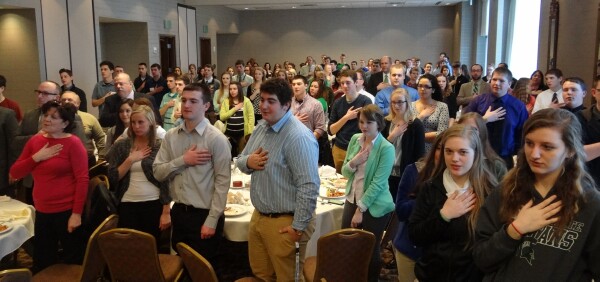 Students, Guests and Rotarians join in Pledge of Aliegience
---
CLUB NEWS and ANNOUNCEMENTS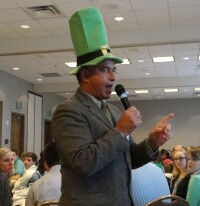 Jeffrey Weenink, Sgt At Arms

President Ron opened the meeting with a greeting in the Albanian language. District 2090 includes both Albania and parts of Italy. Albania has three clubs, the first of which was formed in 1992. Additional information may be found at The Rotary Global History fellowship and at Rotary 1st 100.

Bonnie Marsh was the day's greeter and read the names of several guest. Matt Felan, who chaired the Vocational Days program then introduced each school and ask one student from that school to act as representative and tell what he or she had done for the day.

President Ron gave a short description of what Rotary is and how it works. He talked about the founding of Rotary 110 years ago and the significance of Paul Harris and the Paul Harris Fellow designation.

Ron then reported on a few items of business. The name of membership nominee Trevor Keyes was read for the second time.

The District Conference will be at the Mt. Pleasant Comfort Inn on April 17 and 18. Each club is again asked to make up a gift basket representative of their area. The baskets will be raffled off.

Rotary Rocks is scheduled for April 9 at the State Theatre. The theme is "Elvis will be in the building". Andrea Hales is selling tickets and program ads at each meeting. Large posters were handed out for members to display in their businesses.

The first of two Vocational Days is scheduled for March 17, which is the next meeting. The meeting will be in the Doubletree's north room and may present a challenge considering the large number of students expected. The second vocational day will be April 14.

Jeffrey Weenink was Sargent at Arms for the day. He explained to students and guests how the club raises money with happy and hard luck bucks followed by a question of the day. He then proceeded with those functions.

Rotary Club of Bay City
View Centennial Year Celebrations Schedule
July 2014-June 2015



Click to read the March District Newsletter PDF.


---
DATES TO REMEMBER


Second Vocational Day - April 14, 2015

Rotary Rocks - 7:00 pm - April 9, 2015 - State Theatre

Anniversary Dinner Come celebrate the Club's 100th birthday and honor our members.
May 14 - 5:30 pm to 9:00 pm - Doubletree

Golf Outting - Wednesday, June 17, 2015


---
Upcoming Programs
(See the official schedule at RotaryBayCity.org )


Mar 24, 2015: Rotary Youth Exchange. Niko Stang, exchange student from Norway, will share information about his home country of Norway.

Mar 31, 2015: Today's Agriculture. Gertie van den Goor will speak about the dramatic changes that have occurred in the American agriculture system over the last few decades.

---

Current and past DISTRICT DISPATCH newsletters are available on the District site shown in the LINKS section below.







Rotary Bay City on Facebook!
Click on the Blue Facebook to visit us there.

Remember! Check attendance sheets at the front desk.
---
LINKS