Exchange Student Niko Stang Addresses Rotary
March 24, 2015
By: Stephen Kent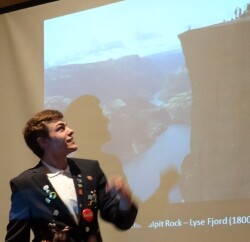 Niko Stang shows Pulpit Rock
Emil Nikolai Stang
, known locally as
Niko
, addressed Rotary last Tuesday. Niko is from Oslo, Norway. He says that he's not completely Norwegian, he's also a little Finnish and a little Russian too.
In his home country Niko is studying performing arts. He's made a name for himself in Bay City with lead parts in the "The Pajama game" at Bay City Central High and now in "The Sound of Music" at the Bay City Players. Rounding out his pursuits, Niko plays for Bay City Central.
Niko speaks almost flawless English. He said one of his goals as a performer is to speak without an accent. He's well on his way to that achievement.
Using a slide show, Niko told Rotarians a little about his home country. He showed some of the places to visit if you get the chance. When asked about the climate he said that the southern part of the country is not much different from Michigan. The Northern part, on the other hand, "well, you probably wouldn't want to go there." Temps can get down to forty below.
Concerning differences, Niko said he has an issue with the food. Fast food in particular. "I don't know what I'm going to do when I go home because we don't have any of these places." It seems he's a little bit addicted!
Niko says he loves the US and hopes someday to live here. We're sure he'll succeed in whatever he decides to pursue.
---
CLUB NEWS and ANNOUNCEMENTS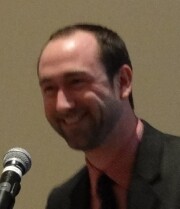 Trevor Keyes
President Ron
opened the meeting with a greeting from Swahili, the language spoken in three East African nations. The first club was founded in 1930 and the next in 1944. Additional information may be found at
The Rotary Global History fellowship
and at
Rotary 1st 100
.
Rick Finn
introduced new member
Trevor Keyes
, a Bay City native who is VP of Economic Development for Bay Future. Jim Griffiths then inducted Trevor into the club. Welcome Trevor!
President Ron reminded members that the second of two
Vocational Days
is scheduled for April 14. Commenting that last week's huge crowd of students and guests was accommodated well in the smaller room. The April 14 event will not has quite so many students.
Reminder: The
District Conference
will be at the Mt. Pleasant Comfort Inn on April 17 and 18.
Cindy Luczak
is organizing the gift basket that our club will send for the raffle. If you have anything to add, please contact Cindy.
Rotary Rocks
is coming up on Thursday, April 9, 7:00pm at the State Theatre. The theme is
"Elvis will be in the building".
Andrea Hales
is selling tickets at each meeting.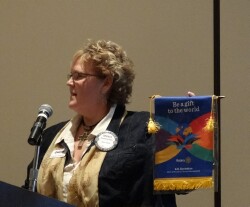 Brenda Scramlin presents
2015-16 Theme Banner
Brenda Scramlin
, president-elect, reported on the recent PETS event that she and
Andrea Hales
attended. (That's President Elect Training Seminar, if you didn't know). Brenda mentioned some of the high points and presented the Theme Banner for the year. The incoming Rotary International President,
K.R. (Ravi) Ravindran
from Sri Lanka was on hand to address the group.
Brenda will be going the the entire
District Conference
, driving over both days. If anyone would like to ride with her she would welcome the company.
RYLA, Rotary Youth Leadership Award, camp is June 14-18. The name comes from the fact that clubs "award" scholarships to high school students. Announcements will get going out to local schools shortly.
Brenda also talked about the
May 14 Centennial Celebration
. A great deal of work has been going on behind the scenes. A guest speaker has been secured. The menu is set, and tickets will be going out soon. Put it on your calendar NOW.
Sargent at Arms Jeffrey Weenink opened with the only phrase he knew in Swahili, which roughly translated meant something like "don't drink the water".
Andrea Hales
talked about the
Rotary Youth Exchange
program, which she had headed for six years. There are actually two programs: Inbound and Outbound. The inbound program hosts students from 80 countries. The outbound program sends US students abroad. She mentioned that this is one of the most cost effective of all exchange programs because it is volunteer run. Applications are being accepted now through October. 9th and 10th grade students may apply. They are trained for a year before the go abroad for a year. For more information see Andrea.
Rotary Club of Bay City
View Centennial Year Celebrations Schedule
July 2014-June 2015
Click to read the
March District Newsletter PDF
.
---
DATES TO REMEMBER
Rotary Rocks
- 7:00 pm - April 9, 2015 - State Theatre
Second Vocational Day
- April 14, 2015
Anniversary Dinner
Come celebrate the Club's 100th birthday and honor our members.
May 14 - 5:30 pm to 9:00 pm - Doubletree
Golf Outting
- Wednesday, June 17, 2015
---
Upcoming Programs
(See the official schedule at RotaryBayCity.org )
Mar 31, 2015: Today's Agriculture.
Gertie van den Goor will speak about the dramatic changes that have occurred in the American agriculture system over the last few decades.
April 7, 2015: D-Street Music Foundation.
Dennis Beson will present what the D-Street Music Foundation does and also talk about something exciting they have coming to Bay City in June.
---
Current and past
DISTRICT DISPATCH
newsletters are available on the District site shown in the LINKS section below.


Rotary Bay City on Facebook!
Click on the Blue Facebook to visit us there.

Remember! Check attendance sheets at the front desk.
---
LINKS