Michigan Dairy Farmer Updates Rotary On Modern Milk Production
March 31, 2015
By: Stephen Kent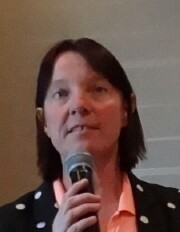 Gertie van den Goor
Sixteen years ago
Gertie van den Goor
moved from the Netherlands to Michigan. She says she grew up on a farm but didn't like it so she moved to the city and became nurse. On a visit home she met her future husband, who was a dairy farmer. In 1998 the family decided to move. They ended up in Marlette, Michigan.
After moving, Gertie decided it was time to leave nursing and join her husband as a farmer. "I thought I knew how much I had to learn, but oh my gosh! I was more clueless than I thought I was, even being married to a farmer for that long".
Commenting on the tiny margin that farmers work on, Gertie said that one solution is to "get large". The Goma Dairy Farm certainly did that. After starting with a couple of buildings 16 years ago, the complex now covers a huge area with many large buildings. They milk 3,000 cows and have 32 employees.
When she became a farmer, Gertie became an expert on the business. Her talk to Rotary covered the entire operations of a large, modern, completely computerized dairy operation. She covered both the animals and the business sides of the Dairy.
Modern dairies are highly regulated. Milk goes from the cow to the store in a closed system where it is never exposed to human hands. For a large farm, the handling of feed and waste are strictly monitored. Where small farms might not follow all the rules, the big farms absolutely must.
The sign in front of the farm says "Livestock System". That certainly describes what it is. Some people might call an operation with 32 employees a corporate farm rather than a "family farm", but according to Gertie it is a family farm. Showing a picture of the kids by the sign, she said "this is our board of directors."
She also said "I like to argue that it makes me even more of a family farm because it's not only my family that depends for their income on this farm but I also feel this responsibility that I have to take care of 32 other families."
For more information visit
Goma Dairy Farm on Facebook
.
---
CLUB NEWS and ANNOUNCEMENTS
President Ron
opened the meeting with an attempted greeting in Arabic as used in Morocco. The first club there was in Casablanca where 21 founding members met in 1930. Dormant during WWII, the club resumed operations in 1946. Additional information may be found at
The Rotary Global History fellowship
and at
Rotary 1st 100
.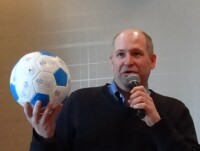 Rob Clark - Juggler?
Rob Clark
showed off a 4-way test soccer ball that
Andrea Hales
brought him from PETS. "So when you get a gift like this", said Rob, "the first thing I thought of was, so how can we raise some money with this for Rotary". Rob's idea was to take pledges for him juggling the ball soccer style next week. People signed up all over the room as Rob demonstrated some of his skills bouncing the ball from knee to knee to foot and back. It should be a good show next week!
Brenda Scramlin
talked about the
May 14 Centennial Celebration
. A great deal of work has been going on behind the scenes. A guest speaker has been secured. The menu is set, and tickets will be going out soon. Put it on your calendar NOW.
Connie Schweitzer
reminded members that the Centennial Committee would like to see 100% of the membership get their
Paul Harris Fellow
designation by the May 14 dinner. Club members have a large number of "points" that can be used to match contributions for first time PH awards. This is a great way to get your PH at a reduced cost. Ask Connie or any of our officers for information.
This was
Birthday Tuesday
and the club honored all of the March "babies".
Reminder: The
District Conference
will be at the Mt. Pleasant Comfort Inn on April 17 and 18.
Cindy Luczak
is organizing the gift basket that our club will send for the raffle. If you have anything to add, please contact Cindy.
Brenda Scramlin
will be going the the entire
District Conference
, driving over both days. If anyone would like to ride with her she would welcome the company.
Rotary Rocks
is coming up on Thursday, April 9, 7:00pm at the State Theatre. The theme is
"Elvis will be in the building".
Andrea Hales
is selling tickets at each meeting. The Bay City Times did a feature article on the concert on the front and inside of their April 2nd Entertainment section.
President Ron reminded members that the second of two
Vocational Days
is scheduled for April 14. The huge crowd of students and guests on the first Vocational Day was accommodated well in the smaller room. The April 14 event will not has quite so many students.
RYLA, Rotary Youth Leadership Award, camp is June 14-18. (The name comes from the fact that clubs "award" scholarships to high school students.) If you know candidates, please tell Brenda or Andrea. Announcements will get going out to local schools shortly.
Rotary Club of Bay City
View Centennial Year Celebrations Schedule
July 2014-June 2015
Click to read the
March District Newsletter PDF
.
---
DATES TO REMEMBER
Rotary Rocks
- 7:00 pm - April 9, 2015 - State Theatre
Second Vocational Day
- April 14, 2015
Anniversary Dinner
Come celebrate the Club's 100th birthday and honor our members.
May 14 - 5:30 pm to 9:00 pm - Doubletree
RYLA, Rotary Youth Leadership Award camp
- June 14-18
Golf Outting
- Wednesday, June 17, 2015 - Bay City Country Club
---
Upcoming Programs
(See the official schedule at RotaryBayCity.org )
April 7, 2015: D-Street Music Foundation.
Dennis Beson will present what the D-Street Music Foundation does and also talk about something exciting they have coming to Bay City in June.
April 14, 2015: Second Vocational Day.
---
Current and past
DISTRICT DISPATCH
newsletters are available on the District site shown in the LINKS section below.


Rotary Bay City on Facebook!
Click on the Blue Facebook to visit us there.

Remember! Check attendance sheets at the front desk.
---
LINKS