Rotary Hosts Students for 2015's Second Vocationial Day
April 14, 2015
By: Stephen Kent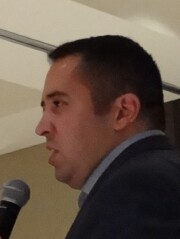 Matt Felan
Matt Felan
is both the chair of the Vocational Days committee and was Tuesday's speaker. Using four inspirational YouTube videos, Matt commented on each and talked about how the topic related to Students.
The first video illustrated the length of a person's life with 28,835 jelly beans. Spread on the floor and filmed from above, they represented the average American's life in days. For each major activity (eating, sleeping, working, etc.), two people, filmed in high speed, pulled out the proportion of jelly beans and formed a picture of that activity. In the end there was a tiny group of beans, then only one. The question was "if you had only one more day, what would you do differently".
A short interview with the late Steve Jobs, founder of Apple, was next. That lesson was that if you want to be happy in life, do what you love. It's not a job or work if you like what you are doing.
Another video named historical and prominent people who were told early in life that they would never be successful. In the end their names became recognized by everyone. Matt's message was "the most successful people in the world failed constantly. Don't be afraid to fail. If you fail you learn. Get up and keep going."
The final video talked about the pace of change and the world we live in. "I was at Michigan State in 1993", said Matt. "I was in the second class at Michigan State to have e-mail addresses." In high school he wrote papers on a typewriter.
Talking about the amazing pace of change and the growth of social media, Matt admonished students to think when using social media. "Here's my one piece of advice. When you use social media in a negative manner, it will affect your reputation... I'm glad social media didn't exist when I was in high school and college because we all did plenty of stupid things." He went on to say that in todays world, the first thing potential employers do, even before reading a resume, is to look at the person's social media. "we look because we can tell your character, your life style, and who you are. I'll know immediately if you're someone I want to come work in my office."
---
CLUB NEWS and ANNOUNCEMENTS
President Ron
opened the meeting with a greeting from Poland. He then told the student guests that this year we are learning a little about Rotary in other countries each week by (attempting) a greeting in the native language then telling a little about Rotary in that country. The first Polish club was chartered in Warsaw in 1931. There were nine Rotary clubs by the time World War II shut Rotary down for the duration and after. Rotary returned to Poland until 1989. Additional information may be found at
The Rotary Global History fellowship
and at
Rotary 1st 100
.
Sgt. at Arms
Tim Holsworth
introduced guests and visiting Rotarians, (Including Josh Sharrow and his sister, who were recruited by Rotarian Ashley Anderson to help pedal a group of students to Rotary on the Sunshine Pedal Trolly).
Matt Felan
introduced each of the represented schools and had the students stand and give their names and where they job shadowed. For the first time in thirty+ years, we had more slots than students. Between McLaren Health, Delta College, Saginaw Valley State University and many businesses, there were slots for over 200 high school Juniors.
President Ron
talked more about Rotary and our projects, including the Paul Harris statue in Rotary Park. He then called on
Jim Griffiths
, without warning, to recite the 4-way test. Jim did it perfectly then said to Ron "don't ever do that again".
The Polio Change Jar was passed around as Ron told about Rotary's efforts to eradicate polio. Paul Harris Fellows were recognized and the award explained. Ron mentioned the three major fund raisers and talked about the
Rotary Rocks with Elvis
last week.
Rob Clark
announced that his impromptu soccer ball juggling last week raised $2,237 for the Rotary Foundation. (See YouTube video on the club web site). The goal this year is to make every Rotarian a Paul Harris fellow during this anniversary year. There are matching points available to any Rotarian working on his or her first level.
The board met today.
Bret Lewless
will be filling the unexpired term of Mike Seward, who moved to Florida after retiring as head of the Chamber of Commerce. The Paul Harris Birthday dinner was cancelled because of conflicting Rotary events.
Brenda Scramlin
announced that
Bob Chadwick
has accepted the position of President-Nominee during her term. Bob will follow Andrea Hales, who follows Brenda. A Club Assembly will be held next week to take a formal vote on Bob's nomination.
Tim Holsworth
, as Sargent at Arms, accepted happy and hard-luck bucks and announcements, which helped illustrate to student guests what Rotary is all about through the interesting things that Rotarians do and experience. Now that Rotary Rocks is over, Tim started to promote the upcoming club
Golf Outing
. This year the club will raffle off a SIXTY INCH TV. Tickets will go on sale by next week.
Rotary Club of Bay City
View Centennial Year Celebrations Schedule
July 2014-June 2015
Click to read the
March District Newsletter PDF
.
---
DATES TO REMEMBER
Anniversary Dinner
Come celebrate the Club's 100th birthday and honor our members.
May 14 - 5:30 pm to 9:00 pm - Doubletree (Read more on the Club web site at
Anniversary Dinner on RotaryBayCity.org
)
RYLA, Rotary Youth Leadership Award camp
- June 14-18
Golf Outting
- Wednesday, June 17, 2015 - Bay City Country Club
---
Upcoming Programs
(See the official schedule at RotaryBayCity.org )
April 21, 2015: Give Local Bay Program
Chris Yaklin will talk about the powerful 24-hour online fundraising competition that unites a community around building endowment funds for non-profits at the Bay Area Community Foundation
April 28, 2015: Rotary Youth Exchange Student Madoka Moriis
from Japan will talk about her home in Japan.
May 5, 2015: Secret Service Agent In Charge Brian Lambert
will talk about counterfeiting and the role of the Secret Service in our community.
---
Current and past
DISTRICT DISPATCH
newsletters are available on the District site shown in the LINKS section below.


Rotary Bay City on Facebook!
Click on the Blue Facebook to visit us there.

Remember! Check attendance sheets at the front desk.
---
LINKS