Yaklin Speaks to Rotary About GiveLocalBay Fund Raiser
April 21, 2015
By: Stephen Kent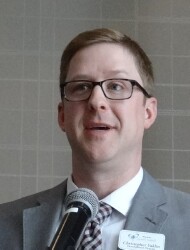 Chris Yaklin - BACF
Chris Yaklin
of the Bay Area Community Foundation (BACF) spoke to Rotary about the
Give Local Bay
program scheduled for May 5, 2015.
The program is part of a National Give Local America Event to raise money for the endowments of local non-profit organizations. 29 of BACF's 52 endowed funds are participating in the May 5 Social Media event. They will share funds from an $80,000 incentive fund pool.
The concept is simple. Go to the
GiveLocalBay.org
web site and pledge a contribution to your favorite organization. At 11:59pm the program will end. Each organization will receive the funds pledges plus a percent based on pledges of the $80,000 pool.
The incentive pool was donated by the Oscar P. and Louise H. Osthelder Fund, the Hubert and Rita Smith Fund and the Bay Area Community Foundation. Thanks to that pool, individual gifts will make a larger impact. It works much like a matching grant, but the amount is based on how well each organization draws donations rather than an actual match. The more a non-profit raises the more incentive money they receive! Hourly prizes are also awarded to non-profits throughout the day.
The BACF staff will be running an on-line leader board. This tool will allow everyone to watch the results in near real-time. Anyone who is not comfortable with on-line contributions can go to the Pere Marquette Depot and make their donation in person.
For more information visit
www.GiveLocalBay.org
.
---
CLUB NEWS and ANNOUNCEMENTS
President Ron
opened the meeting with a greeting from Israel. Rotary arrived in Jerusalem in 1929, well before the founding of Israel as a country. Additional information may be found at
The Rotary Global History fellowship
and at
Rotary 1st 100
.
Ron reported that our Club's
Gift Basket
netted about $75 at the District Conference this past weekend. That was about right compared to previous years and to other club baskets.
A number of club members attended various sessions at the Conference. Ron and Eric Jylha presented a video about our club's Centennial year. That video will be presented at the upcoming Dinner on May 14. Brenda Scramlin encouraged members to plan to make next year's conference which will be in Alpena.
A member of the Bay City club was presented with the "
Rotary Hero
" award. Governor Dee will present that award at our club at a later date.
Connie Schweitzer
noted that several people have yet to complete their
Paul Harris Fellow
contributions. Connie will be contacting those people. Matching points are still available for first time PH Fellows.
Everyone should have received an invitation to the
May 14 Centennial Dinner
. If you have not, please see Brenda Scramlin, Andrea Hales, or Linda Heemstra.
Ron called a
Club Business Meeting
to order at 12:37 and received a motion from
Brenda Scramlin
, supported by
Eileen Curtis
, to accept
Bob Chadwick
as the
President Nominee
for the 2017-18 club year. That nomination had previously been endorsed by the Club's Board. The motion was unanimously passed by a hand vote. The Business Meeting was closed following the vote.
Linda Heemstra
passed around a list of
past members
that we need help locating. Linda asked everyone to make notes about any of these people they might know about.
Welcome back
Harry Farris
, who is here for the season. Harry commented "That sunshine in Arizona got a little boring".
Dee Brock
said at the District Conference that one of her best experiences as District Governor was participating in the Paul Harris Statue dedication at the Depot.
Rich Steele
presented the day's 2-minute business spotlight. The Penzien & Steele Funeral Home traces its origin to 1898 when it opened in a house at 5th and Madison. They later moved to a house on an alley where the library now sits. They moved to the current location in 1920. In the early years they also operated a furniture store on the West Side. George Schuel started the business. His first partner died early but was followed by Arthur Ballingier in 1911. The Penzien family came to Bay City in the 1940's and bought the business. Rich started at the home part time during college. He washed cars, cut grass and did whatever was needed. After graduation from Wayne State, he returned and has been there ever since. "I've never filled out a resume or applied for a job; I wouldn't know how." He later became a partner then the full owner. His son Rick has now joined him. They also operate a small home in Vassar on an as-needed basis.
Rotary Club of Bay City
View Centennial Year Celebrations Schedule
July 2014-June 2015
Click to read the
March District Newsletter PDF
.
---
DATES TO REMEMBER
Anniversary Dinner
Come celebrate the Club's 100th birthday and honor our members.
May 14 - 5:30 pm to 9:00 pm - Doubletree (Read more on the Club web site at
Anniversary Dinner on RotaryBayCity.org
)
RYLA, Rotary Youth Leadership Award camp
- June 14-18
Golf Outting
- Wednesday, June 17, 2015 - Bay City Country Club
---
Upcoming Programs
(See the official schedule at RotaryBayCity.org )
April 28, 2015: Rotary Youth Exchange Student Madoka Moriis
from Japan will talk about her home in Japan.
May 5, 2015: Secret Service Agent In Charge Brian Lambert
will talk about counterfeiting and the role of the Secret Service in our community.
---
Current and past
DISTRICT DISPATCH
newsletters are available on the District site shown in the LINKS section below.


Rotary Bay City on Facebook!
Click on the Blue Facebook to visit us there.

Remember! Check attendance sheets at the front desk.
---
LINKS