Japanese Exchange Student Speaks To Rotary
April 28, 2015
By: Stephen Kent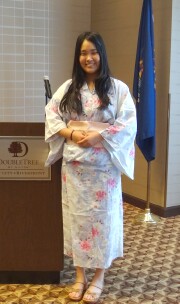 Madoka Moriis
Before introducing the speaker for the day, our Club
Student Exchange Officer Andrea Hales
, talked about the Rotary Youth Exchange program. Responding with a show of hands, over half the members present have hosted an exchange student at some time.
Each year one or two students come to Bay City and the club must find families to host the student for eleven months. Usually two families split the responsibility in 4 or 5 month shifts.
The Club's commitment is made a year and a half in advance. "It's kinda difficult to get someone to say yeah, I'll host a student a year and a half from now." This May our club will say "yes, we will host one student for the 2016-17 school year".
Students come from one of 80 countries. Applications come in around March. As youth exchange officer, Andrea will request a girl or boy and a home area like Europe or Asia. Andrea needs the host family commitment at that time to enable her to get the student's visa.
The student for the 2015-16 year is a young lady from Thailand who goes by "Prince". Lee and Molly Newton have committed to being the first host family. Andrea is looking for a second family, as well as commitments for the following year. "As youth exchange officer, I am not allowed to host a student", said Andrea. "So what keeps me up at night is not having a host family." Anyone interested in helping Andrea sleep, or knowing someone who would be a host, should contact her.
Andrea then introduced
Madoka Moriis
, our exchange student from Japan. Modoka is currently living with Andreas and Tracy Teich. As part of the program, each student does a presentation to the district clubs to tell a little about themselves and their home. On March 24 the club heard from Niko Stang from Oslo, Norway.
Madoka showed slides of her home, family and school in Nagasaki, Japan. She related some of her experiences here in Bay City and the United States.
Madoka attends Chinzei Gakuin high school, which was founded by Canadian missionary 135 years ago. There are now about 1,000 students studing in one of three curriculum paths: regular, academic (Madoka's class), and commercial. A typical school day starts with a test at 7:00 am and goes until 10:00 pm, seven days a week. When asked about the grueling schedule Modaka replied "I'm always tired".
When asked about if she had tried local sushi, Modaka said she had tried the American offerings. Her comment? "It's expensive here." In Japan sushi is more of a fast food, available everywhere. She said they eat a lot of fish and have rice with most meals. "My mother says I must eat rice. She says it's good for me."
---
CLUB NEWS and ANNOUNCEMENTS
President Ron
opened the meeting with a greeting from
Latvia
where Rotary started in 1932. Paul Harris visited the club in that year. Rotary was an elite club until the Soviet take over disbanded all such clubs. According to the history "All of the Latvian Rotarians were killed, deported, or fled to live in exile." Rotary returned to the country in 1990. Additional information may be found at
The Rotary Global History fellowship
and at
Rotary 1st 100
.
The Club celebrated Birthday Tuesday wishing all members born in April a happy birthday.
Mike Bacigalupo
, Morning Rotary member and CEO of the State Theatre, presented a check for $900 to the club from profit on the $4,000 in gross ticket sales for the
Rotary Rocks
concert with
Elvis
.
Andrea Hales
then announced that the club made an additional $3,725 from sponsorships and program ads.
Connie Schweitzer
presented Paul Harris Fellowships to Deb Weiland and Candace Bales. Thanks to both for their commitment to Rotary. This award moves the club that much closer to achieving 100% PH members in this Anniversary year.
Brenda Scramlin
reminded members about the
Centennial Dinner
coming up on May 14. Please be sure to purchase your tickets by next week's meeting so the committee can make final preparations. See Brenda Scramlin, Andrea Hales, or Linda Heemstra.
Linda Heemstra
passed around a list of
past members
that we need help locating. Linda asked everyone to make notes about any of these people they might know about.
Rotary Club of Bay City
View Centennial Year Celebrations Schedule
July 2014-June 2015
Click to read the
March District Newsletter PDF
.
---
DATES TO REMEMBER
Anniversary Dinner
Come celebrate the Club's 100th birthday and honor our members.
May 14 - 5:30 pm to 9:00 pm - Doubletree (Read more on the Club web site at
Anniversary Dinner on RotaryBayCity.org
)
RYLA, Rotary Youth Leadership Award camp
- June 14-18
Golf Outting
- Wednesday, June 17, 2015 - Bay City Country Club
---
Upcoming Programs
(See the official schedule at RotaryBayCity.org )
May 5, 2015: Secret Service Agent In Charge Brian Lambert
will talk about counterfeiting and the role of the Secret Service in our community.
May 19, 2015: The Historic Importance of Bay City
Rotarian Dave Rogers will speak about the history of Bay City and it's importance in the history of the state and region.
---
Current and past
DISTRICT DISPATCH
newsletters are available on the District site shown in the LINKS section below.


Rotary Bay City on Facebook!
Click on the Blue Facebook to visit us there.

Remember! Check attendance sheets at the front desk.
---
LINKS