Secret Service Agent Speaks to Rotary
May 5, 2015
By: Stephen Kent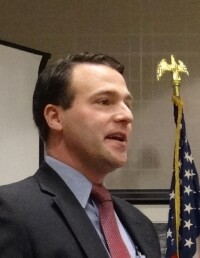 Brian Lambert
Brian Lambert
, resident Agent in Charge of the Saginaw Resident Office of the Secret Service, spoke to Rotary about the Service, how agents are hired and posted, and about counterfeit money.
Lambert was born and raised in Richmond Virginia. He worked as a policeman for a couple of years before joining the Secret Service in the late 1990's.
The Service always starts new agents in a location other than their home turf. Lambert's first assignment was in New York City. He had been on the job about 18 months when he found him self standing at the base of the World Trade Center when the second plane struck.
In the summer of 2006 he moved to the President's detail assigned to President Bush's daughter Barbara. He worked with President Bush during the last year and with Obama in his first two years.
When eligible to move up, Saginaw Michigan was open. "This may come as a big surprise, but nobody was fighting to get it". Lambert stepped up and took the posting to manage 25 offices. He moved his wife and four kids (another on the way now) to Grand Blanc.
The Secret Service was established April 15, 1865. It was the last official act of President Lincoln, who was assassinated that night.
The job of the Service was to address counterfeit money. Their first agents came from the Pinkerton agency. They were not charged with protection until McKinley was assassinated in 1901.
The mission of the Service spread into many areas. After gaining notoriety with a Congressional investigation, in 1908 Congress split the Service and founded the FBI. "The irony is that [Congress] thought we were too big. They had no idea what J.Edgar Hoover would do."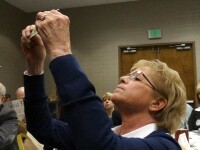 Deb Wieland looks for watermark
Lambert talked about the world of counterfeiting and passed around samples of real and fake bills (which he carefully counted after the meeting). He illustrated watermarks, micro print, cloth threads, and other features of real and fake money. He talked about how the "bad guys" make money ("I'm not revealing secrets... it's all on the internet", he said).
Most domestic fakes are not that great, really good copies are shipped in from South America. The Detroit area sees the most counterfeit money, but bad guys will get a load and make the run up I-75 laundering bad bills. "They can move quickly and keep ahead of the law before returning home the same day." They like to purchase small items with large bills and get clean cash in change.
Addressing recruitment, Lambert said "we just want a college degree... I don't really like Criminal Justice degrees. I'd rather see an English majors. I can teach you what you need for our job but I can't teach someone to think critically or write effectively."
For more information visit
www.usss.dhs.gov
.
---
CLUB NEWS and ANNOUNCEMENTS
President Ron
opened the meeting with a greeting from
Macedonia
. The first club was chartered in 1933. After being dissolved in WWII, Rotary returned in 1995. Additional information may be found at
The Rotary Global History fellowship
and at
Rotary 1st 100
.
Ron read an announcement for the Caro club's golf outing July 10 at the Vassar course. Cindy Chadwick talked about our club's
Golf Outing
on Wednesday, June 17 at the Bay City Country Club. Note: that is
Wednesday
this year.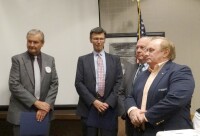 Paul Harris Fellows
Connie Schweitzer
presented Paul Harris Fellowships to
Harry Leaver
and
Walt Szostak
.
Rich Steele
was recognized with a PH+1 Level.
Bob Chadwick
reached the PH+8 Level. Thanks to these members for their commitment to Rotary. The new fellowships move the club that much closer to achieving 100% PH members in this Anniversary year.
Andrea Hales
on behalf of the Community Grants committee said that there were 20 applicants for this six month cycle. The funding focus is Youth and Education.
The club had $5,300 for this round and
six grants were awarded
.
Bay City Public Safety Youth Leadership Academy
Hampton Elementary 3rd grade on-line math pilot.
Bay Arts Council Hell's Half Mile film and music festival
John Glen High School Creative Expressions 101 Workshop
Friends of the Masonic Temple FX special effects makeup class.
Boys and Girls Club Children's Vegetable Garden program.

The Centennial Dinner coming up THIS WEEK... Thursday May 14. If you have not made reservations, please see Brenda Scramlin, Andrea Hales, or Linda Heemstra. The committee needs that final count.

Welcome back Cindy Chadwick as Sargent at Arms. Everyone was happy to see her at the podium, not to mention at the keyboard for our opening song!

Rotary Club of Bay City
View Centennial Year Celebrations Schedule
July 2014-June 2015



Click to read the March District Newsletter PDF.


---
DATES TO REMEMBER


Board Meeting- May 12 - 11:00 am before regular meeting - Everyone invited.
Anniversary Dinner Come celebrate the Club's 100th birthday and honor our members.
May 14 - 5:30 pm to 9:00 pm - Doubletree (Read more on the Club web site at Anniversary Dinner on RotaryBayCity.org )

RYLA, Rotary Youth Leadership Award camp - June 14-18

Golf Outting - Wednesday, June 17, 2015 - Bay City Country Club


---
Upcoming Programs
(See the official schedule at RotaryBayCity.org )


May 12, 2015: T.B.A.

May 19, 2015: The Historic Importance of Bay City Rotarian Dave Rogers will speak about the history of Bay City and it's importance in the history of the state and region.



---

Current and past DISTRICT DISPATCH newsletters are available on the District site shown in the LINKS section below.







Rotary Bay City on Facebook!
Click on the Blue Facebook to visit us there.

Remember! Check attendance sheets at the front desk.
---
LINKS