Medal of Honor Character Development Program
May 18, 2015
By: Stephen Kent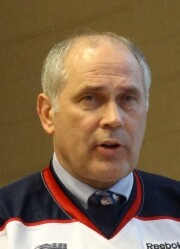 Dr. Tim Eckstein
Rotarian, and local historian,
Dave Rogers
introduced
Dr. Tim Eckstein
, who spoke about the
Medal of Honor Character Development Program
. Eckstein, Medical Director of Covenant Occupational Health and a retired Navy Captain with three tours in Vietnam.
Wearing a Saginaw Spirit Hockey shirt, Eckstein explained the connection. When he was recruited to bring the Medal of Honor Character Development Program to Michigan, he didn't have a clear picture of how to do that. Not long after he made a connection with the Saginaw Spirit management and formed a joint venture to promote the program.
The program is designed to provide training to teachers and leaders so they can pass on the concepts of courage, commitment, sacrifice, patriotism, integrity and citizenship and how these can be applied to daily life.
The program includes a set of lesson plans and other resources. They do not glorify or glamorize war but provide living histories based on experiences of Medal of Honor recipients.
Developed by leading educators and some of the largest corporations, the training is presented free of charge to anyone who is qualified through teaching or leadership positions. Presentations are made by professional trainers following a well developed plan.
The next Michigan event will be held Tuesday, June 23, 2015 at the SISD Transition Center, 3860 Fashion Sq. Blvd. in Saginaw. The program runs from 8:00am until 3:00 pm. The entire day is provided free of charge.
For more information contact Noel Wall, Director of Development & Education at
nwall@cmohfoundation.org
or visit
www.cmohFoundation.org
.
---
CLUB NEWS and ANNOUNCEMENTS
President Ron
opened the meeting with a greeting from
Korea
. Rotary arrived in Seoul Korea in 1927 and was followed with several other clubs. After a break for WWII, Rotary returned in 1949. The 80th RI convention was held there in 1989. Additional information may be found at
The Rotary Global History fellowship
and at
Rotary 1st 100
.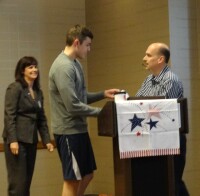 Niko Stang presents
flag to Kevin Alaya
Niko Stang
, Exchange student from Norway presented a trading flag from his sponsoring club to
Kevin Alaya
who is Niko's counselor.
Brenda Scramlin
thanked everyone for their help and attendance at the Centennial Gala Dinner last week. The event was well attended and well presented.
Ron
exhibited the three proclamations that were presented to the club at the dinner to recognize the club's 100 years. The certificates are shown below and may be viewed on the club web site.
Please note that the club will
meet off site June 2 at the Lumber Baron's
across the river. Reminders will be sent out via e-mail.
The club achieved 100% of members being Paul Harris Fellows.
Connie Schweitzer
presented three Rotarians with their PH credentials. The club expresses our appreciation to
Trevor Keyes, Sita Compton, Matt Felan
for their commitment to Rotary and the Foundation.
A
Rotary Leadership Conference
will be held at Baker College in Owosso on May 30. Ron has information.
Tim Holsworth
reminded members about the upcoming
Golf Outing
on Wednesday, June 17 at the Bay City Country Club. A 60" TV will be auctioned off and tickets are available now.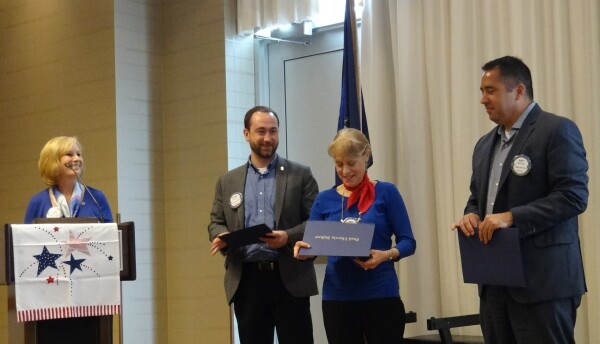 Connie Schweitzer presents Paul Harris Fellowships to
Trevor Keyes, Sita Compton, Matt Felan
Certificate from
Rotary International

Special Tribute from the
State of Michigan

Proclamation from the
City of Bay City
Rotary Club of Bay City
View Centennial Year Celebrations Schedule
July 2014-June 2015
Click to read the
March District Newsletter PDF
.
---
DATES TO REMEMBER
OFF SITE MEETING June 2
at the Lumber Barons.
RYLA, Rotary Youth Leadership Award camp
- June 14-18
Golf Outing
- Wednesday, June 17, 2015 - Bay City Country Club
---
Upcoming Programs
(See the official schedule at RotaryBayCity.org )
May 26, 2015: Summer Camps at Delta focusing on STEM related topics.
Speaker: Lindsey Bourassa & Amanda Hammond/Harvey Schneider
June 2, 2015: Great Lakes Loons 2015 season update
Presented by Scott Litle.
OFF SITE MEETING June 2
at the Lumber Barons.
June 19, 2015: Alden B. Dow Center for Creativity & Enterprise and "Learning About Business"
Presented by John Gustincic, JD, CFE
June 23, 2015: LinkedIn for Business Professionals
Presented by Beth Bryce
---
Current and past
DISTRICT DISPATCH
newsletters are available on the District site shown in the LINKS section below.


Rotary Bay City on Facebook!
Click on the Blue Facebook to visit us there.

Remember! Check attendance sheets at the front desk.
---
LINKS