Delta Summer Camps Outlined For Rotary
May 26, 2015
By: Stephen Kent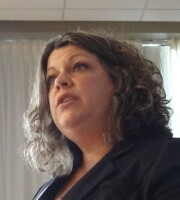 Lindsey Bourassa
Lindsey Bourassa
from Delta College outlined the summer camp programs run by the school. Delta has run summer programs for school kids for many years, but in the last three years the Summer Camp program has grown dramatically. This summer the program will offer sixty camps in a wide variety of interest areas. A number of those camps are already filled.
Delta focuses on academic camps rather than athletic or general outdoor camps. They emphasize STEM related subjects. Many of the experiences offer plenty of physical work, but kids also learn. The tag line on literature is "THINK BIG.
Summer Camps for 2015 are offered from June 22 to August 13. The camps are for students in grades 1-12. Full day camps are held on Monday and Thursday from 8:30 am until 4:00 pm. Most are on Delta's main campus and a few are at the Bay City campus. Students all receive "sling bags" with a Delta career handout that promotes STEM and careers in the Great Lakes Bay Region.
Just a few of the offerings are
Junior Rocket Physics
The Physics of Rockets
Design it - Build it - Swing it!
Start your Engines
Go-Kart Builders
My First Car
Animate Cartoon Strips
Throwing Paint
Television Production

The camps are designed to get kids excited and show how education is used in the real world. Campers learn the theory, design their projects and get their hands dirty. In many cases they take their work home with them.

Several IT (Information Technology) camps have been added to get campers started in computer software and programming. Information Technology Pro, Network Administrator and an IT Program development camp are offered. An Origami camp is also being offered. Far from just folding paper, modern Origami embraces engineering, math and design elements

With offering from theoretical to mechanical to the arts, the camps offer something for almost every interest. Hand on experiences make education real and with a shortage of STEM educated young people, that's more important now than ever. Capturing the imagination young is a key to long term success.

For more information visit www.delta.edu/summercamps .


---
CLUB NEWS and ANNOUNCEMENTS
President Ron attempted an opening in the Norman language from Jersey in the Channel Islands off of France. The language is largely replaced by English but can still be found. Rotary was founded in Jersey, 12 miles from France and 80 miles south of England. It operated from 1924 until WWII when the German commander declared that the prohibition on societies extended to Rotary as well. The club continued meet but unofficially. Rotary officially returned after the war noting that the spirit of Rotary had never been broken. Additional information may be found at The Rotary Global History fellowship and at Rotary 1st 100.

For those who may have missed the recent Gala, President Ron honored Rob Clark again for his designation as a Rotary Hero at the District Conference.

Please note that the club will meet off site June 2 at the Lumber Baron's across the river. Reminders will be sent out via e-mail.

The club achieved 100% of members being Paul Harris Fellows. Connie Schweitzer presented five more Rotarians with their PH credentials. The club expresses our appreciation to Cathy Schell, Jim Hollerback, Matt VanNortwick, Stu Reid and Bill Soper for their commitment to Rotary and the Foundation.

Tim Holsworth spoke about the upcoming Golf Outing on Wednesday, June 17 at the Bay City Country Club. As of the meeting, 22 teams have signed up. Not only is this the largest number in years, it's the earliest that it's happened... much to Tim's joy and relief! Tim reminds everyone that a 60" TV will be raffled off. Tickets are available now.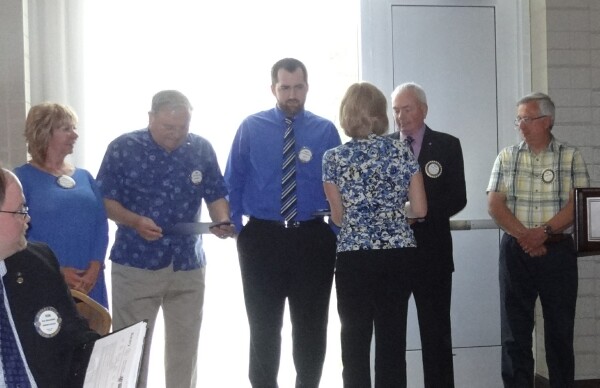 Paul Harris Fellows: Cathy Schell, Jim Hollerback, Matt VanNortwick, Stu Reid, Bill Soper




Rotary Club of Bay City
View Centennial Year Celebrations Schedule
July 2014-June 2015



Click to read the March District Newsletter PDF.


---
DATES TO REMEMBER

OFF SITE MEETING June 2 at the Lumber Barons.

RYLA, Rotary Youth Leadership Award camp - June 14-18

Golf Outing - Wednesday, June 17, 2015 - Bay City Country Club


---
Upcoming Programs
(See the official schedule at RotaryBayCity.org )


June 2, 2015: Great Lakes Loons 2015 season update Presented by Scott Litle.
OFF SITE MEETING June 2 at the Lumber Barons.

June 19, 2015: Alden B. Dow Center for Creativity & Enterprise and "Learning About Business" Presented by John Gustincic, JD, CFE

June 23, 2015: LinkedIn for Business Professionals Presented by Beth Bryce



---

Current and past DISTRICT DISPATCH newsletters are available on the District site shown in the LINKS section below.







Rotary Bay City on Facebook!
Click on the Blue Facebook to visit us there.

Remember! Check attendance sheets at the front desk.
---
LINKS




0202 nd 02-13-2019