Great Lakes Loons Baseball Topic of Rotary Talk
June 2, 2015
By: Stephen Kent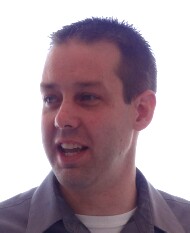 Scott Litle
Scott Litle
, VP of Sales and Event Operations for the
Great Lakes Loons
, spoke to the club about the upcoming season and the Michigan Baseball Foundation then he answered questions.
As a non-profit foundation, the Loons are somewhat unusual. There are other organizations that have similar components but none that go to the degree that the Loons do. The Foundation is now in its eighth round of grants. Total giving has been over $800,000 to area youth causes.
Besides grants to youth, the Loons have a significant economic impact on the area. With some 30 employees, the team is responsible for over three million dollars in impact.
Among the many events that go along with Baseball, the "Bark in the Park" brings "dog day" to the stadium. Over the years various groups like scouts have camped in the diamond. This year there will be a family camp out where you can "sleep on the field".
Fireworks return to the stadium with plans for 13 shows during the season.
As a single-A team, the Loons cover a large geographic area. "We play 140 games in 150 days." Players endure 8 to 9 hour bus rides between games. When asked if there is consideration of upgrading to AA or AAA ball, Litle said no. "There are many changes to do that" he said. "Besides" he continued "those guys fly between games".
The young men who play at this level make about $12,000 a season. They support themselves in the off season with various other jobs. "The big money comes if they move up and get a million dollar signing bonus." The Loons is a farm team of the Los Angeles Dodgers.
For more information visit
www.milb.com/index.jsp?sid=t456
.
---
CLUB NEWS and ANNOUNCEMENTS
The club met off-site at the Lumber Barons on June 2. Thanks to the staff and management for accommodating us!
President Ron
attempted an opening in the Mauritian Creole language from the island nation of Mauritius, an island nation 1,200 miles off the southeast coast of the African Continent. Part of the Mascarene Islands, the capitol city is Port Louis. Rotary came to the island in 1964 making it 50 years old. Additional information may be found at
The Rotary Global History fellowship
and at
Rotary 1st 100
.
Cindy Chadwick
spoke about the upcoming
Golf Outing
on Wednesday, June 17 at the Bay City Country Club. A total of 24 teams have now signed up. The goal is 36 teams. There are sponsorship opportunities still available and everyone is reminded that a 60" TV will be raffled off. See the Chadwicks or Tim Holsworth for details.
Deb Lutz
called for volunteers to sign up for "Club Service" by acting as greeter and for front table duty at the weekly meetings.
Brenda Scramlin thanked all members who have stepped up to fill board and committee positions in her upcoming year.

Nancy Greve as Sargent at Arms called for happy and hard-luck bucks. Rob Clark stood up to say that since he and Claire moved to Bay City 15 years ago, her parents have been attempting them to move closer to them. There was an audible sigh of relief when he announced that the in-laws have bought a house here in Bay City. "I can't even believe this is happening but this is going to be a MAJOR upgrade for Rob's life".

Kelley Kent addressed the group with thanks from the Friends of the Historic Masonic Temple for the recent Rotary Community Grant. The grant allowed the "Face the FX" makeup club to purchase professional makeup practice heads for learning makeup techniques. "Before we got the practice heads our kids practiced on volunteers heads. It's hard to find volunteers who will sit for makeup, wash it off, and do it again... over and over." The club, all high school students, does makeup planning and execution for the annual Haunted Masonic Temple Halloween event as well as doing face painting at various events around the area.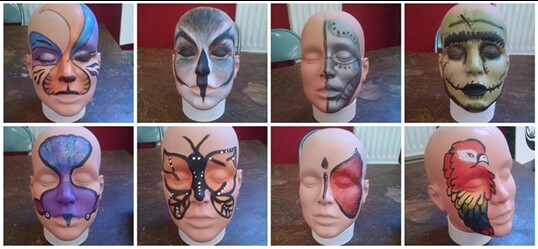 Practice Heads Makeup By High School Student members of the "Face The FX" makeup club.




Rotary Club of Bay City
View Centennial Year Celebrations Schedule
July 2014-June 2015



Click to read the March District Newsletter PDF.


---
DATES TO REMEMBER


Board Meeting- June 9 - 11:00 am before regular meeting - Everyone invited.

RYLA, Rotary Youth Leadership Award camp - June 14-18

Golf Outing - Wednesday, June 17, 2015 - Bay City Country Club


---
Upcoming Programs
(See the official schedule at RotaryBayCity.org )


June 9, 2015: Alden B. Dow Center for Creativity & Enterprise "Learning About Business Program". Presented by John Gustincic, JD, CFE

June 16, 2015: TBA

June 23, 2015: LinkedIn for Business Professionals Presented by Beth Bryce

June 30, 2015: McLaren Bay Medical Foundation Report Presented by Konnie Gill



---

Current and past DISTRICT DISPATCH newsletters are available on the District site shown in the LINKS section below.







Rotary Bay City on Facebook!
Click on the Blue Facebook to visit us there.

Remember! Check attendance sheets at the front desk.
---
LINKS