Are Concerns Warranted Over Plans to Add More Chemicals to City Water?
April 14, 2012 2 Comments
By: Dave Rogers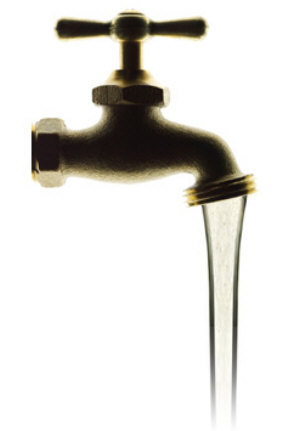 "Discolored water" may result and residents are urged to "run water a few minutes to clear the plumbing in the home."
The City of Bay City has announced it will add more chemicals to the water supply beginning in mid-April.
"This will affect any customer who receives their drinking water from the Bay City Municipal Water Treatment Plant including residents of the City of Bay City, the City of Essexville, the City of Pinconning and most of Bay County.
The chemicals to be added are a "corrosion control treatment product" of 70 percent orthophosphate and 30 percent polyphosphate, additives common to many municipal water supplies.
The additives are said to form a thin film on the inner surface of water pipes and keep lead from dissolving into the drinking water.
"Residents will be able to monitor their water and notify the Water Plant of any changes to their water," the city notice states. "Discolored water" may result and residents are urged to "run water a few minutes to clear the plumbing in the home."
The City of Muskogee, Oklahoma, issues this statement about such additives: "Lead and copper are our main concerns and an ortho/phosphate corrosion control program helps reduce adverse health effects."
The Bay City website declares that it owns and operates a modern water treatment facility, built in 1979 at a cost of nearly $22 million. The water is pumped into the plant where trained personnel purify, filter and disinfect every drop to meet the high standards set by the U.S. Environmental Protection Agency and the Michigan Department of Environmental Quality.
The plant features a unique treatment process called ozonation, which destroys most bacteria, viruses, algae and organic compounds which could have long-term health effects and which could cause objectionable tastes and odors in the water.
Following the ozonation process the water undergoes further treatment in large basins, called clarifiers, to settle out most suspended particles, organics, heavy metals and to reduce the mineral content.
Chemicals used include lime to remove excess calcium and magnesium and to chemically adjust the water; ferric sulfate to help suspended particles settle out; fluoride to help prevent tooth decay; and chlorine to disinfect the water.
Potassium permanganate is added seasonally at the water intake to eliminate zebra mussels and to help control objectionable tastes and odors if needed.
In summary, concerns over the added chemicals do not seem warranted. However, MyBayCity.com has requested more justification from city officials for the move and will bring you that information when received. ###
---
(Prior Story) Health/Fitness Article 06884 (Next Story)
"The BUZZ" - Read Feedback From Readers!
WALLWE Says: On April 16, 2012 at 02:12 PM

SOPHISTICATED TREATMENT PLANTS CAN'T DELIVER THAT PURITY THROUGH AGING AND ALLREADY CORRODED, WATER DELIVERY SYSTEM TIME TO FACE REALITY AND REPAIR WATER DELIVERY BEFORE CANCER CONCERNS BECOME ECONOMIC DIASASTER TO THE WELFARE OF BAY CITY
mombe58 Says: On April 20, 2012 at 03:56 PM

The source of our drinking water is the culpritfor all these new fangled interventions.

Pulling water out of the bay so close to where the Saginaw River empties into the bay is crazy, if we want good drinking water in the first place. I believe the intake pipe is only 25-50 feet from the convergence of the river and the bay. And we all know what comes down the river from the water basin feeding it.

When we moved into Bay City, over 30 years ago, the county voters had just turned down an invitation from the Saginaw-Midland Water Authority to join the consortium for drinking water pulled out of Lake Huron, off the shores of Tawas. It was recently discovered the water is coming from an even deeper level in the lake, making it even purer than orginally estimated.

Purer water takes less chemicals, purification steps, man hours and machinery to provide the populace with healthy, good tasting water.

Numbers for cancer and neurological disorders are through the roof in our county. I know we can't just blame the water supply for these diseases: Though it's a logical place to put some of the blame for the chronic, life-threatening diseases that are far too common in our area.

What will it take to move Bay County to a cleaner source of drinking-water?

Thank you MyBayCity.com for keeping this topic up-front and up-to-date !!!!
---

Dave Rogers




Dave Rogers is a former editorial writer for the Bay City Times and a widely read,
respected journalist/writer in and around Bay City.
(Contact Dave Via Email at carraroe@aol.com)

More from Dave Rogers
---
Send This Story to a Friend!
Letter to the editor
Link to this Story
Printer-Friendly Story View
---
--- Advertisments ---