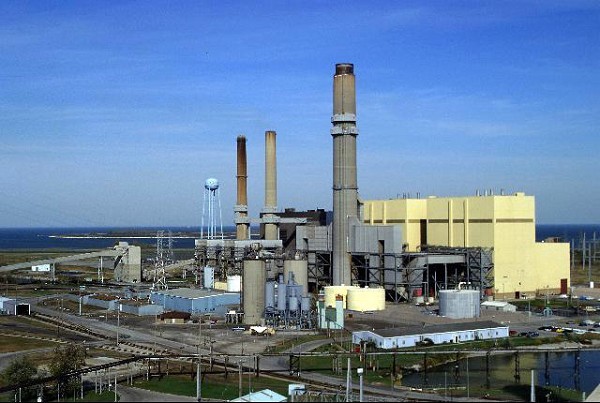 The 2,138 megawatt Karn-Weadock electrical generating complex of Consumers Energy is situated at the mouth of the Saginaw River. (Photo courtesy Michigan Building Tradesman)
---
BAY FUTURE: $200 Million Investment, 350 Jobs Retained, Keyes Named CEO
April 18, 2017 Leave a Comment
By: Dave Rogers
The ball is rolling -- bigtime -- toward Bay County's economic future.
Smacking that ball off the tee is Bay Future, Inc., the county-wide economic development organization responsible for business retention, expansion, and attraction for Bay County.
At its Annual Report Meeting recently at the DoubleTree Hotel Riverfront, the organization announced the successful completion of 11 total projects for 2016 that carried with them capital investment of more than $200 million, along with more than 350 retained and newly created jobs in Bay County.
"We're very fortunate that we have companies that continue to reinvest in themselves and this community and we couldn't be happier to help them do so," said 2017 Board Chair, Mitzi Dimitroff.
The full 2016 Annual Report will be made available online at www.bayfuture.com.
Project highlights include:
GM Powertrain - Bay City announced investment of $118 million in the Bay City Powertrain facility in 2016 to support the production of future high-efficiency engine components. The investment created 29 new jobs and retain 55 hourly and 12 salaried positions. With this investment, GM has invested or will invest $249.4 million in Bay City Powertrain since 2010.
Consumers Energy invested $58 million at its Karn Generating Complex in 2016. The investments included boiler, turbine and environmental projects at the site. More than 300 skilled trades supported the work along with a majority of Michigan-based contractors and subcontractors, which is representative of Consumers Energy's pledge to spend $1 billion annually with Michigan businesses through Pure Michigan Business Connect.
Tri-City Brewing Company, a microbrewery and beverage manufacturer, received approval for a tax abatement and invested more than $1.3 million investment at its new Bangor Township manufacturing facility and tap room. The new building is 10,000 square foot with 80% of that being dedicated to production activities and 20% consisting of the tap room. Five new jobs will be added to the already seven employees the brewing company employs.
F.P. Horak, a full-service print and marketing solutions company located in Monitor Township, is investing more than $8.7 million and creating 71 new jobs by adding an 87,000 square foot addition to their existing Straits Drive facility.
The public-private non-profit organization also announced the support from the Bay Future, Inc. Executive Committee and a full vote of the Board of Directors, to hire Interim President & CEO, Trevor M. Keyes, to the permanent position of President & CEO of Bay Future, Inc.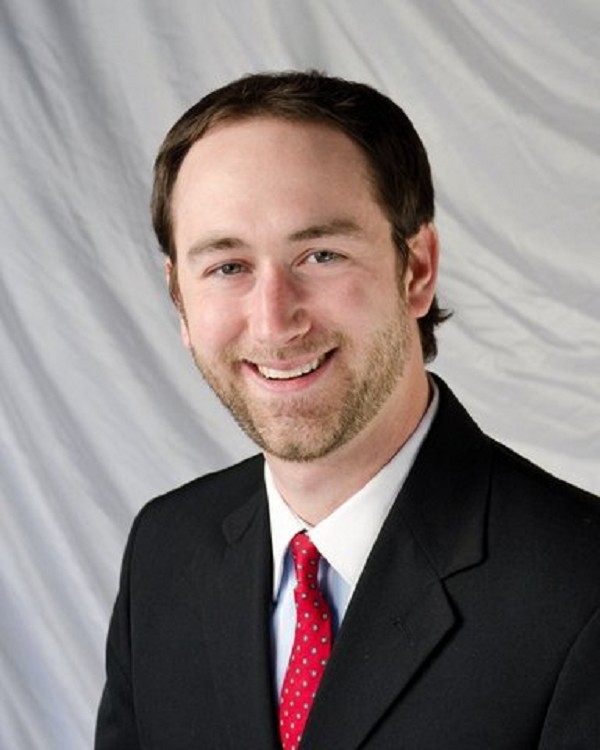 Trevor M. Keyes
Named as President & CEO of Bay Future, Inc.
Photo by O. J. Cunningham
© MyBayCity.com
"We are proud of the things Trevor has done here at Bay Future and are excited for the things he will accomplish in the future. He holds the passion, the skills, and the knowledge our organization needs to move forward in a positive and in an impactful way," said Ms. Dimitroff.
Through his six years with the organization, Keyes has climbed the ladder, holding various positions from Economic Development Specialist to an 18-month previous stint at Acting Interim President & CEO between July 2013 and December 2014.
In that time, Bay Future, Inc. has announced nearly 60 projects totaling more than $1 billion in capital investment for Bay County while helping to create or retain more than 2,350 jobs. "This is just the beginning," Keyes said of his hire. "With the support, I have so graciously received ahead of this news, I am confident that with our Board, with our investors, and with out community moving in a forward direction, businesses will continue to take notice, jobs will multiply, and our community will grow," Keyes said.
Keyes is a member of Michigan Economic Developers Association, International Economic Development Council, Steering Committee Member of the Bay Area Energize Young Professionals Network, Bay Area Chamber of Commerce Ambassador and former President, Great Lakes Bay Regional Alliance Ambassador and Bay City Noon Rotary Member.
He is a 2013 graduate of Leadership Bay County and a 2014 graduate of the Great Lakes Bay Regional Institute for Leaders. He was also a 2016 recipient of 1st State Bank's RUBY Award (Recognizing the Upward, Bright, and Young).
Keyes is a graduate of Bay City Central High School and went on to receive his BA from Michigan State University. Born and raised in Bay City, he is engaged to be married to his Fiancé, Rachel, in September of 2017.
###
---
---

Dave Rogers




Dave Rogers is a former editorial writer for the Bay City Times and a widely read,
respected journalist/writer in and around Bay City.
(Contact Dave Via Email at carraroe@aol.com)

More from Dave Rogers
---
Send This Story to a Friend!
Letter to the editor
Link to this Story
Printer-Friendly Story View
---
--- Advertisments ---