Michigan Sugar Grower Speaks to Rotary about GMO Framing
March 20, 2018 Leave a Comment
By: Stephen Kent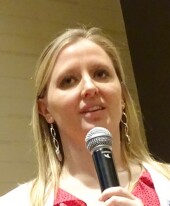 Rita Herford
Rotarian
Rob Clark
, along with farmer Rita Herford, spoke to Rotary about Michigan Sugar and about GMO (Genetically Modified Organisms) crops and farming.
Clark is the Director of Communications & Community Relations at Michigan Sugar. He opened the program with some background and interesting facts about the organization (giving prizes for correct answers to a number of questions).
Michigan Sugar is the results of a combination of that company with Monitor Sugar some years ago. Today the company is a grower-owned venture headquartered in Bay City. The company has plants in Bay City, Caro, Croswell, and Sebewaing. As the second largest employer in Bay County, the company employees 750 year-round employees and reaches 1,300 during the growing, harvesting and processing season.
Rita Herford
and her family operate Gentner-Bischer Farms, which grows corn, wheat, dry beans and sugar beets. Rita discussed the history of GMO crops and what they mean to agriculture. Sugar Beets became a "GMO" crop in 2007. It is one of only 10 GMO crops grown in the US.
GMO by definition does not imply added ingredients or, necessarily, man-made modifications to a plant. Traditionally, plants have been genetically modified through simple selective breeding methods since man began to grow crops. Today, modern methods have provided tools that significantly speed up the trial and error process.
Herford used a number of examples of the early variations of crops that started as something with limited or no value and today is a major food source. Corn was a primary example that started as a small, almost useless grain and today is the large and plump crop everyone is familiar with. Seedless varieties of fruits and vegetables are another example where the natural tendencies of crops have been bred out to produce a more useful result.
GMO crops were presented as safe, nutritious and improved variations of crops that have proved easier to grow, require fewer herbicides, and benefit both farmers and consumers.
For more information visit
MichiganSugar.com
.
---
CLUB NEWS and ANNOUNCEMENTS
Mike Bacigalupo
and the
State Theatre
presented a check for $1,100 to the club as proceeds from the recent Rotary Rocks concert. When you see Mike be sure to express your thanks for the work he and the Theater and its volunteers did to make the event a success.
The
Spring Community Grant Cycle
has closed. Chairperson
Tara Welch
reported that there were 15 applications received this time, a near record. She asked that anyone who would like to help review these applications to please contact her.
Chuck Cusick
reported some Polio eradication setbacks in Afghanistan, possibly due to forces sending refugees back to that country. On a more positive note he talked about more girls being brought in the schools we help fund in Guatemala. He said a girl will cost around $2,500 a year to educate. To help with that cause, Chuck and Nancy will match any gift from other Rotarians.
Harvey Schneider
and
Tara Welch
reported on the PETS (President Elect Training) conference they attended last weekend. Besides having their motivation pumped, they brought back a number of ideas that could benefit our club in the next year.
Harvey also noted that information has been provided on the District Conference in May. He passed out sheets with the basics and said that if members can attend they should sign up now.
Dee Dee Wacksman
asked members to note that that fee for next summer's International Convention in Toronto will go up by $80 on the first of April. If you plan to go the time to make your reservation is now.
There are two openings on the club's
Board of Directors
. Terms are two years. One opening had just 3 months to run. The other is for a year and 3 months. President Chadwick asked that any member interested in serving on the board should contact him. Serving on the board is a good way for a new member to check off one of the "Red Badge" items as well as learning a great deal about the club.
Jeff Yantz
talked about the
Mitten State Music Revival
scheduled for May 5 at the Historic Masonic Temple on Madison. ? Acts / 4 Stages - One Night". Put on jointly by the Noon Rotary, Morning Rotary, and Friends of the Masonic Temple, It looks like a great show!
Next summer's
International Convention
will be in Toronto, an easy trip for many of us. Be sure you sign up with her to attend this life-changing Rotary experience.
Dee Dee Wacksman
asked members to note that that fee for the International Convention will go up by $80 on the first of April. If you plan to go the time to make your reservation is now.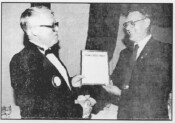 click picture for details
MEMORIES

Dig out your favorite Rotary memory photos and
let Brenda Scramlin use them for the weekly
Club slide show. It'll be fun for everyone!



---
---- DATES TO REMEMBER ----
May 5, 2018 - Mitten State Music Revival
Sponsored by Bay City Rotary Club.
March 22 to May 5, 2018 - Pinconning Nature Festival
. With over 20 planned activities, there's something for everybody. The two weeks wrap up with the
May 5 Nature Festival Banquet
Sponsored by Northern Bay and Arenac Rotary Club.
May 4-5, 2018 - District Conference
Frankenmuth
New format and breakout sessions.
1 and a half days rather than two full days.
Watch the District Web Site for information.
June 23-27, 2018 Rotary International Convention
Toronto
---
Upcoming Programs
(See the official schedule at RotaryBayCity.org )
March 27, 2018: All Music is Power
Donny Brown from the Verve Pipe will be talking about their non-profit "Music is Power", accompanied by a little music as well.
April 3, 2018: Business Solutions for Recruiting, Hiring, & Retaining People with Disabilities
Presented by Gary Holik, Business Relations Consultant, State of Michigan.
April 10, 2018: Bay City Cooperative Market
presented by Robin Deveraux-Nelson

Rotary
is an intimate affiliation of carefully selected business and professional people,
having as its objective the promotion of high ethical standards in private, commercial
and civic life, and dedicated to the ideal that the basis of all worthy endeavor is unselfish service.
---
Current and past
DISTRICT DISPATCH
newsletters are available on the District site shown in the LINKS section below.


Rotary Bay City on Facebook!
Click on the Blue Facebook to visit us there.

Remember! Check attendance sheets at the front desk.
---
LINKS
---
---

Stephen Kent




Steve Kent and his family have lived in Bay City for 40 years. He is VP of Technical Services at MMCC which produces MyBayCity.Com. Kent is active in many Bay City civic organizations.

More from Stephen Kent
---
Send This Story to a Friend!
Letter to the editor
Link to this Story
Printer-Friendly Story View
---
--- Advertisments ---