Michigan Rehabilitation Services Topic of Rotary Program
April 3, 2018 Leave a Comment
By: Stephen Kent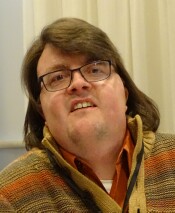 Gary Holik
Gary Holik
, Business Relations Consultant with the Business Network Division of the state Department of Health and Human Services, spoke to Rotary about the ways his division helps businesses strengthen their workforce through hiring the disabled.
The "Business Network Division" staff include state licenses and certified Rehabilitation Counselors, licensed Occupational Therapists and Occupational Safety Advisors and Certified Business Solutions Professionals.
Vocational Rehabilitation is a federal-state program that has offices in every state, U.S. Territory. Started soon after World War I to assist returning vets, the service today has a staff of 25,000 and a $3.5 billion budget. The programs service over a million people and 2,500 businesses a year.
Holik talked about services an employee with a disability may receive. These include identifying their needs and return to work strategies, but also assist with restoration services such as hearing aids, cardiac rehab, prosthetics, and CPAP machines for sleep apnea.
Businesses can receive disability awareness training, job task analysis, compliance and legal concern counseling, and many other services. Holik noted that many employers are surprised to learn that it may cost as little as $500 to meet the requirements to bring on talented members of the disabled workforce.
The "Windmills" training programs help businesses understand the disabled and why there is a large group of qualified candidates that businesses are not recruiting. Sometimes the problem is simply unintentional discrimination due to uncertainty regarding liability, accommodation costs, or how the person will "fit in". Windmills help reduce these stereotypes and misconceptions.
Holik went on to describe a number of programs and services. He encouraged employers to contact his division for more information and assistance.
For more information visit
www.michigan.gov/mrs
.
---
CLUB NEWS and ANNOUNCEMENTS
The board meets this week
April 10 at 11:00 before the regular meeting.
Everyone is welcomed.
Agenda, minutes, treasurers reports and other information
is in the member's area of the club web site.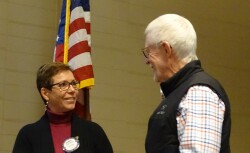 Bonnie Marsh and George Shaw
Paul Harris + 1
Congratulations and thanks to
Bonnie Marsh and George Shaw
, who received their
Paul Harris Plus One
designation for contributions to the Rotary Foundation.
President Elect
Harvey Schneider
presided in the absence of Bob Chadwick.
Brenda Scramlin
announced that she, along with Rob Clark and Bob Chadwick, is accepting nominations for the annual
Rotary Outstanding Service and Excellence (ROSE)
award. If you wish to nominate someone, please let Brenda know by May 1. The award will be presented at a special meeting on May 29.
Pete Shannon
said that May is membership month. In two weeks, the April 17 meeting will be a brainstorming session with the objective of collecting names of prospective members. Each member is asked to bring a list. The District Governor has asked each club to come up with 50 women and 50 men's names as prospects. Pete noted, "membership is everyone's responsibility". The programmers are working on some quality speakers for that month. The club will cover the meal cost of any prospective member.
Tim Holsworth
announced that the date of the Golf Outing has been set for Monday, June 25. Funds raised this year are not designated to a specific cause. Funds will, instead, be for the club's foundation, which in turn funds the club's projects, grants, and outreach.
Tim and the golf committee are planning a meeting Friday, April 13th, at 4:00, at VINOs on Midland Street. Everyone interested in helping is encouraged to attend that meeting.
The
Doubletree
has made a decision that for people not eating lunch there will be a $4 charge for soft drinks. This can be paid at the front table on entry. Water will continue to be free.
Next summer's
International Convention
will be in Toronto, an easy trip for many of us. Be sure you sign up with her to attend this life-changing Rotary experience. The fee for that event will go up by $80 on the first of April. If you plan to go the time to make your reservation is now.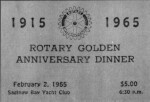 click picture for details
MEMORIES

Dig out your favorite Rotary memory photos and
let Brenda Scramlin use them for the weekly
Club slide show. It'll be fun for everyone!



---
---- DATES TO REMEMBER ----
March 22 to May 5, 2018 - Pinconning Nature Festival
. With over 20 planned activities, there's something for everybody. The two weeks wrap up with the
May 5 Nature Festival Banquet
Sponsored by Northern Bay and Arenac Rotary Club.
May 5, 2018 - Mitten State Music Revival
Sponsored by Bay City Rotary Club.
May 4-5, 2018 - District Conference
Frankenmuth
New format and breakout sessions.
1 and a half days rather than two full days.
Watch the District Web Site for information.
June 23-27, 2018 Rotary International Convention
Toronto
---
Upcoming Programs
(See the official schedule at RotaryBayCity.org )
April 10, 2018: Bay City Cooperative Market
presented by Robin Deveraux-Nelson
April 17, 2018: MEMBERSHIP Brainstorming
. Think of names you can bring!
May 22, 2018: The Purple Gang / Organized Crime in a Small Town
Benjamin Tigner M.S. Adjunct Professor at Alma College, will talk about the history and impact of the Purple Gang and about the documentary film that he produced. for more information visit
www.purplegangmovie.com
May 29, 2018: Rotary ROSE Award
.

Rotary
is an intimate affiliation of carefully selected business and professional people,
having as its objective the promotion of high ethical standards in private, commercial
and civic life, and dedicated to the ideal that the basis of all worthy endeavor is unselfish service.
---
Current and past
DISTRICT DISPATCH
newsletters are available on the District site shown in the LINKS section below.


Rotary Bay City on Facebook!
Click on the Blue Facebook to visit us there.

Remember! Check attendance sheets at the front desk.
---
LINKS
---
---

Stephen Kent




Steve Kent and his family have lived in Bay City for 40 years. He is VP of Technical Services at MMCC which produces MyBayCity.Com. Kent is active in many Bay City civic organizations.

More from Stephen Kent
---
Send This Story to a Friend!
Letter to the editor
Link to this Story
Printer-Friendly Story View
---
--- Advertisments ---