Exchange Students Address Rotary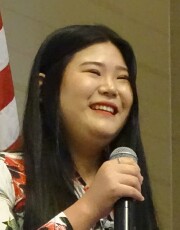 Eun Ji Sun (Darlene)
Current Exchange Student
Darlene
(Eun Ji Sun} presented a talk about her background and experiences in the area. Staying with Andrea Hales, Darlene attends Harrison High School.
The Rotary Exchange program for high school students sends students abroad and accepts inbound students from other countries. These students spend eleven months in their host countries experiencing the life and customs of the area. Most students have the opportunity to visit other sites in the country and meet many new people.
Darlene, who comes from South Korea, talked about her home and her life in Korea. At 17, she saw her time in the US as an exciting challenge. She knew enough English to get along and has increased her skills while here.
Introducing her family, spoke of her parents and siblings. Her father is an Architect. A younger sister is in high school and a younger brother in Middle school. She showed photos of her room at home. Her sponsoring district is number 3750.
Speaking of the country, she said Korea is the only divided nation. It's also a quite small land area. She told about her school, friends, some of the customs and the food. She talked about life changes thanks to the exchange experience.
After the program, Darlene presented club and district banners to President Bob, and small gifts to Bob and new exchange coordinator Kevin Alaya. (The flags have been added to the
"Flags of Rotary"
section on the club web site.
---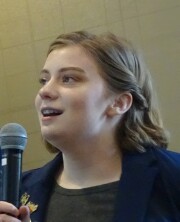 Makayla McKinney
Makayla McKinney
found the Rotary Exchange program on the club's website. The outstanding student, who will graduate early, reached out and soon qualified for the exchange program.
Makayla will be going to Brazil where the language is Portuguese. She should have little trouble since she speaks that language now. "Portuguese is a Spanish dialect and I already speak that language." She then fired off a short, fast bit of Portuguese.
Makayla's presentation is a practice presentation that Rotary Exchange requires outbound students to present to local clubs. This gives the students practice and allows Rotarians to make suggestions that will help when the program is presented to the clubs of the host district.
Most of what Makayla said was familiar to members. However, there was a murmur of interest when she noted that the American flower is the Rose. She gave the pertinent facts about the country and also talked about where she'll be in Brazil.
Introducing her family, Makayla noted that she is one of a set of (non-identical) triplets. She said that her hometown of West Branch was originally called "Springvale" and that 42% of the 2,000 person population works in agriculture.
Club members critiqued her talk and offered pointers that might be interesting. It was obvious that Makayla will be a great ambassador from the US when she gets to Brazil.
---
MAY IS MEMBERSHIP MONTH
Rotary is an intimate affiliation of carefully selected business and professional people, having as its objective the promotion of high ethical standards in private, commercial and civic life, and dedicated to the ideal that the basis of all worthy endeavor is unselfish service.
Rotary Induction Rite
Rotary International
is the oldest, and one of the largest service clubs in the world. Rotary Club members are part of a diverse group of professional leaders working to address various community and international service needs. Through community service and other means, Rotary Club members help promote peace and understanding throughout the world.
Members are a club's most important asset. They are the force that allows Rotary to carry out its many humanitarian efforts and achieve its mission.
Rotary membership is by invitation of local clubs. At a recent meeting, the Bay City Noon Rotary membership gathered around tables for a brainstorming session to discuss potential new members.
The
Membership Committee
, after reviewing the names and removing duplicates, developed a consolidated list of prospects. That list was presented in subsequent weeks and members were asked to review the names and identify prospects that they could invite to a meeting during May, the club's membership month.
Anyone living or working in the Bay City area who would like to be considered for membership in the Bay City club is invited to contact any club member for more information.
For information on membership in any Rotary club, visit www.Rotary.org and complete a Prospective Member Contact form on the "About Us" page. Rotary International (RI) will forward your information to clubs in your area.
For full membership information visit
www.rotarybaycity.org
.
---
CLUB NEWS and ANNOUNCEMENTS
Dee Dee Wacksman
Thanked Jeff Yantz and Mike Bacigalupo (morning Rotary) for their hard work putting on the first
Mitten State Music Revival
at the Historic Masonic Temple on May 5th. The event was a roaring success and will be back next year on May 11.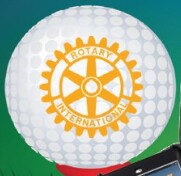 Tim Holsworth
chairman of the Golf Outing repeated the date of
June 25, 2018
. The event will be held at Maple Leaf Golf Course again this year. Flyers should be ready by next week.
This year's plan is for each PLAYER (initially each team) to select a non-profit organization that has a team playing that day. At the end of the outing, one name will be drawn from a pot and that organization will receive $1,000 to use as they see fit.
Thanks to Frank Janca, the outing's first hole sponsor. Many additional sponsorship opportunities are available. See Tim for details.
President Bob
gave each member a packet of 20 raffle tickets for the event. Sell these ($5 each / 5 for $20) or buy them yourself. Prizes sponsored by
Wildfire Credit Union
. 1st price is a 9.7" iPad. Second prize is $100 cash.
Frank Janca
, chair of the Social Committee, reminded the club that the next social will be at the Saginaw Bay Yacht Club on May 30 from 5:15 to 7:30ish. Hor d'oeuvres and a cash bar will be featured. Tickets are $20 each. Plan to sign up next week. And bring a guest!
Next summer's
International Convention
will be in Toronto, an easy trip for many of us. Be sure you sign up with her to attend this life-changing Rotary experience. The fee for that event will go up by $80 on the first of April. If you plan to go the time to make your reservation is now.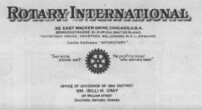 click picture for details
MEMORIES

Dig out your favorite Rotary memory photos and
let Brenda Scramlin use them for the weekly
Club slide show. It'll be fun for everyone!



---
---- DATES TO REMEMBER ----
June 25, 2018 - Club Golf Outing
Maple Leaf Golf Course
June 23-27, 2018 Rotary International Convention
Toronto
---
Upcoming Programs
(See the official schedule at RotaryBayCity.org )
May 22, 2018: The Purple Gang / Organized Crime in a Small Town
Benjamin Tigner M.S. Adjunct Professor at Alma College, will talk about the history and impact of the Purple Gang and about the documentary film that he produced. for more information visit
www.purplegangmovie.com
May 29, 2018: Rotary ROSE Award
.
June 12, 2018: Saginaw Bay Nature Festival.
Mike Stoner will report on the Standish/Pinconning Club's fundraiser festival: how it went and what they did.

Rotary
is an intimate affiliation of carefully selected business and professional people,
having as its objective the promotion of high ethical standards in private, commercial
and civic life, and dedicated to the ideal that the basis of all worthy endeavor is unselfish service.
---
Current and past
DISTRICT DISPATCH
newsletters are available on the District site shown in the LINKS section below.


Rotary Bay City on Facebook!
Click on the Blue Facebook to visit us there.

Remember! Check attendance sheets at the front desk.
---
LINKS
---
---

Stephen Kent




Steve Kent and his family have lived in Bay City for 40 years. He is VP of Technical Services at MMCC which produces MyBayCity.Com. Kent is active in many Bay City civic organizations.

More from Stephen Kent
---
Send This Story to a Friend!
Letter to the editor
Link to this Story
Printer-Friendly Story View
---
--- Advertisments ---