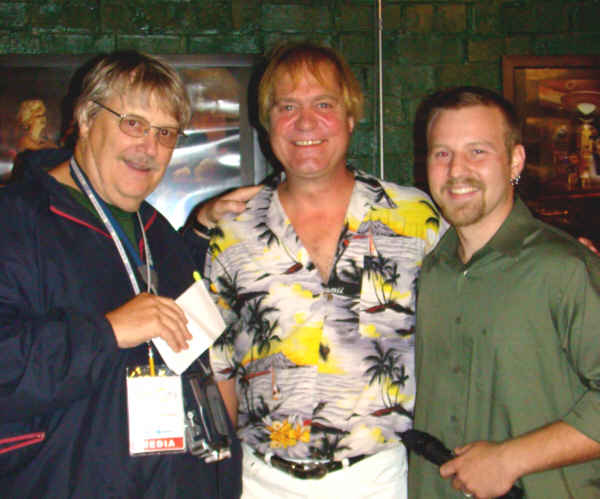 MyBayCity Publisher O. J. Cunningham, Doug Dore (Center) and Micah Read (Right) Share a Moment During Stables Singing Competition
---
Singer in Stables Competition Has Message for Brother in Afghanistan
Micah Read Uses MyBayCity Video to Communicate with Brother (Elijah)
October 4, 2007 Leave A Comment
By: O. J. Cunningham
Micah Read had more on his mind than just singing on Wednesday night at Stables during the "Michigan's Got Talent" competition.
Read was thinking about his brother, Elijah Read, who is stationed in Afghanistan with the United States Army. Elijah Read, 22, left for overseas duty in January and will be gone for 16 months.
"I know Elijah is a big fan of
MyBayCity
," older brother Micah said after his performance. "I figured if he saw me on-line performing at Stables, it would be like a message from homer."
Micah Read is no stranger to the singing spotlight. Micah is one-half of the popular group, "Micah and the Squirrel" that has been performing regularly at
Old City Hall
in Downtown Bay City.
Micah performed "Georgia on my Mind" and "The Letter" during his night at Stables. Both songs were done in the style of legendary Woodstock performer, Joe Cocker.
I was at Woodstock in the late 60's and saw Joe Cocker live that weekend. (Really. I Was. Why would I lie?)
Cocker was one-of-a-kind and Joe would have applauded Micah's rendition with gusto.
I think Micah is one-of-a-kind also. So, we're gonna play both his performance of "The Letter" and his special "Message to Elijah" here on MyBayCity.
Elijah . . . when you read this . . . know that we all love your guts man. And thanks to you and your Army buddies for keeping America a better place than anywhere else.
God Bless!
NOTE: On Sunday night, MyBayCity will publish all 13 performances from the Michigan's Got Talent competition at Stables on October 3rd. Don't Miss It. There's some really great stuff. Online voting begins again on Sunday.


---
Columns Article 1933
---

O. J. Cunningham




O. J. Cunningham is the Publisher of MyBayCity.com. Cunningham previously published Sports Page & Bay City Enterprise. He is the President/CEO of OJ Advertising, Inc.

More from O. J. Cunningham
---
Send This Story to a Friend!
Letter to the editor
Link to this Story
Printer-Friendly Story View
---
--- Advertisments ---