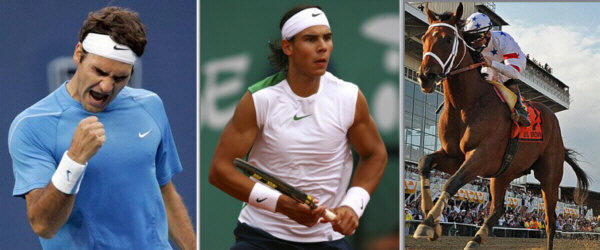 (L/R) Roger Federer, Rafa Nadal and Big Brown. Only one winner in this group over the weekend.
---
Lost in Translation - I Know What Federer and Nadal Were REALLY Saying
Nobody's That Nice After Getting Their Butt Kicked That Badly
June 8, 2008 Leave A Comment
By: O. J. Cunningham
Things were already going pretty bad for me this weekend since Big Brown decided on Saturday that a mile-and-a-half around New York's Belmont Park was too far to trot.
There's lots of talk about Big Brown's cracked hoof, his vitamin/steroid usage and that jerk he has for a trainer.
In my opinion, I think it was that kid singer that cost us yet another opportunity to have a Triple Crown winner.
I think Big Brown was so disappointed about who sang "New York, New York," that he just couldn't muster the giddy-up to run so far so fast.
I don't know who that little kid was . . . but I can tell you this. That was no Frank Sinatra or Liza Minelli rendition of the Belmont theme song, "New York, New York". Heck . . . every Wednesday night, Doug Dore does a far superior job at Stables. And "New York, New York" is one of his favs.
I'm sure it effected the outcome of the Belmont horse race . . .
And then . . . on Sunday morning . . . Rafa Nadal just flat-out kicked Roger Federer's butt at the French Open Tennis Grand Slam Tournament.
During the post-match interviews, Nadal spoke Spanish and Federer spoke French (Somebody mentioned along the way that either of the two could speak fluently in three different languages.)
And some unidentified interpreter must have been whispering in the earpiece of the play-by-play announcers what each of the tennis stars were saying.
And it was all so . . . nice, nice. "I love Roger," said Nadal. "I love and respect Rafa," said Federer.
Not a chance . . . Not after a butt-whipping like Federer got . . . Here's what I think they were really saying (in English) about one another.
FEDERER: You little bulgy-armed Spanish Peanut.
NADAL: Who you calling a peanut . . . you, mop-headed Swede?
FEDERER: I'll be a Swedish lawnmower when I get you on the grass at Wimbledon.
NADAL: You old fart. You might not live through the next beating I give you.
FEDERER: And I'm sick and tired of all this red clay all over my socks and tennies.
NADAL: You're through old-timer. I got four of these French Open Silver Cups and all you got is a place-setting (4 plates) for you and McEnroe, Connors and your old lady.
FEDERER: Oh Yeah!
NADAL: (Raising the Championship Cup over his head.) Look at these guns (arms), old man.
FEDERER: They are kinda spectacular.
NADAL: See ya at Wimbledon, geezer breath.
FEDERER: Those are really a great set of arms, Rafa.
---
Columns Article 2640
---

O. J. Cunningham




O. J. Cunningham is the Publisher of MyBayCity.com. Cunningham previously published Sports Page & Bay City Enterprise. He is the President/CEO of OJ Advertising, Inc.

More from O. J. Cunningham
---
Send This Story to a Friend!
Letter to the editor
Link to this Story
Printer-Friendly Story View
---
--- Advertisments ---