YES, There Really Is A Santa Clause - Project Connect!
Project Connect Makes Dreams Come True In Time For Holiday Season!
November 19, 2008 2 Comments
By: MyBayCity Staff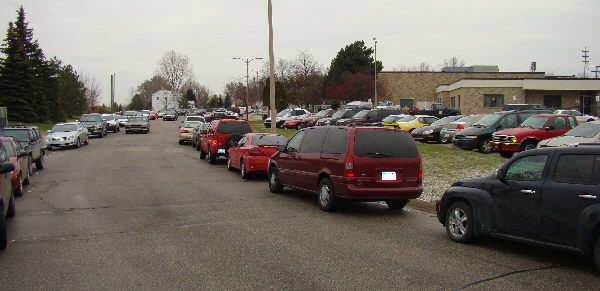 Hundreds of vehicles line the street as Project Connect kicks off it's second annual event Wednesday!
(MyBayCity Photo)
Wednesday was the day for Holiday dreams to come true through the Project Connect program held at the Community Center in Bay City. Over one thousand people were able to "connect" through the project and have their current needs met for the season.
The event was a combined effort of planning of the members of the Bay County Continuum of Care. The reason for the success yesterday, was because many organizations spent many months planning and working hard. (Red Cross, United Way, Do-All, Bay Area Women's Center, Good Samaritan Rescue Mission were joint planners in the event)
This second annual event was made possible by the additional financial sponsorship of the following:
Bay Regional Medical Center
Michigan Coalition Against Homelessness
COPOCO Credit Union
Some intial stats from yesterday:
Over 750 attended, 500 Food Baskets were handed out, 80+ flu shots, and 250 coats.
Good Samaritan Rescue Mission, The Cat's Meow and numerous others handed out staples needed for a complete Thanksgiving dinner as well as many other items in the parking lot, free of charge. Hundreds of cars lined the street waiting for a parking space and people stood in line in frigid temperatures to get their goodies, just in time for Thanksgiving.
Project Director Dan Streeter Talks About Good Samaritan Rescue Mission
The second annual Project Connect event featured over fifty vendors this year, offering their services and products to those who truly needed them. DoAll was present offering baby cribs, coats and hats, Mid-Michigan Community Action Agency was providing dental services, AngelFood Ministries was offering economical food options and the American Red Cross was on hand giving out brand new car seats, all, free of charge.
These are just a few examples of the agencies present today, giving so much more to these people than material items. Many walked away with hope, for a brighter future, faith, that there really is help out there for them and most of all, smiles, because they will now be able to make a traditional Thanksgiving meal for their families when the sign of hard economic times had them thinking that would be impossible.
Dan Streeter, Vice Chair of the Bay County Continuum of Care stated, "Part of the reason why we started this program last year was the growing number of people facing difficult situations due the the economic climate."
Streeter went on to say, "Our goal remains to get materials and resources that people may not have known were available to them into their hands in times of need. We have many programs that help us better identify where needs exist in our community and find ways to fulfill them through this program. We have over 50 vendors here today and 75 volunteers."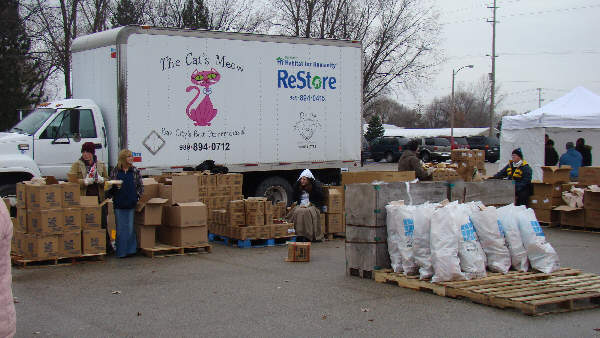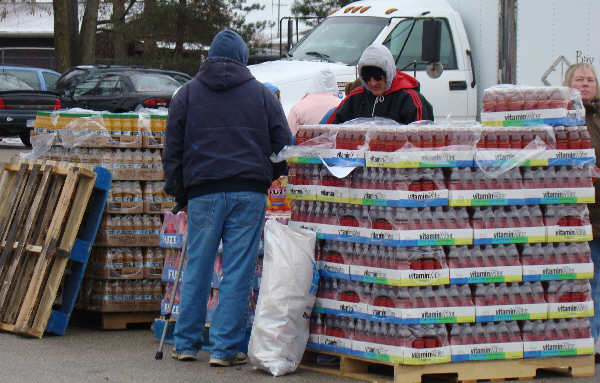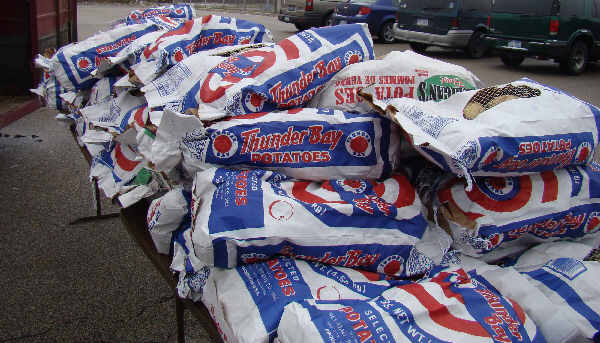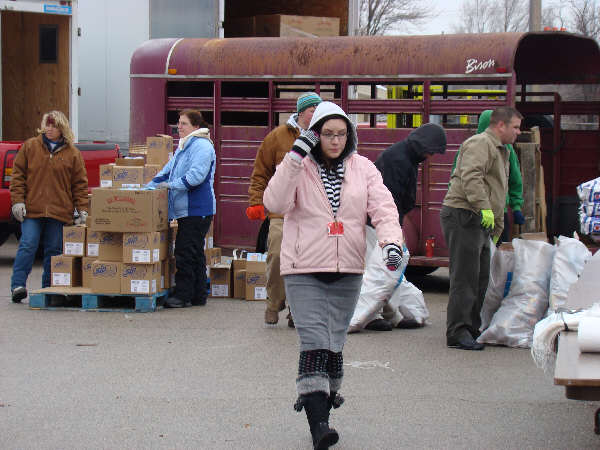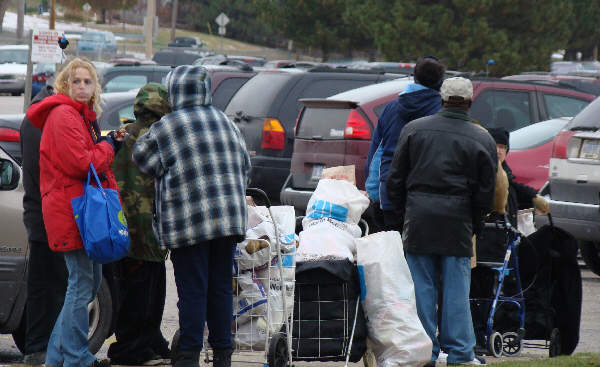 Hundreds waited in line at the Community Center in freezing temperatures to get their food supplies
(MyBayCity Photos)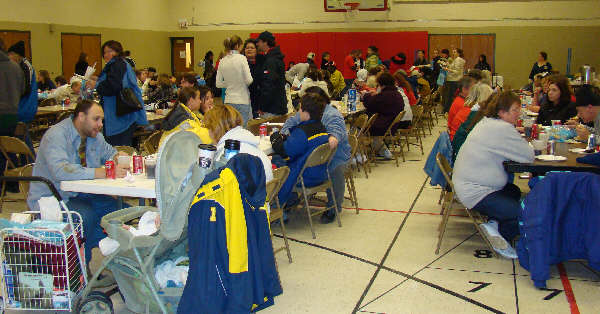 A nice warm lunch was provided by the Bay City Walmart, and was operated by the volunteer effort of their employees.
(MyBayCity Photo)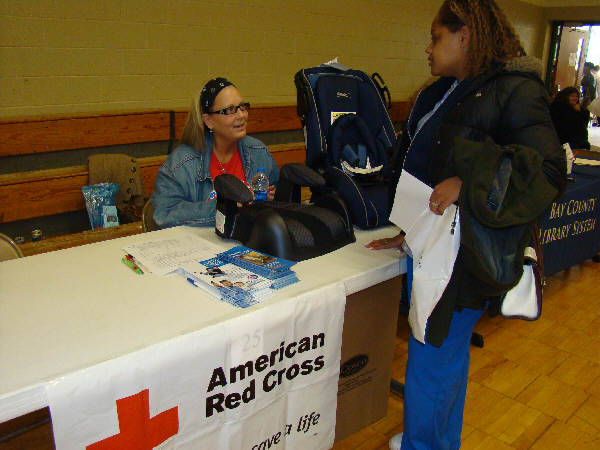 Teri Wadsworth, a Volunteer representing the Red Cross free car seat program talks with a mother in need. By noon, over 400 car seat applications had been filled and many more were in line. "One year ago, I myself was homeless. I am in a different place in my life now and can be the voice for people who are facing the same this year," said Wadsworth.
(MyBayCity Photo)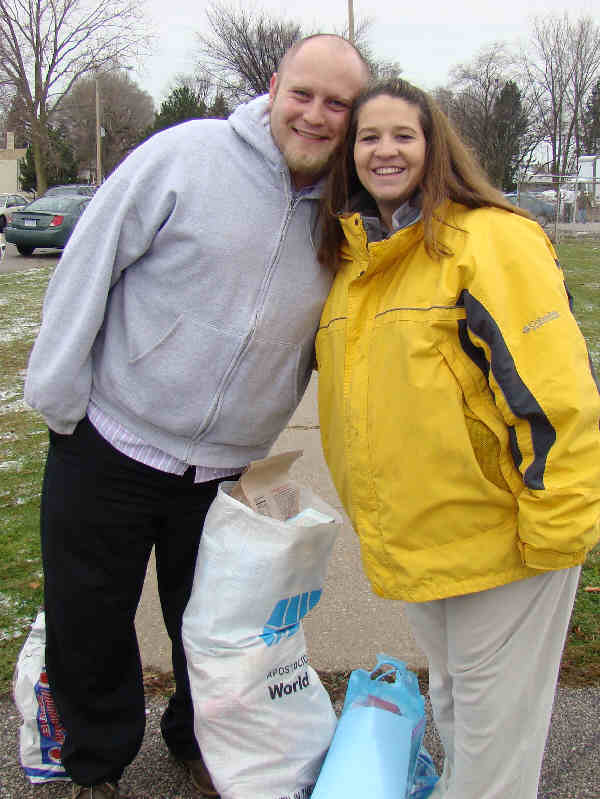 Mark and Valaree Currian felt blessed after attending this event. "We are going through alot right now, unemployed and thirty eight weeks pregnant, it is nice to see Jesus still hears our prayers, right here in Bay City," said Mark.
(MyBayCity Photo)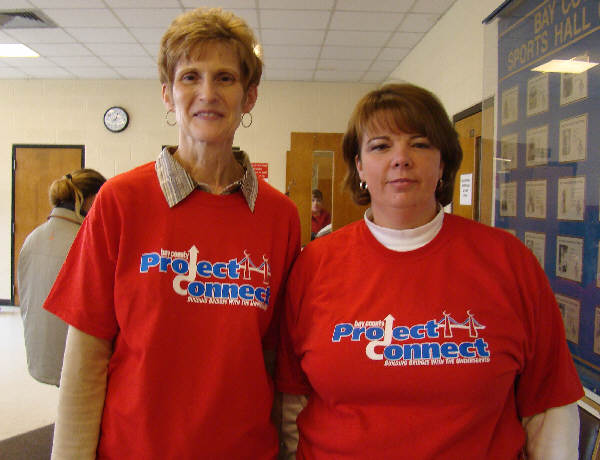 Event volunteers, Agnes Andrus and Penny Janeczek take time out of the busy day to pose for MyBayCity camera
(MyBayCity Photo)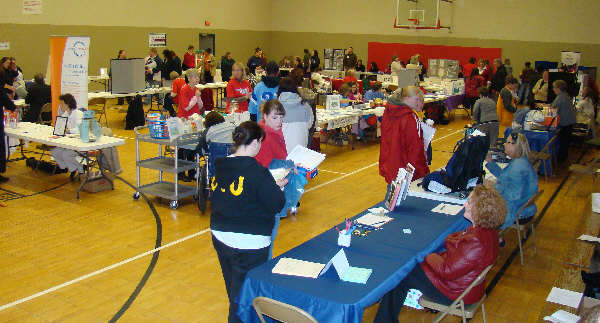 Each room throughout the Community Center hosted vendors offering assistance and material needs
(MyBayCity Photo)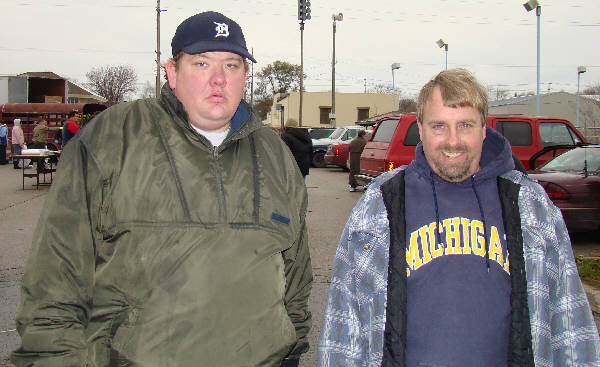 Volunteers from The Cats Meow, Danny Warn and Chris Leonard take a break from parking vehicles for the event
(MyBayCity Photo)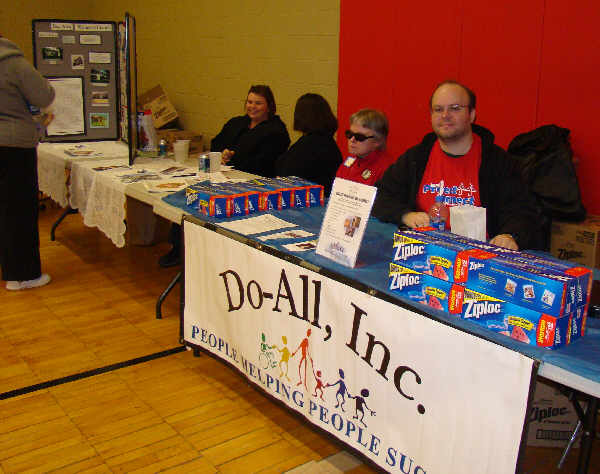 Do-All volunteers offered free car seats, hats and winter coats to those in need
(MyBayCity Photo)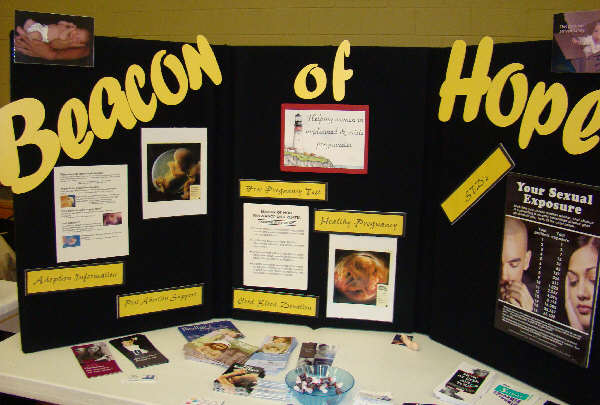 Over 50 vendors attending this fabulous, giving event!
(MyBayCity Photo)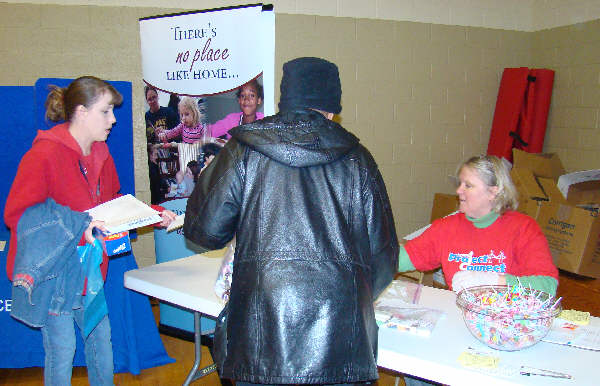 As the homeless numbers rise in Bay County, the spirit of giving still exists and this annual event is a perfect example that there is hope in our future!
(MyBayCity Photo)
---
"The BUZZ" - Read Feedback From Readers!
GJL says: On November 19, 2008 at 11:56 PM

Awesome coverage Marlo, I just watched the news on TV5 and not a word on this event....I guess no one was shot and they didn't have any doom and gloom to report. Kudos to the MyBayCity folks for reporting GOOD news in the community at a time when people need people......maybe a better title would have been "Jesus is alive and working in Mid-Michigan"
Kathy says: On November 20, 2008 at 08:51 AM

Thank you so much for reporting this event. It's wonderful to hear about the great things that can come to the people of Bay City FROM the people of Bay City. God Bless everyone involved.
---
---
Send This Story to a Friend!
Letter to the editor
Link to this Story
Printer-Friendly Story View
---
--- Advertisments ---