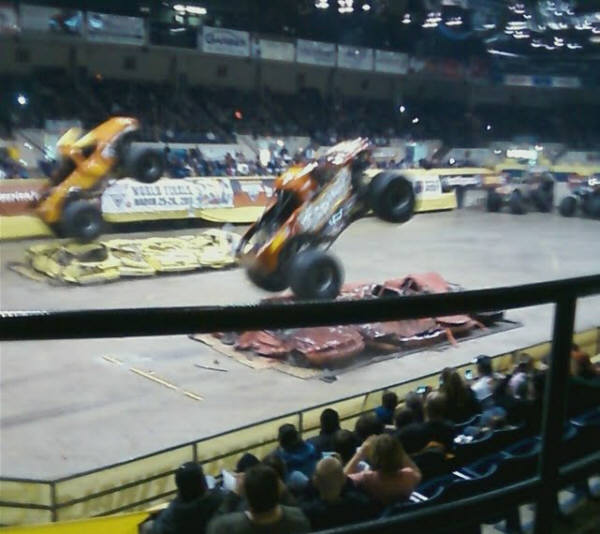 "Grinder" and "El Toro Loco" compete at Monster Jam at the Dow Event Center in Saginaw, MI
(MyBayCity Photo by Kelly Winters.)
---
GRAAAAAAAAAVE DIGGERRRRRRRRRRRR
March 6, 2011 3 Comments
By: O. J. Cunningham
I had never been to a "Monster Jam" before last Saturday. And I might never have gone, had it not been for the Christmas present tickets that I received from my kids last December.
But I seriously might go again.
And one thing for sure -- I'll certainly know enough to take earplugs and a camera with me next time.

Take it from me, Monster Jam 2011 at the Dow Event Center in Saginaw is great family entertainment.
How can any kid not be on the edge of his seat when he sees big, colorful, loud (really loud) Monster Trucks from seats that are truly up close and personal.
In the limiting confines of the Dow Event Center Hockey Arena (Where the Saginaw Spirit Play), the Monster Trucks did not get to show off their speed, power and the drivers were certainly stifled in terms of performance.
But you could not have convinced any of the 100s of kids (ages 5-12) sitting in my section that this wasn't just the greatest day for a kid to be alive on planet Earth.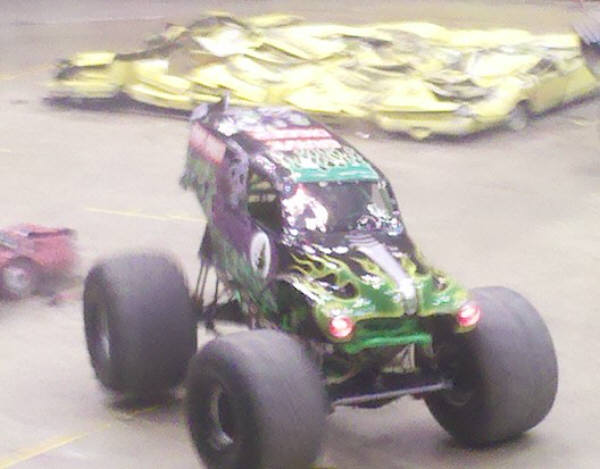 Grave Digger impressed everyone with his winning performance in the "FREESTYLE" part of the program and also took home honors in the "donut" competition
(MyBayCity Photo by O. J. Cunningham)
I knew something special was happening as soon as I parked my vehicle. There were EXCITED kids EVERYWHERE.
I rode in the elevator down from the top row of the parking garage to street level. There were two dads and and maybe 4 or 5 young boys ages 6-7-8 in the elevator with me. I can't tell you exactly how many kids there were . . . maybe there were a dozen . . . cuz like jumping beans . . . they wouldn't stand still long enough for me count them.
These kids were "cranked."
In the next 2 1/2 hours, I had learned all about "Wheelies," "Donuts," and why you had best bring a pair earplugs to a Monster Jam event.
I also knew the names of all the Monster Trucks in the completion. -- Grave Digger, El Toro Loco, Bad Habit, High Maintenance, Monster Mutt (with floppy ears and pink tongue) and the local Saginaw entry from Advanced Auto Parts -- Grinder.
They tell me that the Monster Jam event is truly impressive on a field the size of Ford Field (football) in Detroit. I'm keeping an eye out for that next big Monster Jam competition.
If only to hear the announcer bellow . . .
GRAAAAAAAAAAAAVVVVE DIGGGGGGEERRRRRRRRRRRRR . . .
Click Here for
Complete Results
for Monster Jam at Saginaw, MI -- March 4-5, 2011.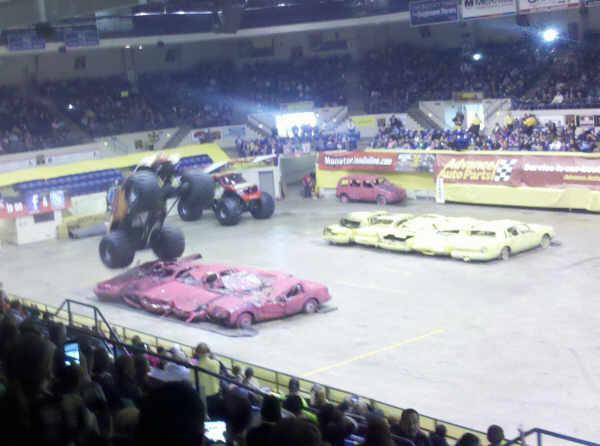 "High Maintenance" finishes off a "wheelie" at Monster Jam Saginaw, MI.
(MyBayCity Photo by O. J. Cunningham)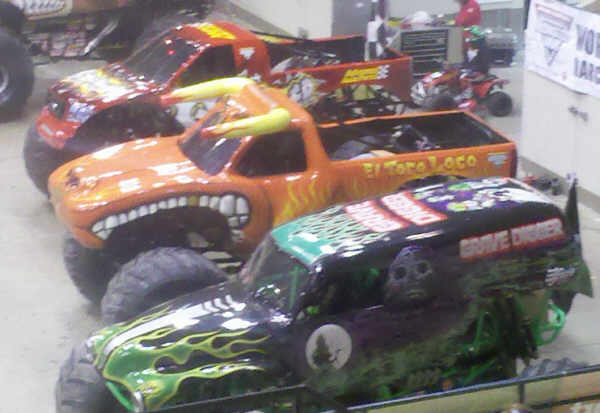 "Grave Digger," "Grinder" and "El Toro Loco" lined up in the starters area.
(MyBayCity Photo by O. J. Cunningham)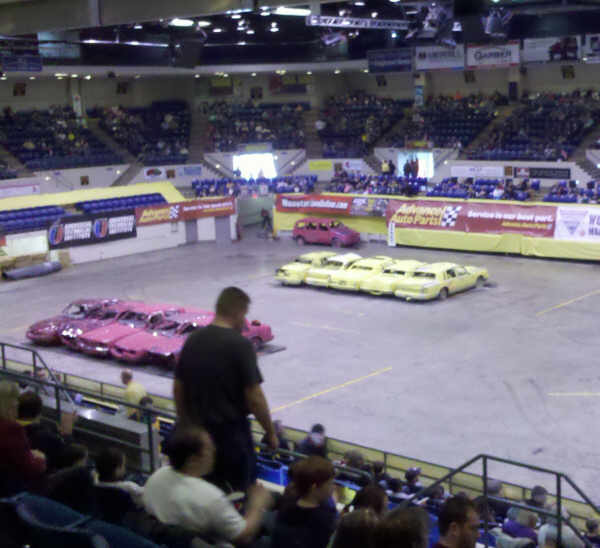 The cars on the arena floor looked pretty good until the Monster Trucks got done dancing across their roof-tops.
(MyBayCity Photo by O. J. Cunningham)
---
Columns Article 5748
"The BUZZ" - Read Feedback From Readers!
mccool says: On March 06, 2011 at 06:57 PM

uh ha.... Your HOOKED ! I knew it!!
Where are the pics for the freestyle motocross peeps?

:)

Greeeaaat Headline !!!!
Josh Says: On March 06, 2011 at 09:15 PM

Shoulda' Called Me ----
I woulda' gone with you so you had a kid to sit with -- HaHa
---

O. J. Cunningham




O. J. Cunningham is the Publisher of MyBayCity.com. Cunningham previously published Sports Page & Bay City Enterprise. He is the President/CEO of OJ Advertising, Inc.

More from O. J. Cunningham
---
Send This Story to a Friend!
Letter to the editor
Link to this Story
Printer-Friendly Story View
---
--- Advertisments ---