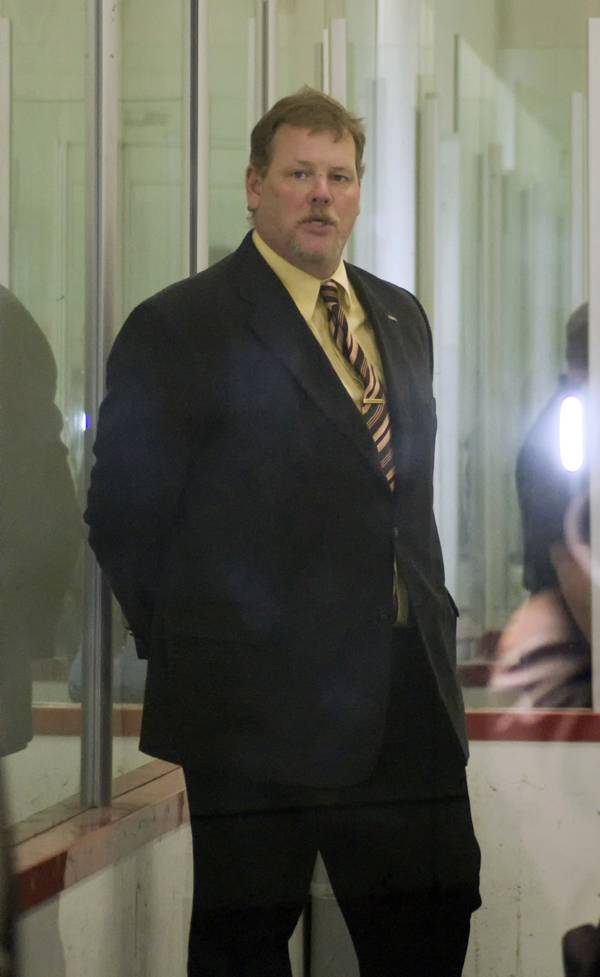 Coach Wright directs his players during a game.
(MyBayCity Photo by John Keuvelaar)
---
Service of Country and Youth Hockey a Way of Life for Coach Wright
October 16, 2011 Leave A Comment
By: John Keuvelaar
It doesn't take but a few minutes of talking with Stirling Wright, the Tri City Icehawks Head Hockey Coach, and you hear and feel his love and passion for youth hockey. Give it a few minutes more of conversation and you quickly feel that same love and passion for the service men, women and veterans of the US Armed Forces. He has taken these two passions and combined them to be a driving force in his life and coaching.
Stirling Wright's love of country was developed in his pre and early teen years as he attended Linton Hall Military Academy, a Marine Military School at the time, in Bristow, VA. This military background stayed with Stirling as he joined the US Navy following graduation from the University of Wisconsin-Superior in 1990. Intertwined through all these academic years was the love of playing hockey.
Stirling's service spanned through both Gulf Storm and Desert Shield as he was stationed overseas through much of that time. He worked with Naval Security Group/ Cryptology Technician-Wizard Operations and was assigned to support all regular Navy and SEAL operations as well as other countries Special Warfare communities on special operations. Unfortunately, Stirling was injured during a training incident and was forced to return stateside to undergo shoulder repair and eventual replacement ending his military career in 1993.
But if you know Stirling, his engine is always running as he began helping coach a Capitals Boys Hockey Club while stationed in Washington, D.C. He coached for two seasons while being assigned to Bethesda SatDive (saturation dive) for special duty while awaiting the various surgeries on his shoulder.
After being released from active duty in 1993, Coach Wright opened a hockey store and started working with the NHL Washington Capitals as well as the Baltimore Skipjacks and Portland Pirates of the AHL.
In 1995, Stirling switched his passion for hockey to coaching and management roles as he accepted a position as player/coach in the United Kingdom. This served as a spring board to various other hockey positions both behind the bench and in management positions where he ultimately landed in Alaska. There he coached and was the GM of the Anchorage Aces.
Wright's military experiences ultimately led him to leave hockey for a time as he pursued a career in Law Enforcement. Coach Wright served as a K9 handler and Investigator while learning and training others in the field of Forensic Psychophysiology. Ultimately health reasons caused him to retire from the rigors of working with sex offenders and hard core criminals on a regular basis.
As they say, you can't keep a good man down and such is the case with Stirling Wright. After retirement from law enforcement, he continued teaching youth hockey for the Washington Capitals practice facility in an attempt to regain strength. In November of 2009, he had 6 stents placed in his arteries. Soon after leaving the hospital, he returned to coach youth hockey and assist others with his love for the game.
He and his family, wife Petra and two children, son Stirling and daughter Rachel, moved to North Carolina after his health continued to fail. In January of 2011 Coach Wright was preparing for a routine heart catheterization when he went into cardiac arrest and was unconscious for 1:41 second before being revived. A heart bypass was performed. As Coach Wright is often heard to say, "I died once and was brought back. I'm going to enjoy this second chance to its fullest." But complications almost robbed him of this second chance as internal bleeding required him to be rushed to the hospital where he was placed in ICU and 15 blood transfusions were required to stop the bleeding and allow him to recover.
But Stirling's passion for life and sense of duty didn't allow him to sit at home. During a visit in the hospital by some o' his 18U team members from the Coastal Carolina Clippers, he vowed he would be back to finish off the season with them and finish he did. Coach Wright returned to help the Bantams and the Midget level win their end of season Championships.
During all this time, Coach Wright assisted the ownership of the Kalkaska Roughnecks to gain acceptance into the GLJHL. It was during this time that Coach Wright was asked by Art and Colleen Dore to help them get the Tri City IceHawks of the GLJHL turned into a formidable and professional organization both on and off the ice. By June of this year, Coach Wright had accepted the head coach position and has dedicated his love of the game to developing the players of the Icehawks to help them reach their goals.
During the last several years, Stirling Wright has continued to help others and stay active by participating with Wounded Warriors, playing in "Put Cancer On Ice" charity games with Caps Alumni and members as well as assisting with Special Needs Hockey and Girls Hockey. Coach Wright has also served as a Director for CAHA (Carolina Amateur Hockey Association) as well as volunteered as Hockey Director for CCHA in Wilmington, NC.
When you look at the resume of involvement of Stirling Wright in helping others, whether it is supporting our Navy SEALS in Gulf Storm, coaching our youth or playing in a charity hockey game, you see the dedication and love of helping others. There is no doubt this mixture of military training and hockey passion has made him the man he is today.

Nothing like a good stretch lead by Coach Stirling.
(MyBayCity Photo by John Keuvelaar)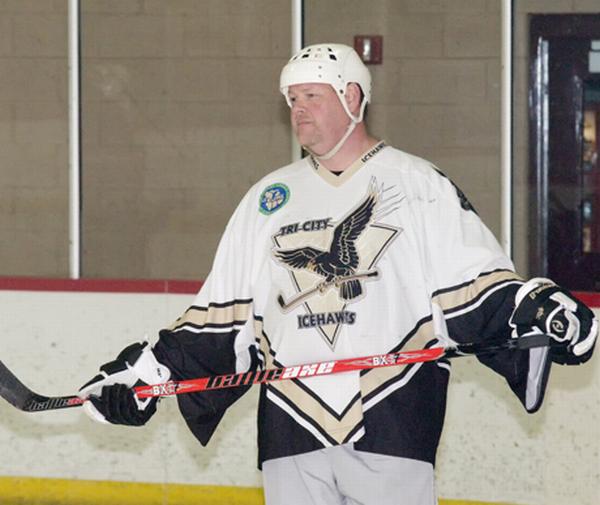 Coach Stirling Wright oversees the action.
(MyBayCity Photo by John Keuvelaar)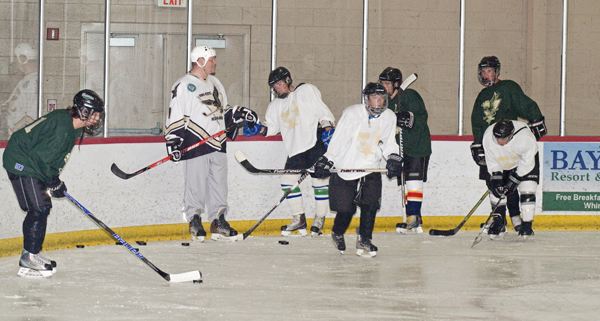 Players grab some air waiting their turn in the drill.
(MyBayCity Photo by John Keuvelaar)

Team listens to instructive critiques.
(MyBayCity Photo by John Keuvelaar)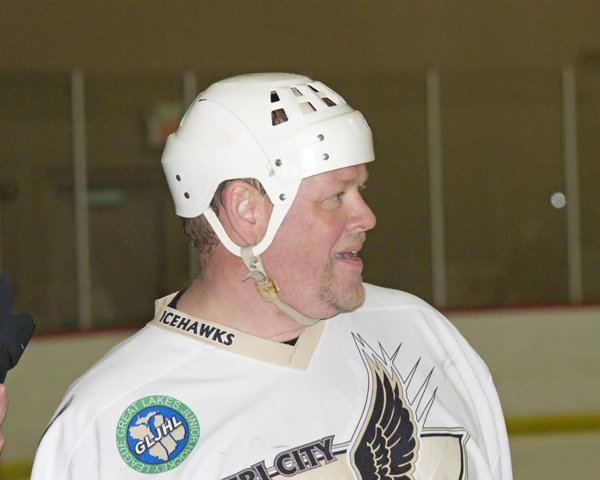 Stirling Wright enjoying his team's effort in practice.
(MyBayCity Photo by John Keuvelaar)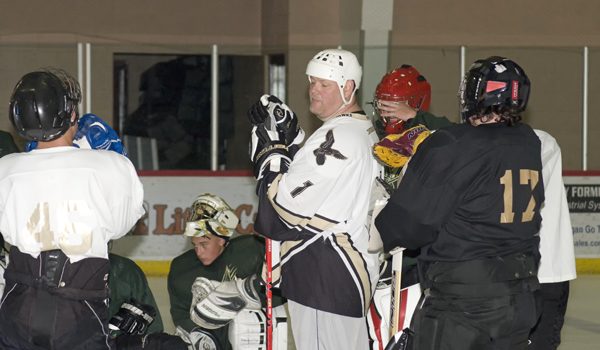 Team catches a breath between drills.
(MyBayCity Photo by John Keuvelaar)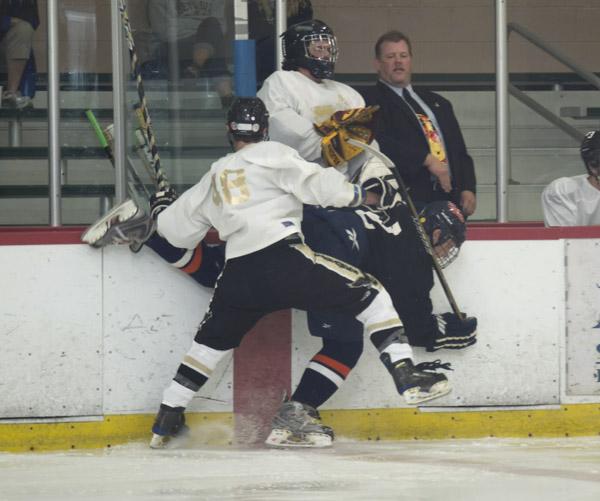 Sometimes coaches get close to the action.
(MyBayCity Photo by John Keuvelaar)
---
Sports Article 6341
---

John Keuvelaar




John Keuvelaar is a college student at Midwest Photography Workshops and Delta College.

More from John Keuvelaar
---
Send This Story to a Friend!
Letter to the editor
Link to this Story
Printer-Friendly Story View
---
--- Advertisments ---