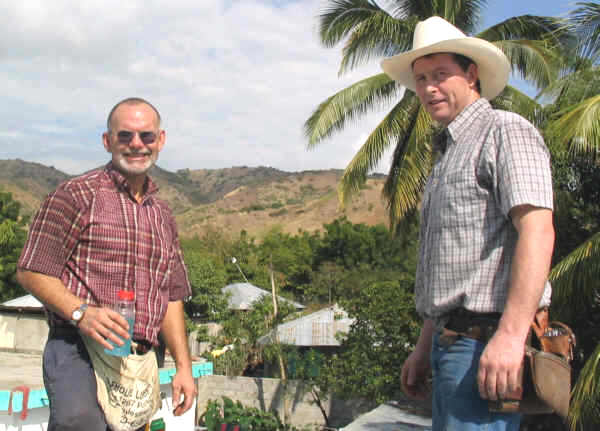 Randy Wackrerle (left) pauses for a Gatorade break on top of the first school roof the crew completed. The crew finished sheeting the entire 30 x 50 roof in fifty-one minutes. At right is fellow-worker, Ed 'Cowboy' Sanders.
---
Home From Haiti
It's not about money. It's about spreading the word
You have to breathe, eat, smell, and hear the country to let it all soak in
February 24, 2005 Leave A Comment
By: O. J. Cunningham
(Editor's Note: This is the last (honestly) of the four-part series relating the experiences of Randy Wackerle during a recent trip to Haiti. Wackerle, a retired Bangor John Glenn teacher, accompanied a 'work team', headed by Bay City's Dean Pashak and his wife Connie on a mission of work and love to this poorest of poor Latin American countries. Wackerle was kind enough to share his thoughts and experiences.)
By Randy Wackerle
Friday, January 20, 2005
-
"You know you're in Haiti when you drive around a dead pig in the middle of the road.
Note: Anytime there is danger ahead drivers are warned by three branches lying on the road. There are no sawhorses or blinking yellow lights!
LeaveHaiti at 7am. Arrive home around 11pm. At the compound Harvey had the departure prayer. It was like eating hot soup. We all had tears and runny noses. I felt like I knew these folks my whole life. We reached the tiny airport before the gate was unlocked.
A man on a moped opened up and we entered the terminal in the back door. No need to pass through the metal detector. It was unplugged! Connie cried last night and Dean had tears this morning. Love was in the air. It was hard to say good-bye.
I was determined to sit in the Co-pilot seat this time. The pilot was born in Montreal and his name was Unz. He spoke very good English. He said the Caribbeans that worked the airport were not only lazy but also very slow. He dreamed of being a Top Gun pilot in the U.S. Air Force until the Oklahoma bombing. His plans were then nixed.
So here we are at the end of the runway revving up the single engine puddle jumper when he says, "What you see in next minute do not attempt at home" All of a sudden at the other end of the runway a small plane is heading right at us maybe 20 feet off the ground. Just when it looked like we were goners the plane climbs skyward.
It seems the pilot had a friend that was just goofing off. Can you picture that scene in the States? We had no problems with our bags, but you can't take your hands off of them for a minute. Ed said two Haitians got in a fistfight over the bags last time they were here. A man was totally embarrassed on the runway in Detroit. The pilot came on the intercom and announced that we had to stop and wait for the person to finish in the bathroom and get back to his seat. A plane cannot taxi with someone in the bathroom. The whole plane was staring the man down when he came out.
Summary:
"You know you're in Haiti when there are two banks for every mile."
I never once saw anyone doing any business at these colorful painted fish shanty sized buildings.
I felt like I accomplished more in eight days than I did in 32 years of teaching eighth graders. At least my labor was more appreciated. I respect more for what Dean and Connie are doing down there. It's not about money. It's about spreading the word. Dean said each time he makes this trip it reaffirms his faith. Ron and Linnea are special people. I also got to meet their dog "Tilley." I saw humor from Rod that I truly enjoyed.
Example: Along the edge of the road was apile of rocks and some wood. Rod said, "Looks like the remains of a telephone booth." He took more pictures than all the mites that I counted on a roll of toilet paper. Evelyn is a talented woman. Her answers to anything I asked were always genuine and well thought out. Kevin gave me new insight on church and religion. He is a deep thinker.
Joe truly loves the little children of the world. He probably won't hold and hug kids as much anymore. When he got home from the trip he was the only one that threw up for a couple of days. There would be times when his glasses were half knocked off because 20 to 30 kids were mobbing him. Joe is a retired math teacher.
Let's see now! Fifty bugs per kid times thirty kids equals some sick time. Ed and Julie Sanders are wonderful people. Julie smeared a homemade remedy from her grand-ma on the open wound on my arm. Thanks, it worked great! Nobody works any harder than Cowboy! Harvey Gutwein came up with one-liners faster than me. We saw the good, the bad, and the ugly together.
Chris Huber I admire. He is a champion in my heart. I'm just glad he never took up paddleball because the way he swings a hammer I wouldn't have a chance on the court. On one of the flights back home I was reflecting on my week in Haiti and out of the clear blue I started crying. That's a first. Is there a place I should check in to get deprogrammed! I know these words above don't do justice to this mission of love and work.
You have to breathe, eat, smell, and hear the countryside to let it all soak in. The only thing I would change -- Learn how to speak some Creole! God Bless!
After the Trip . . .
The first week home I left my suitcase and carry on bag in the freezing temperatures to kill off all bugs. After three days I found a tarantula, three cockroaches, and a baby lizard all frozen. (Just kidding!)
---
Local News Article 713
---

O. J. Cunningham




O. J. Cunningham is the Publisher of MyBayCity.com. Cunningham previously published Sports Page & Bay City Enterprise. He is the President/CEO of OJ Advertising, Inc.

More from O. J. Cunningham
---
Send This Story to a Friend!
Letter to the editor
Link to this Story
Printer-Friendly Story View
---
--- Advertisments ---