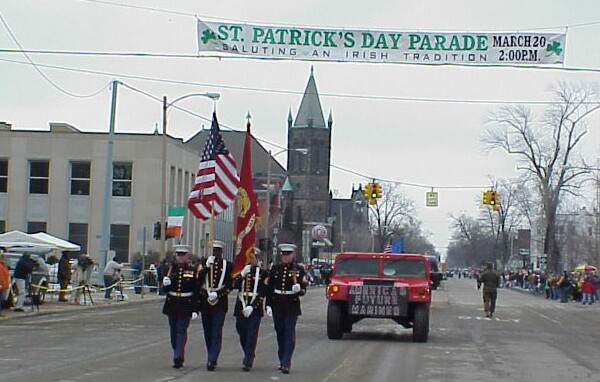 Bay City Turns GREEN For St. Pat's Day Parade, But Some Marchers are Blue
Cold Temperatures Keep Parade Participants Hopping and Jumping
March 20, 2005 Leave A Comment
By: Stephen Kent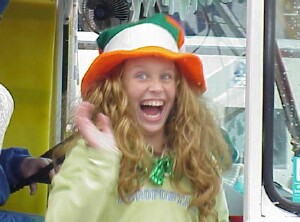 Saturday's weather left folks a bit concerned about Sunday's Saint Patrick's Day parade in downtown Bay City.
In the 51 years of the parade there have some cold and less than comfortable days, but the last few years have been great.
Most of Saturday was a bit raw and blustery with enough wet snow to make the roads nasty. Sunday looked questionable in the morning, but by parade time things were fine. No snow, no wind, temps in the upper 30's and dry roads.
It was a fine day for a parade on the first day of Spring! But there was a lot of hopping and jumping going on as marchers waited out start of the parade in slightly chilly weather.
There was a record 150 units, including 75 floats and six bands, including the famed Strathroy Pipe Band from Chatham, Ontario, a repeat performer and always a crowd favorite in their colorful tartans and kilts and with their skirling bagpipes. Parade Marshal Eileen Marshall strutted at the front of it all.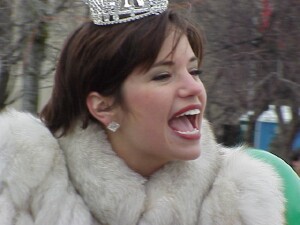 Celebrities included U.S. Senator Debbie Stabenow and Miss Michigan, Kelly Talicska, from hometown Auburn. Local politicians and marching groups included State Senator Jim Barcia, Drain Commissioner Joe Rivet and the Ancient Order of Hibernians, Robert Shea Sr. Chapter, headed by County Commissioner Brian Elder. Circuit Judge Ken Schmidt paraded with the Bay Med Fitness marchers.
Last year's historic first Macy's/Hudson's type huge cartoon balloon, was in the parade again this year. The 40-foot high, 14-foot long, 20-foot wide Flicker the Dragon, from Art Van Furniture is so big the handlers had to finesse the huge balloon under power lines all along the route.
Stevens Van Lines clip-clopped in with a dazzling pair of dappled horses pulling a vintage moving wagon that really stood out.
Hooters girls on a float boat: nuff sed.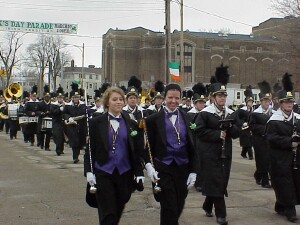 The high-stepping Saginaw High School Band provided verve and the Central High Band was preceded by flip-flopping gymnasts who braved mud on cracked Center Avenue to show off for the crowd.
Rose and Irv McEachern, veteran parade volunteers, reported winner of the float contest: Mayor's Trophy (best overall), S.C. Johnson & Son, Inc.; President's Award, American Legion Post 238, Midland; Most Beautiful (in town), Art Van Furniture; out-of-town, Frankenmuth Bavarian Festival; Best Youth-Oriented Float, American Pride Committee; Wee Irish Award, Harris-Bush Realty.
Notable others: First bed in the parade, the DoubleTree Hotel - Bay City Riverfront "Sweet Dreams" float; 1950 restored Mack truck from Van Poppelen Bros.; Bay City Fireworks Festival balloons, Uncle Sam and Eagle; Long John Silver's Darth Vader; the red and white clad vintage baseball team, the Bay City Independents;
Lions Club Tag Sale float pulled by 1947 Chevrolet station wagon and followed by Leader Dogs for the Blind; Dick Somalski in his vintage Bay Landscaping truck; sword fights along the route by The Armory; intrepid mounts by the All Saints Catholic Central High cheerleaders; 1943 restored pumper truck by Mid-Valley Insurance;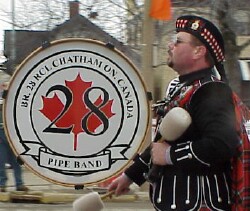 A miniature Chesaning Showboat; Dobson's Toy and Fire Truck Museum vehicle; racing boat promoting the Labadie River Road June 25-27; WSGW's talent team of Dave Maurer and Bill Hewitt; a pristine U.S. Army Jeep presented by the Valley Aero Club; Sonic Skate rollerskaters all over the route; most clever motto: Bay City Southwest Little League, "fielding dreams for over 50 years;"
Saginaw River Marine Historical Society's 1945 restored merchant marine lifeboat with President Don Comtois at the oars; Bay County Wrestling float jammed with youthful wrestlers; Sun Glo Retractable Awnings float; Bay Medical Center staff and the Road to Fitness marchers sponsored by Bay Med, the Bay City Times and the Bay Area Family Y.
St. Pat's is a Bay City tradition that brings everyone out. The parade is loaded with bands, beauty queens, homecoming courts, military units, business entries, and kids, and dogs, and floats, and lots of fun. MyBayCity.Com's tradition is to show it in pictures. Here are a few of our favorites!
---
Community Article 735
---

Stephen Kent




Steve Kent and his family have lived in Bay City for 30 years. He is VP of Technical Services at MMCC which produces MyBayCity.Com. Kent is active in many Bay City civic organizations.

More from Stephen Kent
---
Send This Story to a Friend!
Letter to the editor
Link to this Story
Printer-Friendly Story View
---
--- Advertisments ---