Just For Kids Program Presented to Rotary
November 6, 2012 Leave a Comment
By: Stephen Kent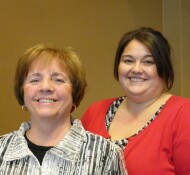 Rita Maier and Christine Benecke
Rita Maier
and
Christine Benecke
spoke to Rotary about the Just For Kids program of the Maier & Associates Charitable Foundation.
Just For Kids
was the brain child of Rita's husband Wayne. The foundation was founded seven years ago with the mission and focus to reward kids who demonstrate good citizenship and good character, who do the "right thing", and who are involved in their school and community.
The foundation lets kids in the Bay and Saginaw area know that they matter and that they are important.
They started by giving bikes to kids who need them. Schools were asked to nominate a boy and a girl. Bikes were presented at a school assembly to insure that everyone knew the recipients and what they were rewarded for.
Determining that 8th graders could use a laptop computer as they moved on to high school, the Kids Who Care program was started. Again, school staff was asked to nominate recipients. Last year laptops were distributed to 20 out of the 45 middle schools in the area.
The organization has also given $1,500 scholarships to high school seniors. They give shoes to 45 kids who need them. They've helped kids get senior pictures. They provided drivers training, gas cards, a special bike for a disabled student, a professional hair cut for a girl who had never had one, Christmas gifts, and many other small but very meaningful acts.
The foundations and programs don't target the typical students. They look at need, potential, and performance. They don't take direct applications, rather they depend on a network of community members, schools, churches, Department of Human Services, the Women's Center, etc.
The program is funded by donations, fundraisers and has distributed over a million dollars in the past few years.
Christine Benecke
, a Just For Kids board member who works for the Saginaw Community Foundation, gave an example of a recent recipient. This young man graduated from high school, was accepted to college, but was challenged for a place to live and help. The Community Foundation and Just For Kids stepped up and provided funds in quickly and effectively. Speaking to the foundation, the young man showed his appreciation and that he knew what it meant. He makes it a goal to "Pay It Forward".
For more information visit
goodkids123.org
---
CLUB NEWS and ANNOUNCEMENTS
BOARD MEETING THIS WEEK
The Board will meet this Tuesday, November 13, before the regular meeting. This month an e-mail announcement will be sent to ALL MEMBERS as every member is welcome to attend.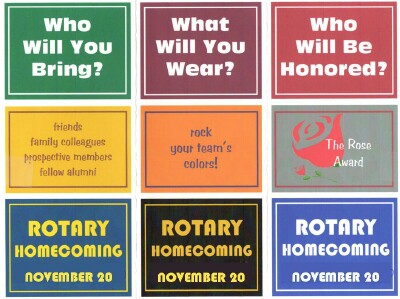 Rob Clark reminded everyone that
Rotary Homecoming
will be held November 20th.
Who Will You Bring?
Homecoming is a day to show others about Rotary. Bring your friends, family, colleagues, an alumni member. Most important is to bring
prospective members
. Homecoming is a recruitment day as much as anything else!
What Will You Wear?
Everyone likes to show off their school colors, no matter how long ago your school days. Wear your school colors, hats, sweaters, sweatshirts, or whatever. Here's a chance to show off a little.
Who Will Be Honored?
The club has presented its
Rose Award
at each of the last five Homecomings. The award recognizes
R
otary Outstanding
S
ervice and
E
xcellency by a club member. Who will receive the
ROSE
this year?
If you can, plan to stay after the meeting for a CPR update. Many of us have CPR training, but this is a chance to refresh that training and catch up on the latest thinking.
---
Eric Jylha
reported on a second e-mail from
Jency Schnettler
, our ambassadorial scholar who is now residing in Shanghai. She had her first opportunity to leave the city as she went with a group of Rotarians who's project is to provide funds and support for young people receiving heart transplants. She met four young people from 14 months to 14 years old who had been helped with transplants.
Brian Kay
has settled in his new home in Las Vegas. If you'd like to contact Brian, his address can be found in the on-line directory on the club web site. Be sure to check the "
Moved
" box then reload to show his name.
Chuck Cusick
said that the
Dictionaries
are ready to deliver but some have not been picked up. He offered some anecdotes from visits he and Nancy had made.
The
Badge Box
has been reorganized alphabetically. The experiment continues. Pay attention to the box until we get used to it. Keep your badge in the general area of the letter it belongs to. Pick a slot number in that range and try using it.
Remember to contribute to the clean water campaign and contest:
Put SILVER in OUR JUG --- PUT BILLS (and checks) in the MORNING JUG
---
DATES TO REMEMBER
Board Meeting
November 13. Everyone is invited.
Rotary Homecoming
November 20.
Rotary Concert
April 11, 2013.
---
Upcoming Programs
(See the official schedule at RotaryBayCity.org )
Nov 13, 2012: 10 Minute Rotarian
Nov 20, 2012: Rotary Homecoming
Organized by Rob Clark
Nov 27, 2012: Michigan Cities Initiative
presented by Rodney Stokes, special adviser to Governor Rick Snyder.
Dec 4, 2012: School District Superintendent's Panel.
Doug Newcombe, Shawn Bishop, John Mertz, Erin Sullivan, and Mike Knopf will talk about collaboration between school districts.

Rotary
is an intimate affiliation of carefully selected business and professional people,
having as its objective the promotion of high ethical standards in private, commercial
and civic life, and dedicated to the ideal that the basis of all worthy endeavor is unselfish service.
---
Current and past
DISTRICT DISPATCH
newsletters are available on the District site shown in the LINKS section below.


Rotary Bay City on Facebook!
Click on the Blue Facebook to visit us there.

Remember! Check attendance sheets at the front desk.
---
LINKS
---
---

Stephen Kent




Steve Kent and his family have lived in Bay City for 40 years. He is VP of Technical Services at MMCC which produces MyBayCity.Com. Kent is active in many Bay City civic organizations.

More from Stephen Kent
---
Send This Story to a Friend!
Letter to the editor
Link to this Story
Printer-Friendly Story View
---
--- Advertisments ---