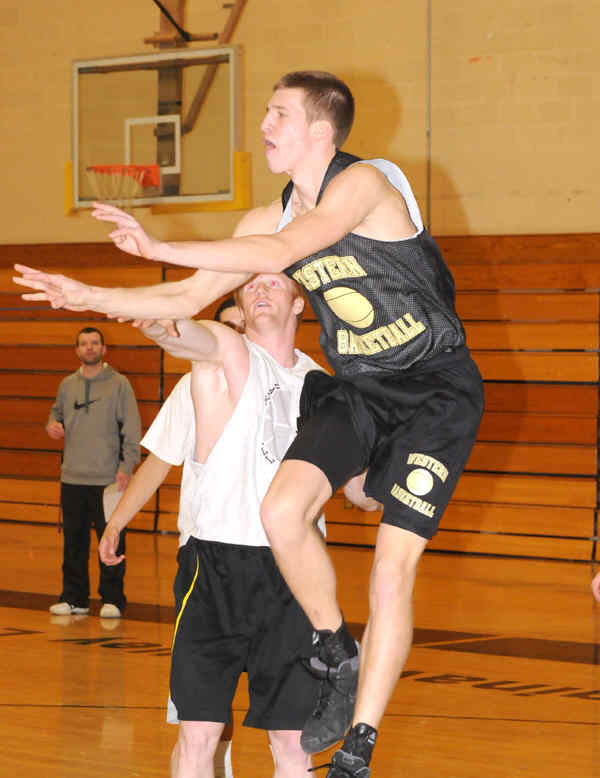 Brandon Havercamp takes a mid-air pass to the hoop during practice before Western's 2011 Final Four appearance. (MyBayCity Photo by John Keuvelaar)
---
Western Wows Local Basketball Scene With 2011 Season to Remember
Final Four Appearance at Breslin Center
April 3, 2011 Leave a Comment
By: John Keuvelaar
EDITOR'S NOTE: Just prior to the semi-final game against Detroit Southeastern,
MyBayCity had an opportunity to talk about the 2011 season with Coach Chris Watz.)
For four months, basketball fans of Bay County enjoyed the tremendous play of the Western boys basketball team and their run to the Michigan State High School Final Four.
More than just sporting the
State's Player of the Year as awarded by Gatorade,
the team blended a strong supporting class with a winning team philosophy (instilled by Coach Chris Watz) to overcome strong competition on their way to a record setting performance that captured the hearts of Bay County basketball fans - regardless of school colors.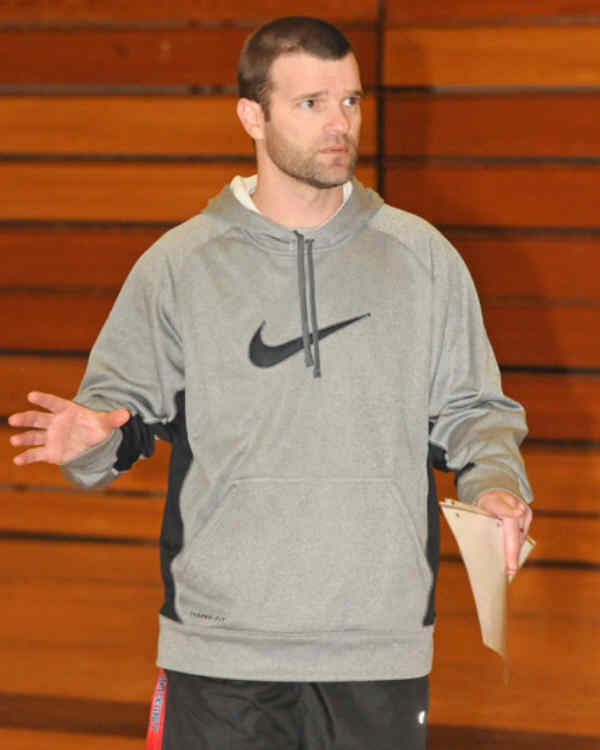 Coach Chris Watz
2011 Western Basketball
"This group really enjoyed each other," said Coach Watz. "Last year was a real rough year for the juniors," acknowledging that they took on most of the playing time. Watz continued, "As a result of that year, everybody knew their role".
Coach Watz further reflected that while having such a high quality player in Matt Costello, Matt knew in November how important his teammates' contribution and effort would be to attaining their team goals.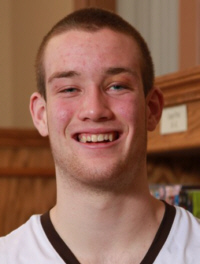 Matt Costello
Gatorade Player of the Year
Coach Watz had an interesting insight into the two meetings with Saginaw High, a perennial powerhouse in the state basketball arena.
"We knew we had to slow the ball down in order to beat (Saginaw) High," Coach reflected. "So we stayed with our original game plan of slowing the game down and making them come to us."
So what was the difference in the two games? "The crowd," Coach Watz noted. "We weren't used to playing in front of such a big crowd and they are. I felt that the first experience helped us prepare for the second time we played them."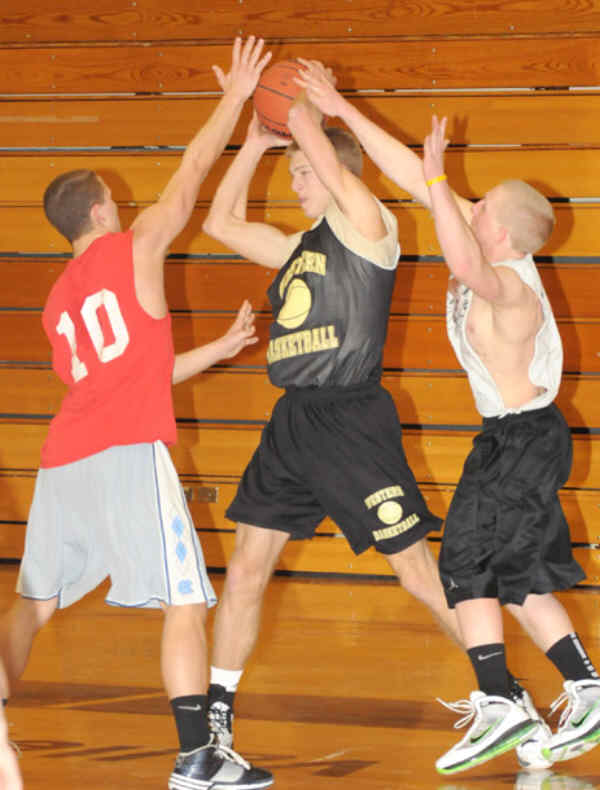 Ryan Haag gets pressured as Western works hard at practice to keep possession of the ball.
(MyBayCity Photo by John Keuvelaar)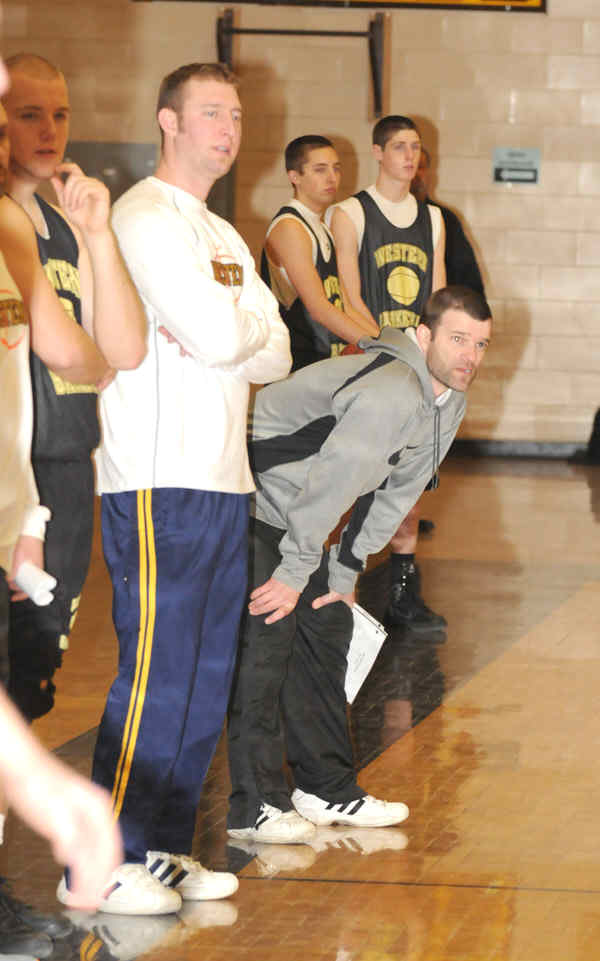 Coach Chris Watz keeps a close eye on the team as they perform during a scrimmage.
(MyBayCity Photo by John Keuvelaar)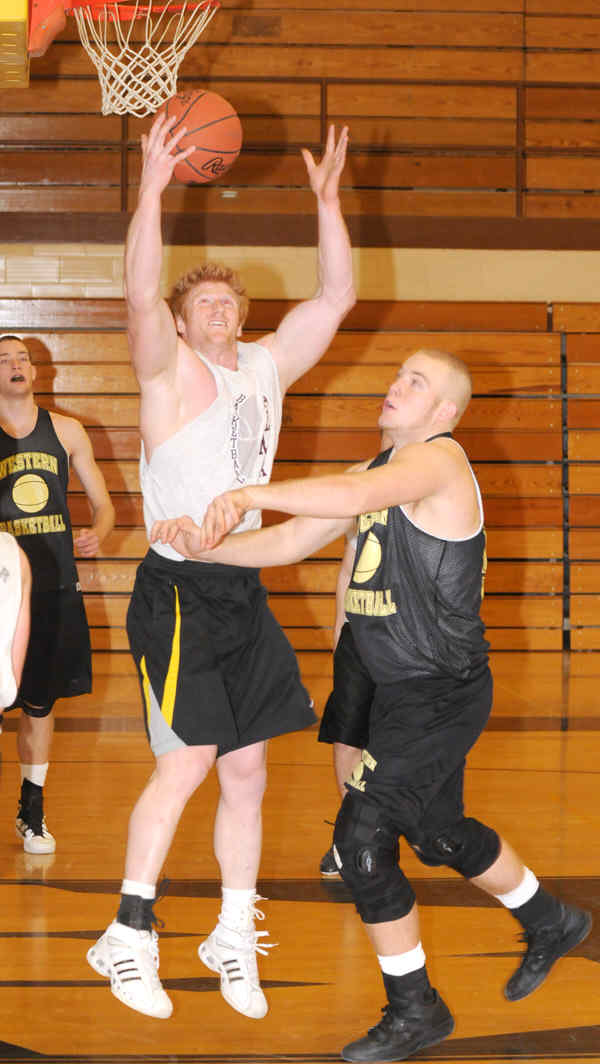 Working Hard -- Both teammates scramble to get the rebound.
(MyBayCity Photo by John Keuvelaar)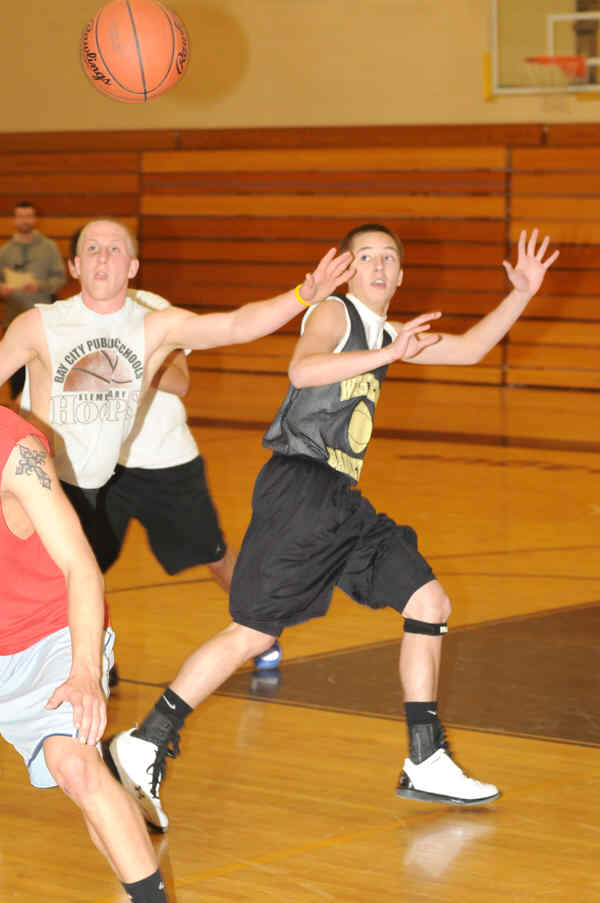 A break-away to the basket -- Fast break points are always a key to a winning performance.
(MyBayCity Photo by John Keuvelaar)
When asked what were the biggest moments in 2011 that helped propel his team through the season, without hesitation Coach Watz named three events.
(1) "The first big moment for us was the Arthur Hill game (team's first loss). "Matt couldn't play so we had to rely on our other players. (While we did loose) that game gave, the players earned a strong belief that they could play and beat anybody -- even without Matt. Matt also learned that he could get help from the others and he knew he had to step his game up.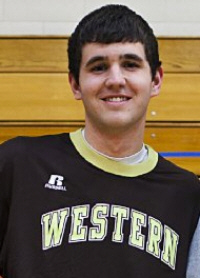 Aaron Tithof
Key Three-pointers

We then won ten in a row following that game."


(2) Coach Watz felt the second important event centered around the "Tyler Ellis injury." Ellis had been the point guard for three years. Jake Watz (son) had to come in and step up for us against Flint Northern. We won and that gave us confidence in depth (at that position).


(3) And finally, Coach Watz noted the first loss to Saginaw High. "In game one, we might have been overwhelmed by the moment and the crowd," Watz said. "We got over it real quick. We dismissed it as merely not being ready for a big game but learned from the experience. (In the second game) we were more mentally ready. Once we beat them, we felt we could take on anyone."

When asked about the outstanding moments he will remember from this season, it wasn't a dunk or a block shot as one might expect. It was key three point baskets that topped Watz's list.

Watz recounted a "biggest moment" that occurred in the Regional Game against Saginaw High. "(Aaron) Tithof hit a big three point shot, maybe the biggest in Western history, to tie the game. After having a big lead, Saginaw had come back and we were down by three. Tithof hit that three to tie the game."

Coach Brown quickly added that it was also "Havercamp's dunk that followed Tithof's "three" that put us ahead to stay," was a huge part of that moment.

The second "biggest moment" occurred in the Clarkston game which was the Regional final. "Clarkston had come back to within one point" Coach Watz recalled. "Aaron (Tithof) hit a three again" and Western went on to win that Regional title.

And just to finish off the three point memories, Watz's final big memory was two more Aaron Tithof 3's in the quarter finals against Orchard Lake.

Whether it was a big three, a slam dunk, a key defensive stand or a blocked shot, this Western season was chock-full of those kind of memories. And while the season ended just shy of the ultimate prize, it should take nothing away from a memorable season (One for the Ages)that the 2010-11 Western boys basketball team gave to their fans and the Great Lakes Bay Region.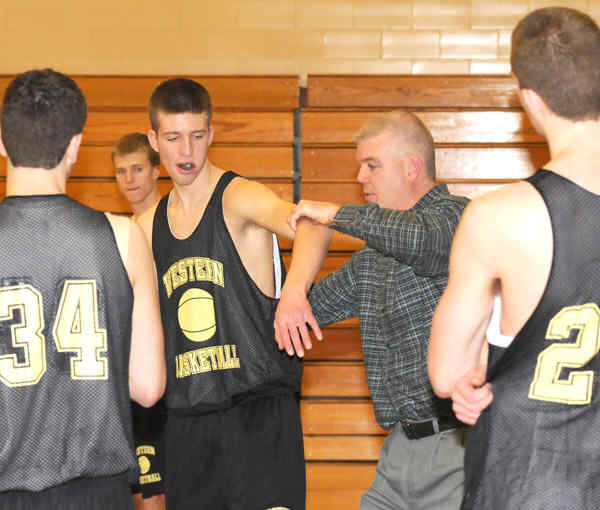 Brandon Havercamp gets a little hands on instruction.
(MyBayCity Photo by John Keuvelaar)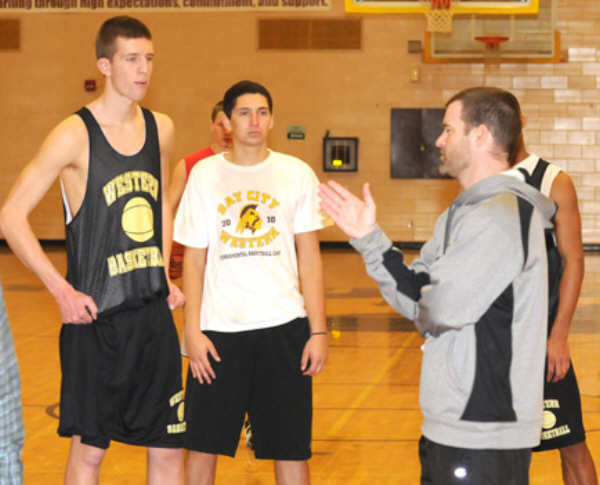 Some last minute pointers.
(MyBayCity Photo by John Keuvelaar)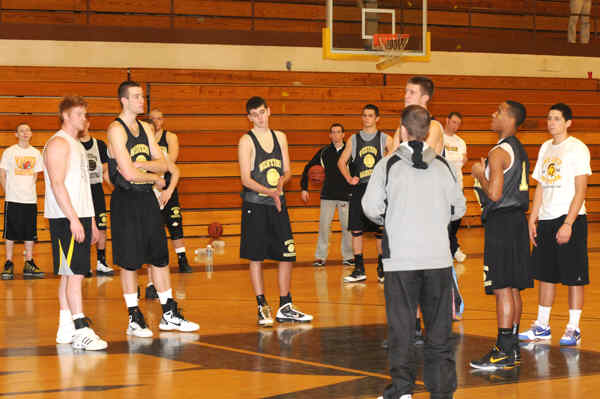 Western players listen intently as Coach Watz explains the next drill.
(MyBayCity Photo by John Keuvelaar)
---
---

John Keuvelaar




John Keuvelaar is a college student at Midwest Photography Workshops and Delta College.

More from John Keuvelaar
---
Send This Story to a Friend!
Letter to the editor
Link to this Story
Printer-Friendly Story View
---
--- Advertisments ---