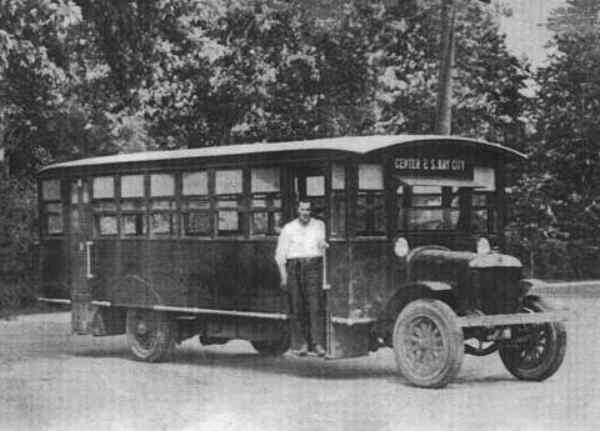 Transit passenger bus from the 1920s with driver identified as William Johnson. Photo courtesy Marv Kusmierz of Bay-Journal.com.
---
Could Mysterious Fuel Tank on Y Property Be From Bus Lines of 80 Years Ago?
Unexpected Discovery of Huge Tank Raises Question: Who Put it in, and When?
March 31, 2011 3 Comments
By: Dave Rogers
Bay Area Family Y officers and city officials are wracking their brains about the origin of a huge underground gasoline storage tank found on the construction site of the new Y.
The tank, filled with gasoline and water, was encountered unexpectedly as work progressed on the new Y building on Washington Avenue.
Discovery of the 12,000 gallon tank has held up construction and has cost the Y an additional estimated $20,000.
The tank seemed to indicate presence of a long-since closed gasoline filling station, perhaps. But the gas stations in that area in the last half century were all across the street.
Officials theorized the tank could have been from an industry, but no historical records indicate an industry on that site. The Industrial BrownHoist, preceded by the Industrial Works, was located across Saginaw Street.
I-B had a training building on the northeast corner of Saginaw and 11th and perhaps located a filling station for company vehicles on the site near the building. Such a large industry would undoubtedly have numerous trucks and other vehicles and had need for a handy source of fuel. Chances that the I-B had a gasoline storage tank are, of course, a possibility, but why would they not be across Saginaw Street on the I-B site itself?
---
--- Advertisements ---



---
As for a gasoline station possibility, there was a Dawson's, later Washington, Service Station on the corner of Washington and 11th in 1953-54 that still survives as an antique shop and storage building. But, again, that is across Washington from the new Y site.
Ray's Food Fair was at 229 Washington, Traveler's Lodge Tourist Home was at 241 and the Tip Top Drive-In was at 259 Washington. None of those were likely to have had had gasoline storage tanks.
City records didn't indicate any buried storage tanks on the site. So, could it be possible that the tank that was found pre-dates even city maps and documents?
Perhaps the storage tank was installed by the Triangle Motor Sales, a Hudson and used car dealer, located at 209-215 Washington in 1942. But what are the chances a car dealership would have such a large underground storage tank?
One long-shot guess is that the tank was involved with the Rapid Transportation Company, listed in the 1929 Polk City Directory at the rear of 219 Washington Avenue along with the Railroad Freight Company.
Little information can be found about the Rapid Transportation Company except that it was run by Edward J. Kavanagh and had a waiting room at 713 Saginaw St. Obviously, it was a mass transit firm carrying passengers.
The site along Washington Avenue is believed to have been the location of the electric street railway, discontinued in 1924. Perhaps Mr. Kavanagh opportunistically sought to fill the void in public transportation left by the closing of the streetcar line.
Successors to Rapid Transportation were Doran, that began in 1922, and successor Balcer bus lines, which died out in the 1950s. Balcer started about 1946 and was located on South McLellan and then at 1600 Garfield. Onetime city patrolman Morland Hibbler ran a mini-bus line using small VW vehicles for a while in the 1950s. The present Bay Metro Transit Authority started up in 1975 under government auspices.
We may never know for sure where the tank came from; chances are it doesn't have an identification tag or any way to tell its age. Gasoline can last a long time, too.
So, for now it's another Bay City mystery for city officials to investigate. We wish them good luck.
###
---
"The BUZZ" - Read Feedback From Readers!
Greyhound5657 Says: On April 05, 2011 at 12:20 AM

Hi,
My Mother-in-law was a Doran.
Allen Dollar-hyde Doran founded the Doran Bus Co.
I found a newspaper clipping that talks about the first run buse's. "The Niemann and Son Bus Line started operations in 1921 shortly after the old street cars were pulled off city streets in the post World War 1 period. The buses were generally "loaded" especially the 5:30 pm run from downtown after stores closed."
Not sure if this has anything to do with the "Mysterious Fuel Tank". I just wanted to pass it along.

Nancy Miller
rbirdsall Says: On April 14, 2011 at 05:32 AM

The Balcer Bros. Motor Coach Company was at Washington and 11th in 1953.
DOUGMCKAY55 Says: On February 21, 2015 at 11:25 PM

MY GRANDFATHER WAS FRANK NIEMANN OWNER OF THE NIEMANN AND SON,S BUS LINE .THE BUS GARAGE WAS AT 609 HARRISON ST.AND THAY HAD A GAS STATION AT 2627 BROADWAY
---

Dave Rogers




Dave Rogers is a former editorial writer for the Bay City Times and a widely read,
respected journalist/writer in and around Bay City.
(Contact Dave Via Email at carraroe@aol.com)

More from Dave Rogers
---
Send This Story to a Friend!
Letter to the editor
Link to this Story
Printer-Friendly Story View
---
--- Advertisments ---