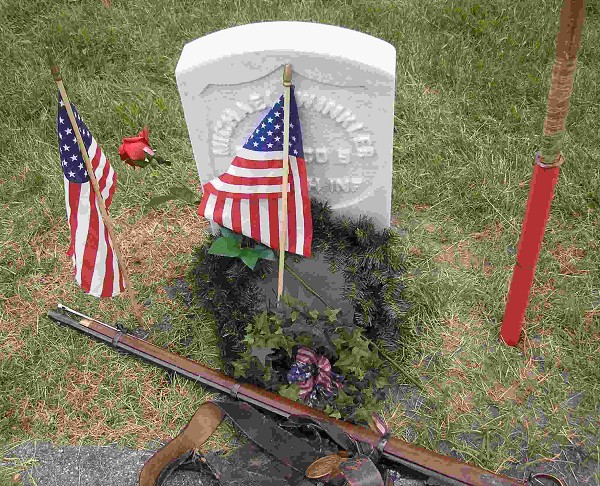 Family Honors Soldier
---
Bay County Civil War Soldier Gets New Headstone
Green Ridge Cemetery Dedication Ceremony
June 17, 2012 2 Comments
By: Diane Szczepanski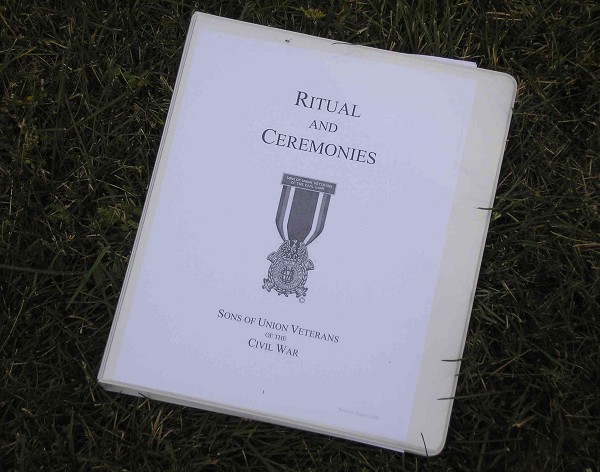 'Sons of Union Veteran's of the Civil War' honor Winkler with new headstone.
Photo by Diane Szczepanski
© MyBayCity.com
George Michael Winkler served his time in the military and has long been deceased. 160 plus years later, his life and service in the American Civil War, was re-honored in a moving tribute orchestrated by family members.
On Saturday, June 16th, relatives, friends and Civil War re-enactors paid tribute to Winkler, during a ceremony dedicating his new headstone at his gravesite in Green Ridge Cemetery, located on Tuscola Road at Columbus Avenue. Winkler had enlisted in the Union army in 1864.
Two great-great-granddaughters, Kathy Lutzke Mihalenko and Patrica Perez, both Bay City natives and interested in genealogy, began their search based on information found in a family Bible.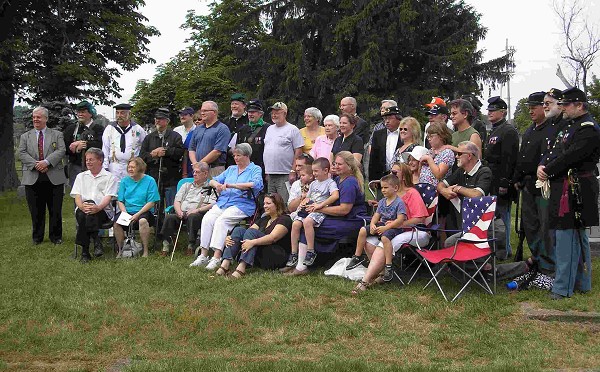 Family and friends gather for ceremony
Photo by Diane Szczepanski
© MyBayCity.com
Local historian Jim Petrimoulx, who has recorded the grave locations and personal histories of hundreds of Civil War veterans buried in Bay County, was asked by Winkler's family members to help locate his grave.
According to records obtained by Petrimoulx, Winkler enlisted on Sept. 3, 1864, and at 32 years old, was a corporal with Company B of the 29th Michigan Infantry regiment. He later was promoted to sergeant. Winkler was discharged in Detroit in September 1865 and returned to Bay City.
Petrimoulx said when he located the grave, he discovered the headstone was worn and weathered and the inscription was all but erased.
When Kathy and Patty realized the VA (Veterans Administration) would issue a replacement headstone for their great-great grandfather, they put their re-dedication plans in motion.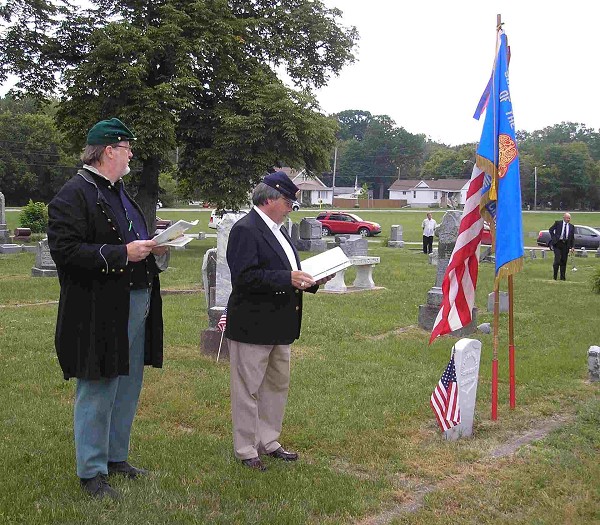 Ken Martin, left and Paul Davis, right performed the ceremony
Photo by Diane Szczepanski
© MyBayCity.com
Saturday was the culmination of Kathy and Patty's hard work and exploration. Ken Martin, served as Chaplain and gave the blessing. Paul Davis, Commander of Grant Camp 67 presided with Martin.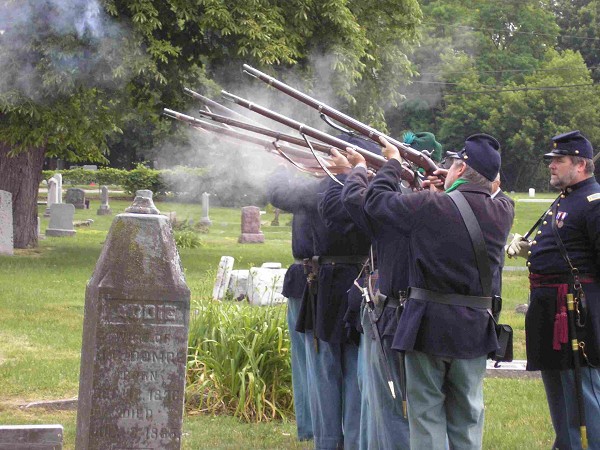 Civil War re-enactors give salute to Winkler
Photo by Diane Szczepanski
© MyBayCity.com
According to Davis, "The Sons of Union Veteran's of the Civil War, is a group that helps keep the memory of soldiers alive and we provide this service to family members to honor their deceased."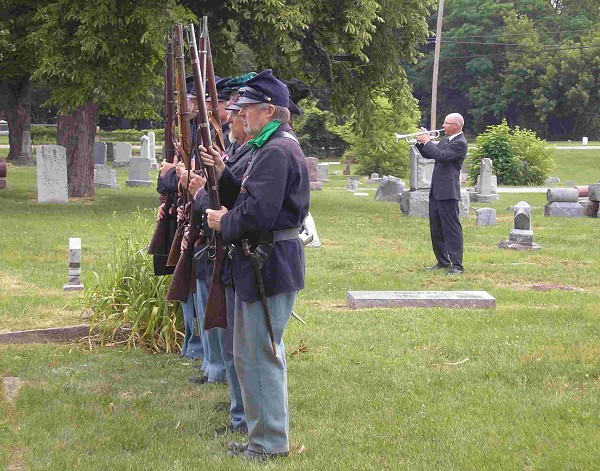 Rich Main plays 'Taps'
Photo by Diane Szczepanski
© MyBayCity.com
Rich Main, a volunteer with 'Bugles Across America' played 'Taps' as a final salute. The organization has over 7000 volunteers across America and offer their services online to VFW Halls and funeral directors, on a completely volunteer basis.
---
(Prior Story) Community Article 007091 (Next Story)
"The BUZZ" - Read Feedback From Readers!
geraldinebelinda Says: On June 19, 2012 at 03:03 PM

I was at the funeral Saturday and you have very good pictures. You know the story ,but I don't remember you being there. So who are you? Kathy has done a great job with details. An elderly lady asked for a copy of a picture I have but don't know her name. Will comtact Kathy after she returns home. We along with Mary, Patty & Dan are having a great time reacquainting family ties.
At first I thought you were the lady with white hair and a pink shirt, but your picture is not the same lady. Thanks for the fine article. Neoma (I'm the lady infromnt sitting in a walker with blue shirt on.)
stars_gleaming Says: On June 21, 2012 at 08:44 PM

Hello Diane-

It was very good to meet you. Thank you for writing the article to recognize our g-great. We arrived back in Florida yesterday and happy to be home :)

We had a great time in Bay City.

Regards
Kathy Lutzke
---

Diane Szczepanski




Business-woman by day, confessed boot addict by night and 'wanna-be' writer, music lover and proud Mom of an awesome guitar playing, teen son.

More from Diane Szczepanski
---
Send This Story to a Friend!
Letter to the editor
Link to this Story
Printer-Friendly Story View
---
--- Advertisments ---